2,000 South African Girls Will Be Infected with HIV This Week Alone—and Diane Kruger Wants You to Help Fight Back
"Until we wake up and help bring create change, the epidemic will continue to thrive."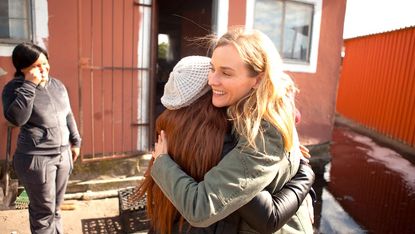 (Image credit: The Global Fund/ Deborah Rossouw)
As a celebrity, you can choose to lend your face to just about any cause. But Diane Kruger wanted to do more than send a check or make an appearance at a fancy gala. "Like so many of us, I grew up taking certain things for granted: living in a nice house, going to school and getting an education, going to parties and dating boys, and choosing a job that I love," she told us. "But with maturity, I realized that not every girl or boy grows up with a life filled with possibilities and opportunities. I wanted to work with an organization that's making a big impact globally to end health inequities."
She chose The Global Fund (opens in new tab), which supports local programs around the world to fight our biggest health epidemics: malaria, tuberculosis, and HIV/AIDS. All three illnesses are preventable, and all three illnesses disproportionately affect people in poor countries. Founded in 2002, the Fund is estimated to have already saved 17 million lives.
Their work is more vital than you might think: In any given week, a staggering 2,000 South African women will be infected with HIV, says Tiffany Mitchell, head of special projects at the Global Fund. Kruger traveled there this past summer (South Africa's winter) to meet some of these women, and share their stories with the rest of the world.
"HIV continues to prey on the most vulnerable," Kruger says of her trip. "Gender-based violence, a lack of opportunity, and discrimination all take their toll–until we wake up to that and help bring about change the epidemic will continue to thrive."
During her visit, she bonded with one woman in particular, Nicolet (opens in new tab). "Despite being an HIV-positive mother, she has overcome tremendous challenges to become an early childhood teacher and support women in her community facing similar challenges," Kruger says.
Nicolet became sexually active with her first boyfriend in her early teens. By 17, she was pregnant and infected with HIV—and her son is HIV positive as well. It's important to share these examples, Kruger explains, because AIDS no longer dominates the headlines the way it did in the 1980s and '90s. Just because the virus is preventable doesn't mean it's being prevented.
"Huge progress is being made to get people living with HIV on treatment. In 2000 less than 1% of all people living with HIV globally had access to treatment—today 40% have access," Kruger says. "But in other areas, like preventing new infections among adolescent girls, we aren't making much progress." The only way to get the epidemic back into the headlines would be for things to get worse...or for people to start caring.
Say you do care, but you're not sure how to help outside of flying to South Africa yourself. The good news is there's plenty you can do right from home. "You can share the progress and the powerful stories, like Nicolet's (opens in new tab), on social media; join grassroots advocacy groups like the ONE campaign (opens in new tab) and Results (opens in new tab), who advocate for U.S. support for the Global Fund; choose to buy (RED) products (opens in new tab) [all money raised through (RED) goes to support Global Fund partnership programs fighting AIDS in Africa]; or even volunteer for organizations working on the ground," Kruger says.
HIV/AIDS is an enormous problem, but these are small ways to help. "Every little bit we can do makes a difference," she explains. You might want to begin by taking the five minutes to watch Nicolet's story, here:
Follow Marie Claire on Instagram (opens in new tab) for the latest celeb news, pretty pics, funny stuff, and an insider POV.