These 3 Innovators Are the Next Big Thing in Business
Meet the women who dared to run with big, bold ideas—and are shaking up the career scene as a result.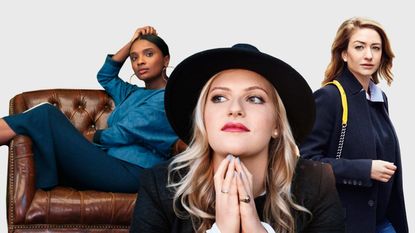 (Image credit: Kat Aleen, Kori Stanton, Justin Hollar; design by Katja Cho)
The Trendsetter: Amel Monsur, Creative Director, Vice's Broadly
Much is expected from the firstborns of American immigrants. Their success is usually defined by all the traditional hallmarks—a well-paying job, a family, a home. That was certainly true for Amel Monsur, born near the Nile River in Talbab, Sudan, a village so remote that she recently had trouble locating its coordinates on a map. While her mother was pregnant with her, Monsur's father relocated stateside to Philadelphia; when Monsur was 4 weeks old, her mother joined him. Monsur's parents planned for her, and the three children who would follow, a gloriously normal middle-class life. "I'm black and from a war-torn country," Monsur, 31, says. "English is my second language. Being a woman was one of the easier things."
And yet Monsur's brief but extraordinary career has defied every conventional wisdom put before her. Instead of pursuing a dependable career and settling down, she opted to chase her passion for design and fashion and, along the way, found herself collaborating with some of the most talented, creative artists in the world. Today, she is the creative director of Broadly, the buzzy new women's interest site launched this summer by Vice, the Millennial media empire. The role has Monsur shaping what 20-something women will be reading, watching, and talking about in the next decade.
She could not have foreseen it as a child. Her father, a lawyer and community organizer, shuffled the family around as jobs arose. Monsur estimates that she attended at least three different Philly-area schools between first and fourth grades. By the time she was in high school, the family had again relocated, this time to Chicago. Always being the new girl was tough. ("I had to fake the funk a lot of times when I was nervous.") And yet her father encouraged her to always have her voice and not shy away from exercising it. "He's the biggest feminist I know," Monsur says. "He's a departure from what you'd imagine an East African man to be. He'd always say to my mother and his daughters, 'You are more important than I am. You carry everything on your back and shoulders. I learn from you.' Women were critical in his development, and he decided his daughters and partner would be just as empowered."
Concerned that their inveterately fashionable daughter, who started a business styling classmates while she was in high school, was headed for a life much scrappier than their own, Monsur's parents talked her out of pursuing a fashion degree. Instead, she studied entrepreneurship and public health at the University of Illinois at Urbana-Champaign. But she graduated restless and unsatisfied. "I couldn't imagine sitting in front of spread- sheets for the rest of my life," she says.
Still, she plodded along, landing a job as a business analyst for Target's home, garden, and Christmas division at the company's mammoth headquarters in Minneapolis. "I developed a passion for outdoor clay pots and Christmas lights," she says earnestly. "To this day, I still check those items when I'm in the store!" Monsur hankered for more creative work, so she transferred to New York City to work for a Target subsidiary that offered creative direction to other big-box stores, like HomeGoods. The new role sent her on sourcing trips to China, Korea, Japan, and India. "I began to see how inspiring global aesthetics and stories are, and how you can bring that back and tell that story to your consumer," she says.
But then, catastrophe: In 2008, the market tanked and Monsur was laid off. She called her parents, devastated, asking, "What do I do now?" They reminded her of all the times she'd called to complain that her corporate job was giving her "cancer of the soul" and convinced her that the turn of events, though terrifying, was an opportunity to do what she'd always wanted to do: work in fashion. So Monsur went freelance, taking styling assignments here and there from the likes of Nike and J. Cole. After a chance encounter with celebrity stylist Atiba Newsome at a music-video shoot, she was enlisted to help him pitch a high-profile clandestine new client who "worked really well with women." The top- secret client? Prince.
What began as a personal-styling gig—albeit a coveted one—quickly evolved into a unique creative collaboration after she suggested new looks for his band, the New Power Generation. The pair worked so well together that Monsur accompanied him on tour between 2009 and 2012. Monsur is intensely protective of her relationship with Prince—it's clear he was a mentor, a man she describes as "the most creatively impactful person in my life...He develops people and pulls out the best in them."
Through Prince, Monsur cultivated her own high-profile client base, including Nicki Minaj and Grammy-winning jazz musician Esperanza Spalding. But all along, she also yearned to tell bigger stories, to work with fledgling brands trying to forge their nascent identities, to create something powerful and provocative where nothing had existed before. In 2013, she was hired to provide creative direction for Al Jazeera's stateside launch, advising the Qatar-based network on on-air looks for anchors. A trip to the Middle East—Monsur travels frequently for inspiration—led to a chance encounter with a friend of Tom Punch, the global executive creative director of Vice, the edgy media empire catering to Millennials. She then had a series of interviews with Vice, which was undergoing explosive growth and in need of fresh but seasoned talent who could help cement its identity as the place to be for the 20-something creative class.
In June 2014, Monsur was hired by Vice to lead content development at i-D and Noisey, its fashion and music channels, respectively. A year later, she was named creative director of Broadly, where she's working hard to change the company's notorious reputation for "lad mag" content. (Popular Vice shows include Fuck, That's Delicious; Weediquette; and Al-Kee-Hol.) Monsur's role includes developing an identifiable Vice-esque aesthetic she describes as subtle and mature—not the "typical trope of what female design is—curlicues and pink," she says. "We love pink, but it's not the only color we see."
Based out of Vice's sprawling new offices in Williamsburg, Brooklyn (a far cry from its Montreal punk-magazine origins more than 20 years ago), Monsur also plays producer, collaborating with a largely all-female executive team (including publisher Shanon Kelley and editor-in-chief Tracie Egan Morrissey, a Jezebel alumna) on Broadly's slate of original online programming, which has included provocative pieces on everything from a Malaysian vagina spa to the evolution of the power suit.
Monsur promises that Broadly viewers can look forward to more pieces highlighting unsung, heroic women around the world, especially young women of color. She knows she can be a powerful role model given her background and her risky decision to buck expectations and pursue a career defined by creativity and daring. "I took a very unconventional route and luckily had a lot of support," she says. "But my lens is always going to be the lens of an outsider." —Rebecca Soffer
The Inventor: Meredith Perry, Founder and CEO, uBeam
What if your cell phone never died? Imagine never again scrambling to find an unoccupied outlet in the airport, or having to turn off your phone to conserve the last bar of juice. Welcome to the future as envisioned by Meredith Perry, the 26-year-old founder and CEO of uBeam, maker of a wafer-thin contraption that wirelessly charges all your devices. No clunky cables. No bulky phone cases. No foraging for outlets.
Perry conceived the product five years ago in her dorm room at the University of Pennsylvania, where she studied paleobiology, a relatively new field that combines geology, biology, and paleontology to understand the history of life on earth. The aha moment could not have been simpler: She was tired of lugging around bulky cords to juice up her laptop. How do I get rid of them? she wondered. Perry spent her senior year wrestling with the question, researching how to beam energy through the air before concluding that ultrasound was the only type of power that could produce a safe, Wi-Fi-like wireless-charging experience. She then enlisted an electronic-engineering student to help her wire the first proof of concept. That spring, her prototype on Penn's prestigious invention competition. That, in turn, led to a coveted time slot at the closely watched All Things Digital conference, founded by former Wall Street Journal tech scribes Walt Mossberg and Kara Swisher.
Soon, Perry found herself the subject of intense interest, though her product was still in its earliest stages. "All of a sudden, I was filing a patent, I was assigning that patent to a company; then the company was formed," she recalls, "and apparently I was the CEO."
Fundraising as a solo founder with "just a demo and a PowerPoint" proved intensely challenging, in part because she was pushing a hardware product. "You can build an app and release a product that isn't finished and send out software updates, and there you go," she says. "With hardware, you get one shot." But as her team grew, and Perry perfected her pitch, she found no shortage of eager investors. "This is a vision a lot of people want to get behind," she says.
The press didn't hurt either, as buzz surrounding the young wunderkind and her revolutionary invention continued to intensify. NPR called uBeam "one of those ideas that seems too elegant and simple to be true." >Fortune hailed Perry as "the next Elon Musk." By 2013, she'd raised $1.8 million in seed funding from the venerable venture capital firm Andreessen Horowitz, Yahoo's Marissa Mayer, and Zappos' Tony Hsieh. TechCrunch founder Michael Arrington said that uBeam was the "closest thing to magic" he's seen; his venture capital firm is also an investor. To date, uBeam has raised more than $23 million. And though she says the earliest a product will actually be available is the end of 2016—she's revealed it will look somewhat like a wireless cell phone case with a corresponding ultrathin uBeam hub that fastens to the wall or ceiling, but no word on the cost or where it will be sold—Perry mania shows no signs of abating.
To be sure, hype in the tech industry can be fraught, a reality of which Perry is well aware. Perhaps to preempt critics, she posted a 3,000-plus-word "founder's note" on uBeam's website in October, explaining how her ultrasonic technology works and why it's safe. She is first to admit: "It's one thing to have a vision and another thing to execute it. I'm humbly aware it's my job to execute, and I need to do everything in my power and more to make this product a success."
These days, she spends "99 percent" of her time in her Los Angeles office—"and that's life time, not just work time"—taking meetings with potential partners in the hotel, airline, and restaurant industries. The goal: Whenever you leave your home, you'll never have to worry about remembering a charger again. "It's something people want solved," she says.
As of September, she's filed more than 30 patents and has a team of 20 full-time employees, including 15 engineers, some twice her age. Learning how 15 engineers, some twice her age. Learning how to manage them has proved as much of a challenge as mastering the nuances of ultra-sonic transducers (these devices convert ultra-sound waves to electric pulses). "Being an effective manager is about understanding the skill sets of those you hire," Perry says, reflecting on what she's learned. "It's about realizing their weaknesses and their skills, where they want to grow, and what they're motivated by."
Her end goal: a truly wireless world where all your devices would simultaneously charge.
Batteries, like landlines and CDs, would become a thing of the past, resulting in lighter, slimmer laptops and phones. And uBeam would become to wireless charging what General Electric was to lightbulbs—ubiquitous and essential, in just about every home and office in America, if not the world. Perry is out for nothing less than to change the way we live. "There are maybe five people on the planet who have the ability, the tenacity, know-how, and capital to push the world forward in new ways," Perry says, alluding to her icons, Google founders Larry Page and Sergey Brin, Amazon's Jeff Bezos, the late Steve Jobs, and PayPal cofounder turned Tesla Motors founder, billionaire Elon Musk. Fortunately for all of us, there's always room for one more.—Lane Florsheim
The Disruptor: Whitney Wolfe, Founder and CEO, Bumble
What is the secret to discovering a truly innovative idea? For Whitney Wolfe, the 26-year-old founder of ultra-popular dating app Bumble, the answer is simple: "Look at what is broken in society, figure out how to make it better, and then, around that, formulate a business.
"That's how we get all our ideas," the Utah native explains. "Like, 'Wow! I wish that existed in real life'...And then a year later, it's the number-one thing in the App Store."
Wolfe should know—she was a cofounder of dating app Tinder.
Bumble draws a lot of inspiration from Tinder. Profiles are driven by photos. Swipe right if you like what you see, left if you're not interested. But on Bumble, there's a crucial, game-changing twist: Only the women can initiate contact. Ladies have 24 hours to message a match; after that—poof!—the match disappears. Unless they are contacted, it's the men left wondering, Why didn't she text? How's that for leveling the playing field? (For same-sex couples, either can initiate contact.) The approach seems to be working. In less than a year, Bumble's 1 million users send more than a million messages daily.
"As [women] excel in so many arenas, the one place we're still at a standstill has been dating," Wolfe explains. "Men are still expected, 100 percent, to be the hunter, the go-getter. With Bumble, we're really trying to change that and forge a path forward in a fresh way."
The older of two—her sister, 20 months younger, now works for her at the Austin, Texas–based Bumble—Wolfe was born in Salt Lake City and graduated from a private Catholic high school. "Jewish father, Catholic mother, in a Mormon state, so very interesting," she quips.
After graduating from Southern Methodist University with a degree in international studies, she spent six months in Southeast Asia, traveling and volunteering in orphan- ages, an experience she views as invaluable. "It gives you perspective, and it gives you gratitude," she says. "I think it's important, too, to do things like that, especially when you come from such a First World, fortunate life."
But that time abroad also, interestingly, cemented her interest in a tech career: "I realized that there's a big world, and really the only way you can make a critical impact on something greater than your own little world is through technology."
Shortly after her return, in 2012, Wolfe found herself at dinner with a group of friends in Los Angeles, where she met Sean Rad, a friend of a friend who was working at startup incubator Hatch Labs, which at the time was developing several nascent companies. They hit it off, and Rad hired her to oversee marketing for Hatch. She was just 23.
One of the ideas percolating at Hatch was Tinder, a dating app that distilled the conventional, time-consuming back-and-forth of online dating to a single swipe, based largely on the user's picture. It had all the elements of a digital phenomenon: It was simple to understand and use, quick to make a connection, and helpful in facilitating a hook-up. It was Hot or Not on steroids. Wolfe says she and her colleagues quickly realized that they were onto something. So she went cross-country, enrolling sororities and fraternities as Tinder's first user base. From there, the app's popularity exploded. "We're genuinely all just looking for a connection," Wolfe explains, and, with the explosion of smartphones, "it was the perfect time to introduce this desire to the palm of your hand."
But two years ago, Wolfe famously resigned from Tinder and sued the app, claiming she'd been sexually harassed by Rad and fellow cofounder Justin Mateen. The allegations made international headlines. (In November 2014, Forbes ran a cover story of the whole affair, headlined "The Crazy Saga of the World's Hottest App.") The case was quickly settled, and Wolfe reportedly received around $1 million, though she can't confirm, per the terms of her settlement.
But Wolfe wasn't going to disappear. She originally conceived Bumble as a social network for teenage girls designed to reduce bullying. But then she was approached by her current partner, Andrey Andreev, founder and CEO of the multibillion- dollar European social network Badoo, who said, "I love the vision; I love the value set. But you understand dating. Why don't we take those values and that vision and put it into the online dating industry?" So Wolfe pivoted, turning Bumble into a dating app.
Launched at the end of 2014, it is now one of Apple's leading dating apps (behind Tinder), with users reportedly spending an astonishing 62 minutes a day on it. Wolfe has said she sees major growth in the under- served LGBTQ dating market. And although she no longer discusses her time at Tinder, she nonetheless believes her experiences— and ongoing success in the tech industry—can serve as inspiration to others. "You can go through public situations and you can survive," she says.
Still, she wishes the best for Tinder—she still owns a stake in the company—but Wolfe clearly feels the dating app world is ready for a shake-up. "It's the perfect moment," she says. "Gone are the days of hiding your sexuality. Look at Girls. Own it. Be direct. Go after it. Get it, and never be ashamed."—Karen Schwartz
This article appears in the January issue of Marie Claire, on newsstands now.
Follow Marie Claire on Instagram for the latest celeb news, pretty pics, funny stuff, and an insider POV.
Celebrity news, beauty, fashion advice, and fascinating features, delivered straight to your inbox!