More Than a Gaycation
Ellen Page's docu-series on LGBTQ discrimination around the world unveils a dangerous reality—and a way forward.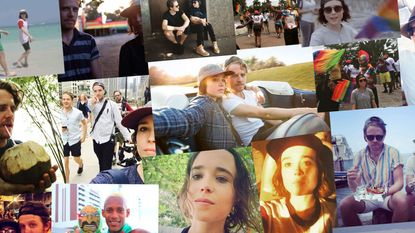 (Image credit: Viceland)
Marie Claire Newsletter
Celebrity news, beauty, fashion advice, and fascinating features, delivered straight to your inbox!
Thank you for signing up to Marie Claire. You will receive a verification email shortly.
There was a problem. Please refresh the page and try again.
Imagine that you live in a country where every day, someone like you is murdered, and the average life expectancy in your community is only 30 years old. This is what it's like to be trans in Brazil, which has the highest number of murdered transgender people in the world. And this is why actress Ellen Page decided to create a docu-series with Viceland called Gaycation: So she could travel to these very places and show us what we urgently need to see.
Co-hosted by Page's best friend, Ian Daniel, Gaycation originated as Page's idea, pitched via text to Viceland co-president Spike Jonze. Page, 29, is now not only its host, but its executive producer, exercising control over the project's final shape. She has a track record of projects with biting political impact—from Hard Candy (2005), in which she played a 14-year-old girl determined to trap a pedophile, to Freeheld (2015), where she portrayed a lesbian who loses her partner to lung cancer. Since publicly coming out as gay in an eloquent speech for the Human Rights Campaign two years ago, Page has taken on the mantel of queer rights—and it suits her.
"I think people don't understand the struggles that LGBTQ people face around the world and here in this country," Page recently told me. "If you're perpetuating discrimination or inequality on any level, you are causing a lot of harm for people."
Jonze loved the idea, but suggested she travel with a co-host. Her choice was obvious: Page's closest friend and the person with whom she most often discusses identity politics, Ian Daniel. Over the prior four years, Daniel had worked on a documentary about Rockaway Beach and directed an investigative theater piece featuring personal LGBTQ stories with performances from Laverne Cox and Samira Wiley, so he knew how to interview subjects and had already been embedded in potentially dangerous environments. "When Ellen presented the idea, I felt very ready," Daniel, 34, says.
The two first crossed paths in 2008 at the Lost Valley Educational Center, 18 miles southeast of Eugene, Oregon. The 87-acre ecovillage is dedicated to studying and practicing sustainable living with community-supported agriculture programs, workshops, and classes. Both Page and Daniel were there to study permaculture (a system of agricultural principles simulating natural ecosystems).
"We call it love at first sight," Page says of meeting Daniel. Their endearing affinity for each other, as best friends but more specifically as queer best friends, is the organic narrative that propels Gaycation across the globe. Their intimacy often manifests in the more extreme scenes; when the co-hosts go to Brazil in episode two, for instance, they interview a contract killer on a rooftop. With an obscured identity, he confesses that he kills LGBTQ people as a public service, saying that "every pigsty needs to be cleaned out" and that queer people are "worse than animals." At the end of their conversation, Page outs herself to show that this is the longest conversation he has ever held with the type of person he so actively despises. When she turns to Daniel to confirm if she should out him as well, he says yes, and she exhales. The viewer exhales too: to openly stand together before such pronounced homophobia, in its most literal and lethal form, is more than just deep friendship. It's solidarity.
Their bond is evident from the first episode, when Page and Daniel go to Kyoto, Japan, where gay marriage is not legally recognized, to experience same-sex wedding ceremonies in one of the city's oldest temples—and to pseudo-marry each other. ("Obviously, we are not the same sex but we're a couple of gays," Page says on the car ride to the temple). Before a Zen priest, they exchange vows recounting their love and how meaningful they are to one another. It's a performative act that feels authentic—like a formalized recognition of the partnership they already have.
And here is one of Gaycation's more subtle triumphs: highlighting a type of relationship that has been intrinsic to queer history but that is never truly depicted in media. A love between a lesbian and a gay man that is exactly that: love.
Their connection has helped them make what is ultimately a difficult but important show. "We're reading each other, all the time," Daniel says of shooting some of the more confrontational interviews. "If she flinches, I know when she's getting ready to ask a question."
When they began shooting, Page and Daniel ultimately felt that returning to North America for the final episode was imperative. "As we were making the show, we couldn't help but always be reflecting back home," Page says. Sometimes she watched the visibly shocked crew as they filmed particularly painful moments. "I'd think, 'This probably is the reality for a lot of queer people in America.'"
To exclude the United States would imply that this country is no longer a problematic environment for queer people—which is definitively not the case. And so Gaycation turns its critical eye to the mounting murders of transgender women of color in the U.S. and to the indigenous North American concept of "two spirit" (a third gender identity of someone who identifies with both male and female roles).
When the Supreme Court ruled in favor of gay marriage on June 26, 2015, Page happened to be in New York, shooting the film Tallulah—so the Gaycation crew was able to spontaneously shoot Page and Daniel celebrating during the Pride Weekend that followed, and include that footage in the U.S.-centric final episode. "It seemed like a great opportunity to celebrate progress, but also look at all the work we still need to do," she says.
Gaycation enters pop culture at a delicate moment for queer rights, both domestically and internationally. Not even a year out from the Supreme Court's marriage ruling, the United States is still trying, and failing, to secure national employee protections for LGBTQ individuals. The result is troubling: You might be able to get married, but you could be legally fired for it. All the while, the United States is seeing some of the most explicitly transphobic legislation in our nation's history, with 11 states proposing bathroom restrictions for transgender people based on biological sex.
This urgency is reflected in the series. Gaycation delves beyond the one-dimensional, often sanitized understanding of LGBTQ equality through same-sex marriage to expose the complex layers of enduring homophobia: queer youth homelessness, lack of financial resources, sex work, abuse and rejection in the home. These are the queer issues that define the current climate—and they aren't going to be absolved by gay marriage alone.
Soon, Page and Daniel will embark on another round of international travel for season two of Gaycation. Now in pre-production in the United States, they're back to the core of what their friendship is about: a shared curiosity about politics and studying the many shades of transphobia, homophobia, and biphobia. They have a lot of ground to cover.
The season finale of "Gaycation" airs Wednesday, March 23rd at 10 p.m. EDT.
Celebrity news, beauty, fashion advice, and fascinating features, delivered straight to your inbox!