#BlackLivesMatter: Meet the Women Behind the Most Important Social Movement of Our Time
"We needed a glimmer of hope."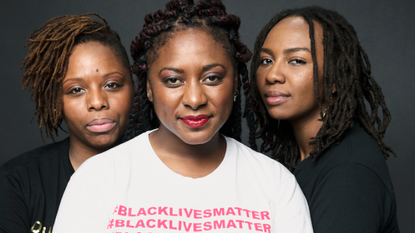 (Image credit: Ben Baker)
Marie Claire Newsletter
Celebrity news, beauty, fashion advice, and fascinating features, delivered straight to your inbox!
Thank you for signing up to Marie Claire. You will receive a verification email shortly.
There was a problem. Please refresh the page and try again.
In July 2013, after a jury found George Zimmerman not guilty of second-degree murder and acquitted him of manslaughter in the killing of 17-year-old Trayvon Martin in Florida, Alicia Garza, 35, an Oakland, California-based labor activist (middle), turned to Facebook to try to put her feelings into words: "Black people. I love you. I love us. Our lives matter," she wrote. Her friend Patrisse Cullors, 32, a community organizer in L.A. (left), shared the post, adding a hashtag: #blacklivesmatter. Before long, the two, who call each other "twin," were on the phone discussing starting a movement. "I just understood that this generation needed more," Cullors says. "We needed a glimmer of hope—something to fight for." Soon, they'd brought on board Opal Tometi, 31, a Brooklyn-based immigrant- rights activist (left), and formally launched the organization Black Lives Matter. This month, on the one-year anniversary of Freddie Gray's death while in police custody in Baltimore, the trio discuss their wins so far and what's to come in the year ahead.
Marie Claire: Why did you feel you had to act?
Alicia Garza: There was this frustration that a grown man had murdered a child and...there were no consequences. I wanted some affirmation in that moment when the message was our lives don't matter—that we can be killed without repercussion.
Opal Tometi: I have a younger brother who was 14 at the time, and I knew he was going to be marked by this story. This was going to be the story of our generation, and either he could have a view of it that would be very bleak and passive, or he could see the alternative—he could see people rise up. I wanted to create something that would be the counter-narrative to a system that continues to say our lives are disposable.
MC: There have been so many tragedies, but is there one that hits home the most?
Patrice Cullors: Sandra Bland [who in July 2015 was found hanged in a jail cell in Waller County, Texas; her death was classified as a suicide by the medical examiner]. She was one of ours—an active participant in Black Lives Matter. She was heading back to the South because she was like, 'This is where I should be doing my work for black people.' She was committed to this movement, and she was killed by police.
MC: What are the major accomplishments to date?
AG: There is much more attention being paid to the conditions that exist in our communities, largely owing to the incredible work of the organizers on the ground. There have also been laws centered on criminal justice passed in more than half of the states. In California, we now have a data- base of police killings in our state, and Patrisse won a civilian review board for the sheriff's department that has hiring and firing power. And the Obama administration ended solitary confinement for juveniles. That wasn't politically possible a couple of years ago. We can't claim ourselves to have done these things, but we are creating space for those victories to be won.
PC: Also, we started with maybe 18 chapters, and we've grown in the past year to 31 chapters across the U.S. and also in Canada and Ghana.
MC: What have you seen during the protests?
PC: After Mike Brown was murdered [in Ferguson, Missouri, in August 2014], I helped organize thousands of people to come to St. Louis from all over the country. I saw something there that I have never seen, which is an entire city talking about antiblack racism. People were marching every day and trying to have a larger conversation about what they were going to do about what had just happened in their city.
MC: What are your goals for the year ahead?
AG: We're focused on making sure our network has what it needs to continue to be effective, and one of our goals is to work on removing officials from office who have not been accountable for the needs of our constituencies. I also think you'll see a lot more direct action and disruption. You can't have the same business as usual when black bodies are being murdered.
PC: Ferguson helped us see police violence as a national crisis, but police violence happens locally, so we have to change local politics...We believe there needs to be a deep divestment from incarcerating people, and a rein- vestment into black people having jobs, having access to shelter and healthy food.
MC: How can people of all races get involved?
OT: No movement in history has gained justice by itself. [Start by reading about] white privilege and structural racism. But the real work comes into play when you take action.
PC: Join a Black Lives Matter chapter, develop an ally group to support a chapter, march, and/or help organize a protest, vigil, or online petition.
AG: We tell folks all the time that this is not the time to sit on the sidelines and talk about what you would've been doing. This is a time to get out there.
For more information, visit blacklivesmatter.com.
This article appears in the April issue of Marie Claire, on newsstands now.
Celebrity news, beauty, fashion advice, and fascinating features, delivered straight to your inbox!
Kayla Webley Adler is the Deputy Editor of ELLE magazine. She edits cover stories, profiles, and narrative features on politics, culture, crime, and social trends. Previously, she worked as the Features Director at Marie Claire magazine and as a Staff Writer at TIME magazine.