There's a New, Nicer Regina George on Broadway—But Is That Better?
She's definitely still a Mean Girl, but she's also not a one-dimensional "scum-sucking road whore" either.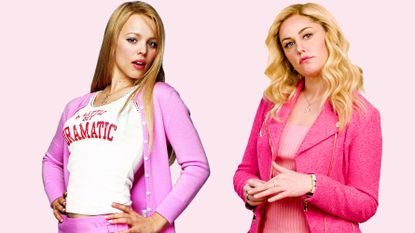 (Image credit: Paramount / Courtesy)
Marie Claire Newsletter
Celebrity news, beauty, fashion advice, and fascinating features, delivered straight to your inbox!
Thank you for signing up to Marie Claire. You will receive a verification email shortly.
There was a problem. Please refresh the page and try again.
"My name is Regina George / And I am a massive deal." These are the lyrics that mark Regina George's entrance in the Mean Girls musical, which opened on Broadway earlier this month. In the years since the movie made its debut in 2004, the "flawless" queen bee Regina George has remained a massive deal. Her name alone implies a certain brand of conniving womanhood. "Watch out for the Regina George in sheep's clothing," Katy Perry tweeted as a rumored dig at Taylor Swift during their 2014 feud. The implication was that Swift was playing the part of the innocent but, like Regina, she could and would ruin your life.
RELATED STORIES
Mean Girls on Broadway follows the same plot as the film we've watched and loved and made into memes for more than 10 years. But Regina, against all odds, has evolved. Taylor Louderman, who plays Regina (the role made famous by Rachel McAdams) in the musical, has mastered the confident strut. Yet the singing and dancing incarnation of the Plastics' leader has softened a bit. It seems Tina Fey—who not only wrote and starred in the original film but also adapted the story for the stage—wants audiences to feel sympathy for the meanest girl of all.
In the intervening years, women have learned that they don't have to play nice, and they should be suspicious of the people who assume they do; being a bitch has evolved into almost a badge of honor. Bitchiness can be just one characteristic of a nuanced human—and Mean Girls the musical wants audiences to know Regina George is that, too.
By the end of the movie Regina had softened, too, sure. It's never shown, but it's implied that, after being knocked down a few pegs, Regina has given up on total domination and the women have all made peace with each other. In the play, Regina's multi-dimensions are expressed more explicitly, and a few of Regina's most heinously evil deeds have been removed from the narrative. For one, she doesn't call up a random girl's mom pretending to be "Susan from Planned Parenthood." She also doesn't entrap her friends on three-way calls, urging one to slight the other who happens to be on the line.
Make no mistake: Regina is definitely still evil. She treats her friends like garbage minions and drives Gretchen insane in the process. Her homophobia is on display when she banishes former bestie Janis from her clique after suspecting she's gay. And, in an effort to assert her dominance, she flirts with Aaron Samuels knowing full well Cady has a crush on him.
Yet the sadness of Regina is simultaneously cast into focus. It's more painfully obvious how insecure she is about her body, and, in turn, how cruel Cady's scheme to make her gain weight really is. The Christmas talent show—set to a number called, "Rockin' Around the Pole" instead of "Jingle Bell Rock"—ends in social media humiliation for Regina when her skirt, which no longer fits, pops off and exposes her newly-plump butt. Rather than simmering in resentment over Cady's charming performance, Regina is body-shamed in front of the entire school. As an audience we're laughing along, but it's clear we are just as culpable as Cady.
The biggest indication that Fey wanted to put a revisionist spin on Regina comes just before the big finale. In the movie, Regina doesn't get a final word. Instead, it's all about Cady's journey to an "actual human being." In the musical, Regina gets to have her humanizing moment. Fey has the two meet in the bathroom of the Spring Fling dance. Regina, high on painkillers, recounts how she woke up after the crash to find her mother and Gretchen standing over her looking surprised to find her bleeding. "Like, they forgot I was a human person," she says. "I've actually been a human person this whole time." Cady says she's sorry for knocking Regina off her pedestal, but Regina brushes her off, snapping back: "Never apologize for being a boss."
There's a messiness in the messaging here—especially in what it means to be a leader. Regina needs to be reprehensible for the show to work, but Fey's new additions prove she can also be complicated. She shows vulnerability and contrition, yes, but she also doesn't feel ashamed for her towering sense of self-worth. Does that make Regina a girl-power icon? Or a woman totally fine with stomping over other people's rights? You could make either argument, and I sense Fey would love it if you did.
RELATED STORY
Celebrity news, beauty, fashion advice, and fascinating features, delivered straight to your inbox!