Mariska Hargitay Just Made a Documentary That's Like a Real-Life 'SVU' Episode
There are more than 200,000 rape kits in the U.S. that have never been tested. 'I Am Evidence' sheds light on the problem.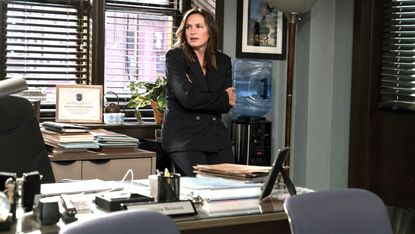 (Image credit: Getty Images)
I've been watching Law & Order: SVU since the beginning. Which is to say, since before it was probably appropriate for me to watch it. But that's besides the point. The point is I love Mariska Hargitay. (Not so much that I have a cat named Olivia Benson, but that's really just because I don't have a cat. I digress.)
One of the things I love about Mariska (can I call you Mariska?) is that she doesn't just talk a big talk on a television show; she walks a big walk in real life. She founded a non-profit to help eradicate sexual assault, domestic violence, and child abuse, was a leader of the NO MORE campaign to end violence against women, and now she's turning her attention to the rape kit backlog.
There are more than 200,000 rape kits in this country that have never been tested. Never. Been. Tested. Victims have the courage to come forward "and then nothing is done about it. What are we saying?" Hargitay asks at the beginning of the new HBO documentary I Am Evidence, for which she is also a producer. "We're saying you don't matter."
The film, which premiered last night, is harrowing. It takes you to the police headquarters and district attorneys' offices in Detroit, Cleveland, and Los Angeles, where law enforcement officials are trying to work through the rape kits they have neglected for decades. The statistics will shock you. When the problem was first discovered, it was estimated that some 400,000 rape kits hadn't been tested. They were sitting in abandoned warehouses or storage facilities prosecutors weren't even aware of. In Los Angeles, 86 percent of assaults reported to the police aren't even referred to the district attorney.
You will be told that the reason they weren't tested is because the departments didn't have the time or resources, which is true, but what is also true, and what is one of the most depressing truths I Am Evidence brings to light is that, when it was the right victim—a victim who was upper class, who seemed prudent, who was white—the time and the money was found.
Testing the kits isn't just about justice for one person, one victim; even after the statute of limitations has run out, the DNA from a kit can help exonerate the innocent or connect the perp to crimes in other jurisdictions. Of the 5,066 kits tested in Cleveland alone, 737 have been linked to serial offenders. Not all of the statistics surrounding this issue are bad, though. In Detroit, they've made 101 convictions since they started testing the kits; in Cleveland, 284.
During the hour-and-a-half run time I said "what the actual fuck" at least twice out loud (I was watching by myself) and audibly gasped more than a dozen times. I choked on my own tears and thought at one point that I might throw up. You can watch fictional victims tell their fictional stories of assault on a fictional TV show 100 times and it won't prepare you for watching an actual victim lay bare her true, raw emotions—as several women whose kits weren't tested for four, seven, 11 years, do in this documentary. None of this should deter you from streaming it right now. Watch it. Get angry. And then help my girl Mariska out by doing something about it.

Got to endthebacklog.org to learn about what's happening in your state and end the backlog.
RELATED STORY
Danielle McNally is a National Magazine Award–winning journalist. She is the executive editor of Marie Claire, overseeing features across every topic of importance to the MC reader: beauty, fashion, politics, culture, career, women's health, and more. She has previously written for Cosmopolitan, DETAILS, SHAPE, and Food Network Magazine.