Women Are Being Harassed at Music Festivals in Scary Numbers—WTF Is Going On?
Festivals promote a peace-and-love ethos—but the reality can be much more violent.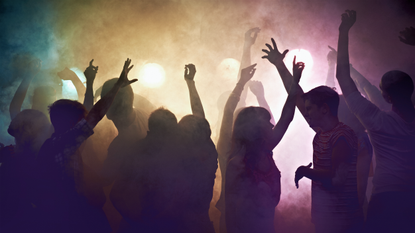 (Image credit: Getty Images)
During three hot, sticky days in August, a large chunk of Lake Shore Drive and Grant Park is off-limits to native Chicagoans. That space is reserved for one of the nation's largest music festivals: Lollapalooza, a three-day musical extravaganza that attracts fans from all over the country.
Last year Mimi Stern was in attendance. The 24-year-old sexual assault crisis counselor had just moved to Chicago when she heard about an opportunity to volunteer with Our Music My Body (OMMB), an organization that works to increase awareness about sexual misconduct at these events. Stern was thrilled; the job combined two things she loved, music and helping survivors of sexual assault.
Working as a volunteer at the festivals has big benefits, Stern says. She gets to watch performances by the hottest artists, like Chance the Rapper, for free. But underneath all the fun and energy and artistic expression lurks a serious problem. "I have spent my entire time at these festivals thinking about and talking about and also witnessing sexual harassment and non-consensual acts going on," she says. Stern herself has been a victim.
After a long day of volunteering at the OMMB booth near the Pepsi stage at Lollapalooza last year, Stern was approached by two men. They seemed like they were allies, applauding Stern and the organization for their good work at the festival. "They asked if they could get a picture in front of one of the signs and they asked me to take the picture, so I came out from behind the table," Stern says hesitantly. "So, the person who asked for the picture came up to give me a $20 bill as a donation and hugged me and his hand lowered to my waist and then he grabbed my butt." Frozen, she said nothing. Months after the groping, it's still seared in her mind.
"If I could tell him something now I would say, 'I'm disappointed because I really thought you were there to support, and you're breaking my heart,'" Stern confides. "And on the other side is, 'you made me feel unsafe and dehumanized and undervalued and you're manipulating me.' It's ironic, or…I don't know what the words are, but it happened at the consent booth, you know?"
Through carefree commercials, whimsical posters, and even clothing and makeup collaborations, music festivals are promoted as a leave-your-cares-at-the-door-and-don't-think-about-real-world-problems fantasy land. A 2014 European festival census asked more than 35,000 attendees what they loved most about festivals. "Escaping normal life" came in second (just after "music"). But, escaping normal life for some can quickly have negative consequences for others.
Thirty-two million Americans go to at least one music festival per year. No major organization has accounted for how many people are victims of sexual misconduct while there, but anecdotal reports imply the problem is widespread: The BBC reported two men were arrested for rape at the U.K.'s top music festival, Reading, in 2014; in 2017, police said that four rapes and 23 sexual assaults were reported at Sweden's Bravalla festival, prompting organizers to cancel this year's event; and an L.A. Times article from last year describes assault and harassment at Bonaroo and South by Southwest.
Last fall, OMMB conducted a survey to better understand how much sexual misconduct is happening at festivals. Five-hundred people responded to the survey, 75 percent of whom are female. Of all females respondents, 92 percent said they experienced harassment of some sort. Groping and unwanted comments about their body were the most common forms.
Twenty-three-year-old Lara Haddadin is another volunteer with OMMB. "If you haven't been personally assaulted or groped at music festivals, just the looks you get make you feel uncomfortable, or even ashamed of what you wear," she says. Yes, women often wear skimpy clothing to festivals, but being naked or fully clothed has no bearing on whether or not a person is attacked. It's just another example of victim-blaming, like dismissing a victim because she was drunk or high.
"A lot of drugs and alcohol are consumed, and it's a vulnerable space," Lyrick Castro tells me at Chicago's Pitchfork Music festival. The festival campus is filled with sweaty bodies dancing closely. It is not uncommon to have a stranger offer you mollie or weed as you make your way around the grounds, as happened to me while I was dancing to A Tribe Called Quest at Pitchfork last year.
"You can't realistically think that people go to festivals and don't partake in drugs or get super fucked-up," veteran music journalist Jessica Hopper tells me. Hopper has attended dozens of music festivals and concerts and has been speaking on the issue of sexual misconduct in music spaces for years. "I have very memorable experiences—of all the years I've covered festivals—watching girls who were passed out being made out with," Hopper says. "I've seen people at different festivals, young people OD'ing under the eyes of friends who were scared they were going to be in trouble." Predators may view this—substance use and close quarters—as a perfect storm of opportunity to take advantage.
"I think there's kind of a mindset of, 'This is just what happens here. There's really not anything we can do about it.' I think a lot of people come at it as an inevitability," Hopper says. "This is something that has been going on forever, but I think it's really crucial that, first and foremost, people realize it doesn't have to be this way. And secondly, it is on us to prevent it, not bandaid it after the fact."
RELATED STORIES
In 2017, OMMB worked in some capacity with three of the top music festivals in the country: Lollapalooza, Pitchfork, and Riot Fest. Lollapalooza and Riot Fest both had OMMB help them write their zero-tolerance harassment policy and provided OMMB with a free booth at the event.
Pitchfork allowed OMMB to set up a booth at the festival, but did not offer it to the group for free. The website for the festival's 2017 event did include a zero-tolerance harassment policy. Organizers for this year's festival have yet to issue an official policy for 2018 on their website, but tell MarieClaire.com they are working diligently to publish that in the next week.
I reached out to all three festivals in hopes of speaking with management about the problem of sexual misconduct at these events. Lollapalooza directed me to the anti-harassment policy on their website. Pitchfork provided me with this statement: "The Pitchfork Music Festival is committed to increasing awareness on the issue of sexual harassment at music festivals. We were fortunate to host the campaign 'Our Music My Body' at the 2017 Pitchfork Festival. And programming across this year's festival will continue to reflect the urgency and cultural awareness of this issue." Riot Fest reiterated that they worked with OMMB "to address an issue that is of concern and importance for everyone involved in the festival" and "to raise awareness of harassment in the music scene."
It wasn't until I found Ally, a Riot Fest worker who has chosen a pseudonym for her safety, that I was able to get an inside perspective on the way sexual misconduct is handled. "There was one instance when I was working a festival and I was trying to get from box office to catering, and you have to wade through the crowds," she describes. "And it's like 'sorry, excuse me, sorry I have to get through, I have to get through.' I tried to get between this dude and his friends and he was like, 'Oh yeah, you can come through,' and he put his hands on my breasts as I tried to pass him."

Ally felt confused and belittled. She sat on a crate in catering, processing what happened. "It was a weird a experience. I remember thinking, wow, I bet if he realized that I was working, if there was something on me that told him I was staff, he might have not done that. Which is kind of a fucked up thing, that you have to have some sort of authority in order to not have that stuff happen to you."
There were no consequences for Ally's groper, just as there's little accountability for many concert goers who commit assault. According Ally, temporary staff are not trained to deal with this issue. If a person is groped or harassed they have to report it to a box office manager. It then turns into a case of he said she said, Ally adds. Unless there is physical violence, penetration, or a witness, she says action is not taken against the perpetrator.
According to a representative for Riot Fest, "staff are instructed to contact security, police personnel, or the staff in the medical tent if an incident is seen or reported, as they have the training to handle situations that violate anyone's safety." Riot Fest has a zero-tolerance policy—one crafted with OMMB—but the policy doesn't make clear what consequences a groper or harasser will face, only that they "may be removed from the fest."
Large-scale music festivals are a logistical nightmare, to be sure, but the stories and the data leave one wondering: Why isn't more being done to protect attendees? It's not just good for festival-goers, it's something they desperately want: Ninety-nine percent of OMMB survey respondants said they would be more likely to go to a music venue if there were stronger security measures in place; 84 percent wished to see more staff trained on how to deal with sexual misconduct at festivals. In short, they want to enjoy Beyoncé without a side of ass grabbing, please.
"We told Lollapalooza we would train anyone on very basic sexual misconduct prevention and response training, and they did not take us up on that," Stern says. "Festivals can claim zero-tolerance but what does that mean when you go up to a staff member who doesn't even know what to do?"
A representative for Lollopalooza counters that, "our staff is trained to facilitate support for patrons who need help with any incidents, including sexual harassment or assault, by connecting them to an appropriate onsite specialist."
Kat Stuehrk, a sexual assault prevention specialist, educator, and one of the co-creators of the OMMB survey, tells me: "I am going to go out on a limb here and say no festival in Chicago is doing enough. No large-scale, festival anyway."
A few festivals are taking major steps in the right direction, though. Last year before the Lightning in a Bottle festival, organizers held a seminar for staffers called "Creating Safer-Braver Spaces: Consent Culture & Social Care." At the Decibel electronic music festival, staff members pass out cards reminding fans about consent rules. And Roskilde festival in Denmark has held several workshops and debates that deal with issues like sexual misconduct and equality. They work closely with the authorities throughout the year. "When you build up a big temporary city, some of society's problems move in as well," says Roskilde spokesperson Christina Bilde. "You have to work proactively to both prevent problems and to build up a strong, positive culture of consent, respect, and equality, no matter where you look."
Former M.I.A drummer and activist Madame Gandhi recently applauded Roskilde for the work it's doing to create a safe environment for all. "The safety of our guests is our first priority," continues Bilde. "An essential part of our work is to create and encourage a culture where people look after one another and feel safe."
Other musicians have started speaking up, too, demanding music festivals create a truly safe environment. Chicago rapper and one of Riot Fest's 2017 headliners Vic Mensa spoke with me about the issue. "I've never been okay with men at festivals at shows grabbing women," he says. "I've gotten into full fights on stage with people in the crowd because they were manhandling women and trying to either touch them sexually or get them out the way."
RELATED STORIES
Advocates and music fans agree something needs to change—and that change should include fully training all staff and overhauling the environment. Festivals have a long way to go, but a zero-tolerance policy is a good start.
"Anything we can do to continually broaden, welcome, and make these places safe, then the whole of music gets more diverse, more interesting, more compelling, and will retain those audiences who feel like there is space for them there. Until that happens we will continue to generate a sense of unease," Hopper says.
Stern feels lucky that, after she was groped, she had someone to turn to. She had her co-workers at OMMB, who are all trained in violence prevention and response. She has a group of friends who won't blame her. But she knows not everyone is as lucky as she is. "I think a lot of people who have similar experiences, they might get victim blamed, they might get slut-shamed, there is a whole gamut of responses they might get that are not really supportive and are not a kind hug and 'wow that's bull shit,'" Stern says. "I feel really lucky but at the same time it reminds me there's a lot of work to do."
Clarification: A previous version of this piece did not include a link to Pitchfork's 2017 zero-tolerance policy nor reference their forthcoming 2018 policy.
Celebrity news, beauty, fashion advice, and fascinating features, delivered straight to your inbox!