Let Phoebe Robinson Convince You to Get Weird
The latest project for this half of 2 Dope Queens is called Ibiza—and it taught her the power of doing things that seem crazy.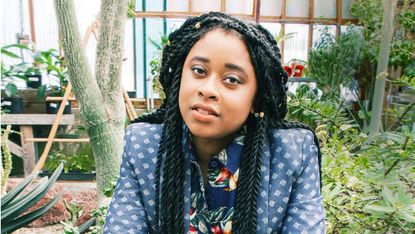 (Image credit: Charise Ash)
2 Dope Queens' Phoebe Robinson shines in the ultimate night-in-with-the-squad flick: Netflix's Ibiza, a wild romp of a female-friendship film costarring fellow funny women Gillian Jacobs and Vanessa Bayer, streaming this month. On-screen or off-, she's the BFF of our dreams.
Marie Claire: Your character, Leah, is so impulsive, it's inspirational.
Phoebe Robinson: Leah is just down to have fun. She's carefree and weird. She freelances, which is something I used to do years ago, so I very much know what that's like. Both Leah and Vanessa's character, Nikki, push Gillian's character, Harper, to really go for it and do the thing that's not so responsible, because guess what? You're going to get a freakin' story out of it, and it's a lot better than going to your job. We're the bad (but not too bad) devil on your shoulder.

MC: Do you share that spirit IRL?
PR: I'm more like, What's my five-year plan? But I think the fun takeaway from her is that if something seems a little crazy, don't automatically rule it out. Because you might end up having a really fun time. And that's what I like about the movie overall: It's just three women deciding,"You know what? We're just going to go for it," and I think a lot of the time, certainly for me, I would never just pick up and go. But you're almost never going to regret having a good time with girlfriends.
MC: Part of what drives the film is the ladies' quest to reunite Harper with a celebrity DJ after their meet-cute in a Barcelona nightclub. What's the craziest thing you've ever done for love?
PR: I met my boyfriend at a U2 concert—LOL for life. He lives in Portland, I live in New York, and he was like, "If you're ever in Portland..." and I was like, "Boy, I ain't going to the Northwest for you. OK? Get your life together." Then three weeks later I'm flying Alaska Airlines to Portland, and it worked out, and we've been together for eight months. I'm always like, "I'm not going to do anything for a man," and then I'm like, "Put those miles on my card!"
MC: Best vacation you've taken?
PR: OK, real talk, I was broke up until literally two years ago—LOL. So I was like, "Not going anywhere! RuPaul's DragRace season four again? Sure, I'll watch that." My thing is, I'm a U2 groupie. I went and saw U2 six times last summer. I worked really hard, paid my taxes, and then used my leftover money to follow U2 around the country.
MC: Nice.
PR: Is it nice? Am I in trouble?
MC: Well, fewer than 10 times seems reasonable.
PR: OK, tell me if this is reasonable, girl. U2 is going on tour again this summer, so I told my boyfriend, "I'm getting us tickets. We're going to Tulsa, Oklahoma. It's highly inconvenient for both of us to get there. There are no direct flights, and we're going to be staying at a fucking DoubleTree, trying to make love work with a broken coffeepot." It's too much.
This article appears in the June issue of Marie Claire, on newsstands now.
Celebrity news, beauty, fashion advice, and fascinating features, delivered straight to your inbox!
As deputy editor, Jen oversees Cosmopolitan's daily digital editorial operations, editing and writing features, essays, news, and other content, in addition to editing the magazine's cover stories, astrology pages, and more. Previously, Jen was a senior editor at Marie Claire. Before that, she worked at GQ.