Janet Mock on Making History With Pose
"My intention with the show is that it allows people who may not know a trans person to now know five that they care about."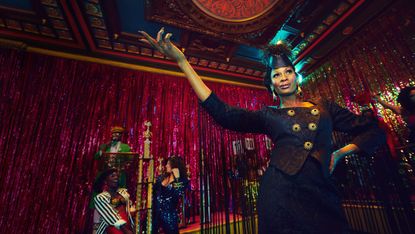 (Image credit: Pari Dukovic/FX)
Marie Claire Newsletter
Celebrity news, beauty, fashion advice, and fascinating features, delivered straight to your inbox!
Thank you for signing up to Marie Claire. You will receive a verification email shortly.
There was a problem. Please refresh the page and try again.
FX's new show Pose is quite literally dancing its way into history. The brainchild of director and producer Ryan Murphy (creator of Nip/Tuck, American Horror Story, and Glee), the dance drama is set in 1980s New York City when the underground ballroom dance scene and the rise of ostentatious big money (like, Trump big) collide. The show follows the lives of trans women and people in the LGBTQ community as they battle it out in underground voguing dance competitions and forge their own paths while navigating love, life, and their own identity.
The show breaks norms by featuring the largest cast of transgender actors in series regular roles ever. Janet Mock, one of Pose's writers, also makes history as the first trans woman of color hired as a writer on a TV show. We caught up with the Marie Claire contributing editor to talk about her writing process, smashing stereotypes, and paving the way for the future of television.
Marie Claire: Pose is set in New York City in the '80s, at the intersection of the underground ballroom dance scene with flashy, Trump-era luxury. How do you see the show reflecting the political and social landscape of 2018?
Janet Mock: One of the biggest things would be the fact that our heroines and protagonists have never been seen before. Pose really centers the experiences of these five trans women and their ambitions, goals, and dreams for love, career, and life. By caring about these characters, you end up learning so much more about the context in which they exist: How difficult it is for a young girl who happens to be trans to be able to live her life safely and freely. Those themes about being pushed out of your home because of intolerance and ignorance, being pushed out of your space of worship and school. That is the experience, even today for a lot of young trans women. What Pose does so well, and my intention with the show, is that it allows people who may not know a trans person to now know five that they care about. They now know five that make them really think differently about who they say matters.
MC: After the first episode, I already felt invested in these characters and their stories, which is hard to achieve.
JM: It's a deeply ambitious goal, right? I knew that the potential of this show could enable people to see my sisters and my community in a more whole way. I have never seen a movie or a show where there is more than one trans person in it. If I am lucky. And they are never the protagonist. To be able to have one where there are five as the protagonists of this world, I think it's going to be deeply impactful because you then get to see the humanity.
MC: The show has made history in hiring trans actors and actresses–including five leading series regulars. On the rare occurrence when we see transgender characters on TV, it is usually in a stereotyped role. How did you as a writer and a director address that?
JM: One of the things that strikes you, almost immediately, is that you're not coming into the story hearing these people talk about their trans-ness. That is not the central theme of the show. They are just trans women who are operating in the world. You realize all of the human things that they want are not exotic things. Because our show has five trans women at the center, the trans-ness kind of just slips away. You are able to see the totality of them. If anything, the people who seem as truly posing are the characters who are feeding into the Trump world. Because of hyper- and toxic-masculinity and the height of greed in the 1980s, they are the ones who are performing. I think in that way you really ask the question: Who is real here? This show flips that paradigm. What we are doing is not pretending, we are being. Everyone who has issues with us should not be interrogating us about our lives. They need to interrogate themselves. I hope that this show does that in a way that is entertaining and inspiring and heartwarming. At the center of it, it is truly an aspirational dance musical that is grounded in the context of a time and place when the city was plagued by greed, poverty, HIV, and the crack epidemic. Our characters don't depart from that. They are part of that world. And in doing so, when they win something, like a trophy, you are applauding. That's what brings so much heart in the show.
MC: You are the first trans woman of color to be hired as a writer on a television show and you swiftly became a producer and a director. Being the first to do anything can be daunting. How did you navigate this new terrain?
JM: I have always been someone who leaned into fear and the unknown. That has always been a guiding force for me and my career. I was afraid at 26 years old to open up to a reporter at Marie Claire to tell my story for the first time. I was afraid to write my first book [Redefining Realness, 2014]. But I did it. And I was afraid when Ryan Murphy asked me to move across the country and work on this show. It was the same thing when he told me to direct episode 6. I was like, 'I don't know if I can do this.' And he was like, 'You can. Number one, you are naturally bossy–just like me. Number two, I am going to support you.' Through his HALF Initiative, he has the goal of ensuring that half of his productions will be directed by women, LGBT people, and people of color in that. In an industry that is having a reckoning about gender and race, he is taking a lead. For me, it is just going into that unknown and that fear because once you face it, you're like 'Oh shit, I can do this.' There is a historic nature to my hiring. It's lovely to be distinguished in that way. But I hope that what it does is show other young women that they, too, can go after all these things. I hope that anyone who hears my story or my experiences working on Pose, that they too can try and go after their wildest, not-even-thought-of dreams.
MC: On your Instagram, you said that you poured yourself into the character of Angel [One of the five central characters, a trans woman competing in the underground dancing scene who develops feelings for a Wall Street man that she meets while working as a prostitute.]. In what ways?
JM: I gave so much of myself into all of these characters, but none more than Angel. She probably represents me at 18–when I was my most lovelorn. All I wanted was for a boy to hold my hand. That idea of being this love-sick girl who dreams of being accepted, of having someone to see you as you are with all your flaws and all your greatness, and embrace you fully as who you are in front of them. That is all that I wanted–and I probably chased that dream for most of my twenties, in addition to chasing my career dreams. But deep down inside I wanted comfort. I wanted home. So much of myself I see in her. I am able to give her words–she's a lot more courageous than I was. She says things that I wouldn't say or that I didn't have the courage to say. It's a powerful experience for me as a person who lived this journey, as a trans woman, that I can give words and experiences. A more full and holistic and real portrayal of my community and myself.
MC: That must be so interesting for you to see your story translated onto the screen and to be able to share that with viewers and help normalize these experiences. We want diversity and inclusivity to be the new normal.
JM: That is one of the goals of this show. The themes of this show are about acceptance. It's about truth. It's about family. And it's about going after your dreams and your goals. No matter how small or how grand that they are. All of us have that. You just get to experience it and see it being told through characters that you have not seen and or met before In a way it does a radical thing of allowing us, as people who may have these experiences, to embrace those who are not like us. I just hope that people love them just as much as I loved writing and directing them.
Celebrity news, beauty, fashion advice, and fascinating features, delivered straight to your inbox!
Megan DiTrolio is the editor of features and special projects at Marie Claire, where she oversees all career coverage and writes and edits stories on women's issues, politics, cultural trends, and more. In addition to editing feature stories, she programs Marie Claire's annual Power Trip conference and Marie Claire's Getting Down To Business Instagram Live franchise.