Real Women Wrestlers Love 'GLOW' as Much as You Do
A former wrestling pro on what the show gets right.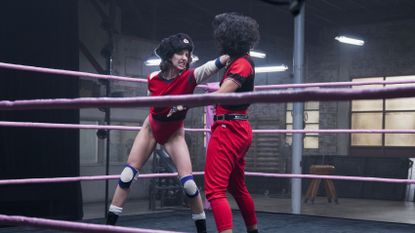 (Image credit: Netflix)
Marie Claire Newsletter
Celebrity news, beauty, fashion advice, and fascinating features, delivered straight to your inbox!
Thank you for signing up to Marie Claire. You will receive a verification email shortly.
There was a problem. Please refresh the page and try again.
I still remember the exact moment I fell in love. I recall the way the lights went dim in the arena, how the crowd hushed for a fraction of a second before roaring back in, a wild explosion of sound as flames shot from pyrotechnic machines. When the night's first opponent walked down the long ramp to the wrestling ring, I trembled from my seat in the audience, my knuckles white and sweaty. The butterflies in my stomach grew larger and didn't stop fluttering for the rest of the night, and that's how I knew: This was love.
I had gone to the TD Garden that night, 5 years ago, for a World Wrestling Entertainment (WWE) event that I was reporting on for a small local newspaper. The WWE announced a fundraiser for the Susan G. Komen Foundation, and would donate $1 million to breast cancer research that very night. I used to think wrestling was fake, a joke, something not to be taken seriously. But what I saw that night, from the organization's philanthropy to the energy of the sport itself, made me want in.
I started training to become an independent professional wrestler, enrolling at a small school just outside of Boston, Massachusetts, where I was one of the only women. The guys there were told not to treat me any differently. Over the next few months, I got my ass kicked twice a week, leaving practice with bruises, bloody noses, shattered knuckles, sprained ankles—and I kept showing up to do it all again. Those guys became my family. That garage became my home.
While I got to debunk the myths of wrestling firsthand, the rest of the world is now glimpsing how much there is to love about women's wrestling thanks to the Netflix series, GLOW. Though the scripted show premiered in 2017, there was once a real show called the The Gorgeous Ladies of Wrestling—and it was something else.
The original G.L.O.W. first aired in 1986, showing female wrestlers with wild, over-the-top personas and intense rivalries. We saw characters like Hollywood, a glam rocker chick with had crimped blonde hair and a pink streak down the middle, and "Matilda the Hun," a heel (that's wrestling speak for "bad guy") who was known to actually eat raw meat in the ring.
The show premiered at a time when women's matches still got low billing, typically sandwiched between men's matches and mostly seen as an excuse to get more popcorn or use the restroom. Women's wrestling was considered boring, its participants seen as less skilled and entertaining. And while the original G.L.O.W. didn't fully uproot the idea that women's wrestling was a novelty, it gave its wrestlers some much-needed nuance, showing the realities of the sport in a way that not even major promoters like the World Wrestling Federation (WWF) could do justice.
The revamped GLOW on Netflix does the similar work of introducing women's wrestling to an audience that would never otherwise turn on Monday Night Raw, while also being inspiring and humanizing.
"What really struck me was the bonding between all the women on the show," says Christina Sartori, a 10-year veteran of the Boston League of Wicked Wrestlers (BLOWW). "Being on stage was one of the greatest thrills of my life, but the friendships I've made are worth so much more. Being able to beat the snot out of each other, then be able to have a drink afterwards was so rewarding." (BLOWW proudly states that its members "love to kick each other's asses as much as they love keeping each other lifted up and supported.")
"As a lifelong wrestling fan, the kid in me is amazed, relieved, excited, and damn proud that there's a show that brings attention to female wrestlers," says Stabatha La Kills, another former BLOWW wrestler. "Women wrestlers always had to fight a little bit harder than men, and this show sheds light on the struggle, the hard work, and dedication that [goes into] wrestling."
The show is just the latest and most mainstream way women's wrestling is finally getting the credit it deserves. In 2015, World Wrestling Entertainment (WWE) introduced what's come to be known as the Diva's Revolution—a new age of women who were just as good as the men, who worked just as hard, and who weren't going to be kept back in a sport that's always been male-dominated. The name "Diva" to describe female wrestlers started back in 1990, but now those women were given adequate billing and air-time. They commanded and received respect—and they got it in 2016, when the Diva label was scrapped in favor of "Superstar," the same moniker used to describe the male roster. Wrestling fans are seeing how hard these women work—how much literal blood, sweat, and tears go into becoming the people who step into that ring.
Though professional wrestling is now a thing of the past for me, every single wrestling show I watch continues to feel like magic. I've never once forgotten the feeling of that very first show in 2012, the feeling that I had just quietly witnessed something amazing, surrounded by strangers with whom I shared this secret that the rest of the world wouldn't understand. And now, GLOW is showing even more people how strong, powerful, and damn entertaining women's wrestling can be, one fabulous chokeslam at a time.
The second season of GLOW premieres on Netflix on June 29.
Celebrity news, beauty, fashion advice, and fascinating features, delivered straight to your inbox!