How to Write a Holiday Thank You Note
Not quite sure what to say, or how to say it? We asked Lizzie Post, etiquette expert and great-great-granddaughter of Emily Post, how to do it right.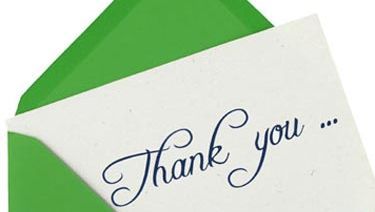 (Image credit: Ever)
Not quite sure what to say, or how to say it? We asked Lizzie Post, etiquette expert and great-great-granddaughter of Emily Post, how to do it right.
Do I send a thank you note for every gift I get?
You can't go wrong with saying thank you–and a thank you note, preferably a hand-written card, is a must for gifts. Use your common sense–you can probably go without handing your boyfriend a thank you note when he's on the couch next to you, but if his parents visited and brought gifts, it's time to break out the stationery.
What do I write?
Thank you notes for gifts are tough to write–it's not easy to find the right words to tell Aunt Sally how much you loved the taxidermal squirrel. Try this no-fail, three-sentence formula:
1. Thank them for the specific gift (not just "the gift").
2. Tell them what you'll use it for and how much you look forward to doing so (if you're planning on using it by taking it to the store to return it for cold, hard cash, keep it quiet).
3. End by wishing them well or letting them know you look forward to seeing them soon.
How do I sign off on a thank you note?
"Best" is the worst–stay away from anything that you would put on a cover letter or restraining order. Instead, go with wishing you the very best, most sincerely, or many thanks.
Better late than than never?
It's never too late, but if it's been six months and you're writing your holiday thank you notes poolside, start off with something like, "I sincerely apologize for how late this is, but I just wanted to thank you for the sweater/book/bacon of the month club membership."
How should I thank someone for coming to my party?
A verbal thank-you is fine when you're thanking someone for attending a party you threw--call them up and let them know it was great to see them. If they brought a dish or alcohol, make sure to mention it too so that they know it was appreciated and remembered.
When can I get away with an email or phone call instead of a card?
The handwritten thank you note is almost always the right way to go. But if you're worried about having or making time to sit down and write out notes–for example, if you had a huge party or are traveling for the holidays–a phone call is acceptable. But if you have the time to sit down and write out a note, try to do so–it tells the recipient that you took the time to sit down and think of them, and it's the most sincere way to do it.
No one really hand-writes when they can just send an e-mail, right?
Proceed with caution when it comes to e-mail; it's the easy way out to quickly type out an email, and can come across as insincere, especially to anyone who doesn't use e-mail as their primary means of communication. If you're set on using e-mail, make sure you personalize each thank-you–avoid a massive generic "thanks a bunch!" CC'd to your entire address book. Facebook messages and texts are never OK.
Can I send an e-card?
Shooting your best friend a snarky card from someecards.com is fine, but not everyone will appreciate it. When it comes to work clients or supervisors, stick to a handwritten note. And consider sending a handwritten note in addition to the e-card!
I didn't get a gift for the person I'm thanking. Do I mention it in my note?
A gift is a nice gesture, not a holiday requirement, so don't apologize. Your words can mean just as much as a gift, so put some extra thought into your thank you card, and make a mental note to put this person on your gift list next year.
Where should I buy my thank you cards?
Lizzie Post swears by Crane & Co. and Scribbles Vermont. MC recommends the new 100% recycled collection of greeting cards from Cards Direct for holiday sentiment without the carbon footprint, and the crafty DIYers over at Etsy for handmade and unique cards.