Constance Wu Isn't Here for Hollywood's Tokenism
We're head over heels for Constance Wu in the buzzy Crazy Rich Asians, in theaters August 15.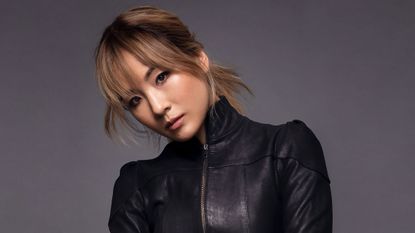 (Image credit: TIZIANO LUGLI)
Crazy Rich Asians is a rom-com—only way better. The history-making film delivers all we've come to expect from the genre, with more heart, wit, and fun than we've seen in a while. Oh, and you'll fall for its star, Constance Wu.
Marie Claire: The book that the film is based on, Crazy Rich Asians, by Kevin Kwan, centers on a wedding weekend. Your character, Rachel, heads to boyfriend Nick's hometown for a friend's wedding, where she learns the truth about Nick and his family. What is it about Rachel that makes this a fish-out-of-water story?
Constance Wu: Rachel is very American in that she is proud of her working-class roots and she doesn't think that is anything to be ashamed of. When she arrives in Singapore, the culture there—they want to show their wealth. They think new money is tacky. They think old money has a history connected to it that makes one person more valuable than the other. And Rachel knows that human value doesn't lie in dollar signs. It's in spirit, courage, love.
Marie Claire: The film's themes of family drama and the risk it presents of repeating history's mistakes feel universally relatable.
CW: It's like when there's a muddy puddle and the dirt settles to the bottom: You have clarity. Rachel, by the end of the film, has clarity, and she makes it clear to Nick's mom, Eleanor, that they do share values even though they are different in behavior and appearance. This movie shows how much stronger women are than men; you have three stories of women sacrificing to protect men. You have Astrid, Nick's cousin, playing herself down so that her husband doesn't feel inferior. Then you have Rachel, who—this is a spoiler—walks away from true love because she doesn't want to pollute his family. And then you have Eleanor, who, when Nick was born, gave up her son to mostly be raised by the grandma because the grandma didn't like Eleanor and she wanted the son to be in grandma's good graces. She literally sacrificed the opportunity to be with her child to give him a better life. And Nick and some of the men don't really recognize these courageous acts.
Marie Claire: How much did the historical significance of the film's all-Asian cast weigh on you during the filming?
CW: There's a lot of pressure because this is the only all-Asian cast from a major American studio in a contemporary context, like, ever. And there are going to be people who don't like it because it won't represent them, because one story cannot be representative of the whole. Like Chimamanda Ngozi Adichie says, that's the danger of a single story. We just need narratives. That way, one story doesn't represent the whole. But during filming, you are focused on the life of the character. If I spent time trying to think about whether or not my character is going to please all these different people, then that character will be very watered down and won't be a real human.
Marie Claire: What sort of impact do you hope the film will have in terms of Hollywood's approach to diversity?
CW: First, we need to delineate the difference between diversity and representation. For so long, Hollywood studios have thought that diversity is putting a person of color in there to check off a box. And when we talk about representation, it's stories where our culture is not neutralized, where it's not like, Oh, anybody can play this. No! We don't want to say anyone can play this. Only we can play this because this is our story and we are not ashamed of it. We're proud of it.

This article appeared in the August issue of Marie Claire.
Celebrity news, beauty, fashion advice, and fascinating features, delivered straight to your inbox!
As deputy editor, Jen oversees Cosmopolitan's daily digital editorial operations, editing and writing features, essays, news, and other content, in addition to editing the magazine's cover stories, astrology pages, and more. Previously, Jen was a senior editor at Marie Claire. Before that, she worked at GQ.