Don't Forget About the Victims of Hurricane Florence
The tropical storm is still a disaster. You just stopped hearing about it.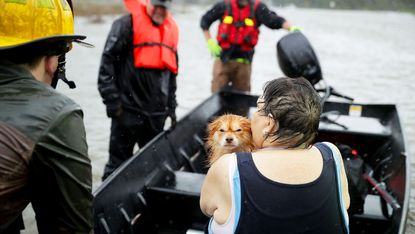 (Image credit: Chip Somodevilla)
When it became clear that Hurricane Florence had built up enough momentum to become a Category 4 storm, it dominated news coverage. Mandatory evacuations occurred all throughout the mid-Atlantic states, with the mayor of Fayetteville, North Carolina telling residents that should they choose to stay put, they should also notify their next of kin—gruesome language, but it didn't mix the message up: This could be the storm of the century.
But as Florence approached land, its wind speeds died down. By Sunday morning, it was downgraded to a tropical depression and the news cycle largely moved on. After all, the storm had to contend with the serious allegations of sexual misconduct against Supreme Court nominee Brett Kavanaugh. And the Emmy Awards. And the latest graphic Donald Trump scandal. And as the news cycle moved on, many of us who weren't directly impacted by Florence moved on with it.
Not everyone was so lucky. The aftermath of Florence continues to wreak havoc on the Carolinas, bringing record flooding to many areas. The storm has been blamed for 32 deaths so far, though the number keeps rising as rivers continue to swell and roadways remain underwater. Millions of animals have been abandoned or died. Yes, millions. And the flooding is getting worse as the storm dissipates.
Rescued six dogs in Leland, NC, after the owner LEFT THEM locked in an outdoor cage that filled with flood water that was rapidly rising.We got them out, but by the time we left, the water was so high that they would have drowned. BRING YOUR PETS WITH YOU! #HurricaneFlorence pic.twitter.com/tRibGxCjXySeptember 16, 2018
See more
But whether it's because of the speed of our current news intake, or the fact that the rest of the nation breathed a premature sigh of relief when we found out a huge hurricane wasn't going to smash into the East Coast, the interest in Florence has been low. Just look at how precipitously the searches for Hurricane Florence dropped in the last few days, according to Google Trends, despite the fact that the devastation has increased.
Another reason many of us stopped paying attention is the category downgrade. But categories measure windspeed, not the rain, flooding, or surges that are often the deadliest aspects of hurricanes. So even though we've come to associate lower categories with less impactful storms, it's not necessarily the case—which can be bad for charities who need funding to handle the devastation that non-categorized storms can leave behind. Where Florence is concerned, it means money for vital rescue and relief efforts hasn't shown up in the numbers that it usually does for more publicized storms like Harvey, even though it's still very needed.
Do not focus on the wind speed category of #Hurricane #Florence! Life-threatening storm surge flooding, catastrophic flash flooding and prolonged significant river flooding are still expected. More: https://t.co/tW4KeGdBFb pic.twitter.com/eiD4c8pkRxSeptember 13, 2018
See more
"Unfortunately, as the storm was downgraded from a Category 4 hurricane to a tropical depression while it made landfall, donor concern seemed to decline as well," Alison Carlman, Director of Impact and Communications at GlobalGiving, an organization which vets and supports nonprofits around the world, tells MarieClaire.com. "This slower donor response—which is being seen by many responding organizations—is actually happening despite the increasing impact of the storm, making for a difficult situation." She points to the catastrophic flooding in North Carolina, and the complete inaccessibility of entire towns due to road destruction.
So what can you do? Above everything else, make a cash donation.
See, as well-intentioned as shipping things like food or clothes to victims seems, it's actually not all that useful when conditions are still problematic. "Donated items often cost more in shopping than they're worth, and take valuable resources to move, store, and distribute," says Carlman.
When it comes to picking an organization, Carlman says that local relief groups are typically best-positioned to respond to a disaster. GlobalGiving sets up Funds, big pools that donors can contribute money to, so that it gets distributed among the charities that they've vetted and found up to the task of providing assistance and relief to storm victims. An easy way to give money to groups on the ground in the Carolinas is to put money in The Hurricane Florence Fund, which you can find here.
One of the charities that they're working with, says Carlman, is Circle of Health International, which is working to hire a team of women evacuees to coordinate relief in the shelters, provide cash grants to those who have been evacuated for emergency and transport costs, and provide cash to families who had to move medically fragile children as a result of the storm. Others include the Fuel Relief Fund (which provides much-needed fuel to families and first responders) and the International Medical Corps, which deploys healthcare professionals to shelters and the towns that have been cut off from supplies due to poor transport conditions.
There's also always the Red Cross, and Google announced they'll be matching donations to that organization, up to $1 million. You can contribute here.
For animal-related charities, The Best Friends Animal Society is updating their Facebook page here with information on lost pets, where you can donate money, and when rescued animals will be available for adoption. They've also linked to shelters in the area, like the Saint Francis Animal Center in South Carolina, which has so far rescued 180 animals from the line of Florence. They need things like pet food and leashes, which they've posted on their Amazon wish list here.

There are a lot of things you, personally, can do right now to help the people and pets impacted by Hurricane Florence, but first you have to pay attention.
We'll keep this post updated as more information becomes available.
Cady Drell is a writer, editor, researcher and pet enthusiast from Brooklyn.