What It's Like to Grow Up in a Cult
In her new book, To the Moon and Back: A Childhood Under the Influence, Lisa Kohn describes her journey into and out of the infamous Unification Church.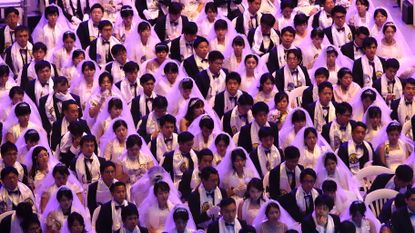 (Image credit: Chung Sung-Jun)
On July 1, 1982, the summer between her freshman and sophomore year of college, Lisa Kohn watched her mother get married. The wedding, held at Madison Square Garden, was not solely her mother's own: Mimi, as Lisa called her, was one half of more than 2,000 couples being wed in a mass ceremony, the pairings handpicked by Reverend Sun Myung Moon, the founder of the Unification Church. Lisa and Mimi were members. They were, as it's known colloquially, "Moonies."
At this point, Lisa had already started pulling away from the organization that she had been a member of since childhood. But doing so after years of intense indoctrination wasn't easy. In her new memoir, To the Moon and Back: A Childhood Under the Influence, she tells the tale of joining, living in, and eventually breaking free from what many believe was a cult.
Lisa entered the church in 1974 at age 10, a few months after Mimi first heard Reverend Moon preach. Initially, she liked the rigid structure, an escape from the life she had grown accustomed to at home, filled with nudity, drugs, and erratic behavior from her divorced parents.
"By the time my mom brought us to the church, it was a haven for me and for my brother, Robbie" says Lisa, now 55. "Both my parents were hippies. There was lack of structure at home, and my mom had an abusive boyfriend. It was not a safe environment."
The church felt like asylum for Lisa and her brother, and they quickly began to idolize its leader. Reverend Moon, or "Father" as members called him, founded the church in 1954 in Korea after reportedly having a vision. In the vision, Jesus told Moon that he was crucified before completing his mission on earth and that the only way to erase original sin was to unite all the world's religions. According to the Unification Church's Divine Principle (written by Moon), God sent a second Messiah to Korea in the 1930's to lead this mission. A mission that Moon, who fit the bill, accepted. (Moon died in 2012 at age 92; the church, still active, is now formally called the Family Federation for World Peace and Unification, and different sects have splintered off from that main branch. Moon's wife is generally now considered the leader of the Unification Movement.)
For Mimi, who had dabbled in spirituality and explored different religions her whole life, Moon's preaching just "made sense," Lisa claims. The trio would drive to the church's compound in Barrytown, New York, from their home in New Jersey on weekends to listen to Moon's sermons, sitting on a hard floor for hours. Soon Mimi went to work for the church full-time, leaving the kids with their grandfather and later their father, Danny, in a grimy apartment on the Lower East Side. Instead of furniture and toys, the space was filled with parties, baggies of coke, and sketchy men that would "jokingly" offer to buy Lisa, she recalls. Danny would even give his son marijuana—Lisa, being more straight-laced, always refused.
Lisa and Robbie's only respite was visiting their mother on weekends—the complete opposite of weekdays with their father: At the Unification Church, there were strictly no alcohol, no drugs, no premarital sex, and limited physical contact between genders. Members were expected to live in "monk-like purity;" they made "no choices, no decisions," according to the New York Times, and rarely had to think for themselves, instead fervently following orders and performing chores.
"In many ways, the church made me feel safer and more comfortable with my mom, and it made me feel more distant and scared of my father," Lisa says. "I viewed him as evil and satanic. He was Satan trying to win us back." Lisa and her brother spent their days running around with the "True Children" of the church (the offspring of Reverend Moon and his wife), who were revered at the compound and constantly under the watch of bodyguards. According to Lisa, adults considered it a blessing when the True Children—believed to be without sin—paid them any attention, even if it was negative, like teasing them or hurling stones in their direction.
Lisa basked in her newfound family. "When I was in it, it was only good and true for me. It's only looking back that I can see that it wasn't," she says now. She even traveled to Seattle one summer in high school to proselytize, and was Sunburst's (the church's band) number-one fan.
But soon, the pressure to be the perfect follower started to build. And as Lisa got older, her commitment to the church began to waiver. "It was a very difficult, there were very strict guidelines that kept you from the outside world," she says.
Lisa suppressed her feelings for boys (dating was strictly prohibited), and first began questioning the church's teachings when she was nearly 17 after attending a summer arts camp, where she made friends who were gay.
"I went to music camp and it was the first time I was ever on my own, not around the church, feeling very scared. Many of my friends were gay; I just remember being terrified and confused. I remember that I loved them and that they were wonderful, but it was a sin. My mother kept saying 'you need to convert them or stay away from them.' For the first time, it started to not make sense. For the first time, it started to crack everything in me."
By the time her mother's wedding rolled around two years later—a ceremony that Lisa once dreamed about being a part of herself—she needed out. "I no longer wanted to be there," she says.
The choice to step away was not easy. "Leaving was so hard for me because I knew it was still right and I was not strong enough to carry it out," she says.
Lisa struggled with feeling like a failure, and began on a downward spiral. She entered a string of abusive relationships, started using the drugs that once disgusted her, became anorexic, and even considered jumping from the bridge on her college campus. "My biggest sin was falling, getting involved with a boy, leaving the church," she thought at the time.
It is only through hindsight, healing, and a 12-step program, that Lisa looks back and recognizes the church for what it is widely considered: a cult.
The healing process is ongoing, but Lisa, who now owns her own leadership consulting firm and is married with two children, looks to the future instead of living in her past. She has a solid yet guarded relationship with both of her parents (her mother eventually left the church), who are supportive of her memoir, and her relationship with her brother (who is also no longer a member) is ironclad.
With the release of her book, she hopes that readers will learn three things: "The first is that extremist beliefs are dangerous. There is nothing more intoxicating than knowing you have the truth. Secondly, I want to give a message of hope. And lastly, that the world needs more self-love, self-compassion, and acceptance of others."
For Lisa, the decision to move forward, to reclaim her life, has finally helped her feel free.
To learn more about Lisa's life in the Unification Church, pick up a copy of To the Moon and Back: A Childhood Under the Influence, on sale now.
RELATED STORY
Celebrity news, beauty, fashion advice, and fascinating features, delivered straight to your inbox!
Megan DiTrolio is the editor of features and special projects at Marie Claire, where she oversees all career coverage and writes and edits stories on women's issues, politics, cultural trends, and more. In addition to editing feature stories, she programs Marie Claire's annual Power Trip conference and Marie Claire's Getting Down To Business Instagram Live franchise.