The Best Netflix Original Shows of 2020 — So Far
Seriously, if you haven't watched 'Russian Doll,' what are you doing?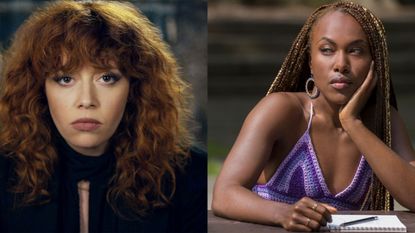 (Image credit: Netflix)
Though Netflix reliably hosts some of the best TV shows of the past two decades, I'll be honest: If I watch Gilmore Girls all the way through one more time, I'm going to be able to start reciting episodes from memory. Fortunately, Netflix has an excellent slate of original programming, and the shows it's been rolling out in 2019 are some of the best available anywhere.
That's why we at Marie Claire have compiled a list of the best Netflix series coming out in 2019. To create this list, we picked only fictional shows (i.e. no reality series, sorry Marie Kondo) that were made specifically for the site and that have premieres or will debut new seasons this year. So if you're looking for the next binge-worthy watch, we recommend turning on one of these gems.
Russian Doll (February 1)
Sweet birthday baby! Natasha Lyonne stars as Nadia in this masterpiece of a miniseries, about an aimless woman in her 30s who gets stuck living the same day over and over again, dying increasingly gruesome deaths each time. But if that sounds like Groundhog Day for the internet era, it's got a deceptive amount of layers. Watch as Nadia tries to figure out what she has to do to make her life keep going...and why there seems to be another person who dies as often as she does.
Tuca & Bertie (May 3)
From Lisa Hanawalt, production designer of other genius Netflix animated show Bojack Horseman, comes this animated series about two 30-something best friends who happen to be a loud toucan (voiced by Tiffany Haddish) and a pushover songbird (voiced by Ali Wong). Though it's way less dark than Bojack, it still uses a mix of hilarious bird tropes and surreal imagery to tell a heartwarming story about two friends at a crossroads in their lives, one on a path to level up in her career and her love life and the other to get her act together. It's funny, sweet, and relentlessly strange.
Dead to Me (May 3)
Christina Applegate plays Jen, a recent widow raising two boys and trying to cope with her grief by ignoring it. At a support group, she meets Linda Cardellini's Judy, whose fiancé had also recently died. They become fast friends, but Jen soon realizes that Judy isn't exactly what she says she is...and that's just the half of it. No spoilers, because the twists in this show are too shocking to give away early. Fortunately, it was renewed for a second season sometime in the near future.
Easy (Season 3, May 10)
The third and final installment of Joe Swanberg's anthology series follows new pairings in and around Chicago. The show has always been predicated on people navigating diverse sex and love lives, whether that's threesomes, dating over 40, and even open marriages. Plus, there are a ton of stars, both new and returning to the show, to keep an eye out for, like Gugu Mbatha-Raw, Dave Franco, Marc Maron, Zazie Beetz, and Aya Cash.
She's Gotta Have It (Season 2, May 24)
DeWanda Wise stars as Nola Darling, Spike Lee's liberated heroine based on the 1986 movie of the same name. She's trying to achieve her dreams while juggling three potential partners at the same time—and feeling absolutely zero remorse about asking for what she wants. Truly a woman for our times.
When They See Us (May 31)
Ava Duvernay's highly anticipated miniseries about the Central Park Five—five teenagers of color who were wrongly convicted and imprisoned for a 1989 rape—was only out for a few days when it sparked major conversations about the justice system, prejudice, and the prison industrial complex. It even inspired a boycott decades later against the case's prosecutor, Linda Fairstein, which led to her resignation from the nonprofit for which she worked. That's powerful show-running, and the result is a must-see four-part series that reexamines this case in the context of Black Lives Matter, the Trump administration, and the unsteadiness over the future of our country.
Black Mirror (Season 5, June 5)
Black Mirror will have a hard time topping Bandersnatch, its revolutionary interactive episode from last year. But it'll be nice to get back to a more "traditional" (if this show can ever be called that) bunch of stories from the mind of Charlie Brooker. This three-episode season will feature Miley Cyrus (in an episode she's described as having more humor than others on the show), as well as one with Anthony Mackie.
Armistead Maupin's Tales of the City (June 7)
Based on the 1976 book series by Armistead Maupin, Tales of the City has been revived many times in the past but this might be its glossiest yet. The story follows a home on Barbary Lane in San Francisco, which is full of friends and lovers of all stripes. It was revolutionary for its thoughtful consideration of queer and trans characters in the 1970s, and with Ellen Page and Laura Linney (reprising a role she initially took on in 1993) onboard for the revival, it's sure to be one of the most talked about new series of the summer.
Stranger Things (Season 3, July 4)
Unless you've been living under a rock, you're likely already awaiting with bated breath the new season of Stranger Things. So far, we know that Season 3 will prominently feature the Harcourt Mall, where Steve has a job at an ice cream parlor (alongside Maya Hawke, who's joining the cast). Also, we can probably expect Eleven to have a big monster showdown after where we left her last season. I love Stranger Things in the summer, don't you?
GLOW (Season 3, August 9)
If you're not already watching this riveting dramedy about a group of women wrestlers in the 1980s, get on it: This season brings the Gorgeous Ladies of Wrestling to Las Vegas, and things are about to go big-time. Alison Brie, Betty Gilpen, and Marc Maron all star in this funny, surprisingly moving show.
Disenchantment (Season 2, September 20)
A lot of us weren't sure what to make of the first season of Disenchantment, the animated series from The Simpsons creator Matt Groenig. But we have high hopes for season 2, since the first season seemed to find its footing toward the end, suggesting it will hit a funny, offbeat, deeply vulgar stride going forward. The story follows Bean, voiced by Abbi Jacobson, a princess who rejects her fate to marry a handsome prince and instead wreaks havoc all over her father's kingdom, destroying property and accidentally killing people.
The Crown (Season 3, TBD 2019)
We cannot wait for The Crown this season. Even though we had to say goodbye to the Queen E played by Claire Foy, she's being replaced by the recently Oscar-winning Olivia Coleman, with the role of Margaret going to Helena Bonham Carter. It's going to be epic.
Dolly Parton's Heartstrings (TBD 2019)
Oh hello, a show where each episode is based on a beloved Dolly Parton song and frequently includes Dolly herself? Yes, we'll take a season of that. Maybe more. Let us know.
For more stories like this, including celebrity news, beauty and fashion advice, savvy political commentary, and fascinating features, sign up for the Marie Claire newsletter.
Celebrity news, beauty, fashion advice, and fascinating features, delivered straight to your inbox!
Cady Drell is a writer, editor, researcher and pet enthusiast from Brooklyn.