The Texts Between Michelle Carter and Conrad Roy III
The tragic case is given the documentary treatment in HBO's I Love You, Now Die.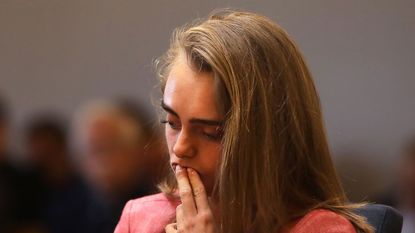 (Image credit: Getty Images)
HBO's new two-part docuseries from Erin Lee Carr, titled I Love You, Now Die: The Commonwealth vs. Michelle Carter, dives deep into the Massachusetts case that shocked America and spoke volumes on mental health, suicide and the power of technology. At the very center of the case are the texts between Michelle Carter and Conrad Roy III prior to his death by suicide in July of 2014.
CONTENT WARNING: The below story contains a description of a case involving death by suicide. This content may be triggering for some readers.

Michelle Carter and Conrad Roy met in February 2012; both Massachusetts teens were on family vacations in Florida. After connecting that summer, Roy and Carter kept in touch when they returned to their home state, and even started calling each other boyfriend and girlfriend.
As the two became more comfortable with each other, their text messages became more concerning and problematic. Roy told Carter that he'd considered suicide, and Carter assured Roy that he was capable of successfully killing himself. An excerpt of their conversation on July 12, 2014:
Carter: I thought you wanted to do this. The time is right and you're ready, you just need to do it! You can't keep living this way. You just need to do it like you did last time and not think about it and just do it babe. You can't keep doing this everyday.

Roy: I do want to. but like I'm freaking out for my family. I guess.

Carter: Conrad. I told you I'll take care of them. Everyone will take care of them to make sure they won't be alone and people will help them get thru it. We talked about this, they will be okay and accept it. People who commit suicide don't think this much and they just do it

Roy: I know I know lol. thinking just drives me more crazy

Carter: Exactly. You just need to do it Conrad or I'm gonna get you help

Roy: Okay I'm gonna do it today

Carter: Do you promise?

Roy: I promise babe
The next day—July 13, 2014—Conrad Roy III was found dead in his pickup truck, parked outside a Kmart in Fairhaven, Massachussetts. According to the HBO series, Michelle Carter and Conrad Roy exchanged over 60,000 text messages, photos and videos over the course of their relationship.
In February 2015, seven months after Roy committed suicide, Michelle was indicted for involuntary manslaughter. These text messages were submitted as evidence. And on June 2017, Carter was found guilty of involuntary manslaughter and sentenced to two and a half years in jail, which was reduced to 15 months.
Boston News 25 compiled all of the texts used as evidence in the case into one Excel document. You can download it to read the texts between Roy and Carter that were presented as evidence in the case here.
If you're thinking about suicide, are worried about a friend or loved one, or would like emotional support, the Lifeline network is available 24/7 across the United States at 1-800-273-8255.
Marie Claire email subscribers get intel on fashion and beauty trends, hot-off-the-press celebrity news, and more. Sign up here.
Alexis Jones is an assistant editor at Women's Health where she writes across several verticals on WomensHealthmag.com, including life, health, sex and love, relationships and fitness, while also contributing to the print magazine. She has a master's degree in journalism from Syracuse University, lives in Brooklyn, and proudly detests avocados.