Thanks to FaceApp, These Celebrities Aged Overnight
It's the photo editing app of your dreams (or nightmares).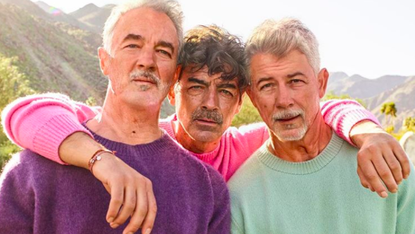 (Image credit: Jonas Brothers on Instagram)
It seems like every week, a new trend sweeps the Internet, exploding with viral videos and memes that are shared across Twitter, Instagram, and even Facebook (a few days late, but you know). This week, an interesting trend emerged from the depths of the interwebs called the #FaceAppChallenge, and it's a real doozy.
The challenge comes courtesy of FaceApp, an app developed in 2017 that allows users to alter their faces in a number of different ways, including adding a smile and changing your sex, race (though this controversial filter was swiftly removed shortly after its release), and now, age. The latest iteration provides filters that turn users either into smooth-faced baby versions of themselves or wrinkly geriatrics with a smattering of sun spots and gray hair.
Want to join in on the fun? Using FaceApp is pretty straightforward—here's how it works. Upload a picture of yourself from your camera roll (or take a selfie) and position your face within the overlay so that the app can read the nuances of your face. When the picture is uploaded, choose from any one of the available filters and watch yourself be transformed.
In the past few days, the photo editing app skyrocketed in popularity among Androids and iPhones alike as a result of various celebrities joining in on the fun and uploading images of what they imagined their future selves would look like. Kevin, Joe, and Nick Jonas definitely gave us a laugh (and a fright, tbh) with their take on the challenge, but they weren't the only ones. Check out some of our faves below:
Drake
I usually don't date guys older than 35, but Champagne(grand)papi is doing things to me.
Lil Nas X
You're never too old to take your horse on the old town road—yeehaw.
Tyrese and Ludacris
The next movie in their action-packed franchise? Not So Fast, Not So Furious.
Brody Jenner
Carrie Underwood
James Marsden
Noah Centineo
If you're a little wary of the viral app, you're not alone. Many have pointed out that the popularity of the FaceApp is potentially problematic for a few reasons, the most pressing being an issue of privacy. Add to that concern the recent frenzy around deepfakes (AI-altered images that are produced by superimposing images onto each other), and FaceApp seems almost as freaky as it is fun.
For more stories like this, including celebrity news, beauty and fashion advice, savvy political commentary, and fascinating features, sign up for the Marie Claire newsletter.
[editoriallinks id='d1573602-d89e-4004-b170-fd83d23db963'][/editoriallinks]
RELATED STORY
Every Season of Friends, Ranked
Celebrity news, beauty, fashion advice, and fascinating features, delivered straight to your inbox!