Blogging SXSW: Tyrone Wells
I met up with Tyrone Wells at his MySpace showcase for a quick Q&A.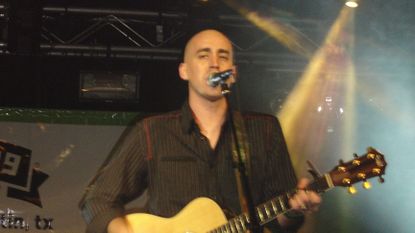 (Image credit: Archives)
By the end of Thursday the craziness that is South By Southwest was starting to take a toll on everyone. Exhaustion hit, but from catching many talented bands so I didn't mind.
I started my day off with the roomies checking out the American Apparel sale before brunch (not much of a shopper so didn't dig through the massive boxes that were there). Afterward, I met up with Tyrone Wells at his MySpace showcase for a quick Q&A. A man of many metaphors, it was refreshing to talk to someone with such a great view on life and music.
Traveling by myself and going to most of the showcases solo has been a learning experience for me. I've covered shows alone before, but usually in New York or New Jersey where I'm familiar with my surroundings, so it's always a thrill to see a familiar face here in Austin.
After catching Tyrone's amazingly impressive set at La Zona Rosa I ate at The Parish planning to see Lisa Hannigan's performance at 9 p.m. But, turns out I was at the wrong venue — major bummer. By the time I finished my food and realized this, the line outside her showcase was ginormous so I figured I'd head to Stubb's instead and catch Gomez.
Change of plans. On my way to Stubb's I ran into the Lights Resolve guys (currently my fave. New York-based band — give their song "Another Five Days" a listen) and spent the rest of the night catching shows with them. It was so great to see familiar faces finally and I was glad to spend time with people I actually knew. First show with LR was Liam and Me (definitely recommend catching if you're into energetic indie-rock pop) then As Tall As Lions then Paper Route. The drummer in Paper Route was phenomenal — I couldn't keep my eyes off him! We ran into Joseph Gordon-Levitt on the way (Angels in the Outfield, 10 Things I Hate About You anyone?) Overall, a great end to the day.


Annie Reuter is a freelance writer and music blogger who covers shows in and around the tristate area. In constant pursuit of the next show to attend and band to interview, Annie keeps up her own music blog, You Sing, I Write.