The Real Photos of Princess Margaret and Roddy Llewellyn In Mustique
The photos incited a tabloid frenzy—and Margaret's separation from her husband.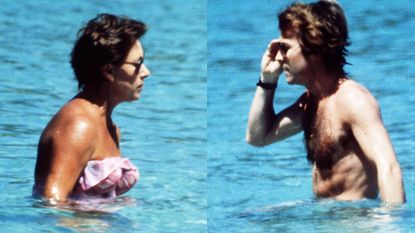 (Image credit: Getty Images)
Marie Claire Newsletter
Celebrity news, beauty, fashion advice, and fascinating features, delivered straight to your inbox!
Thank you for signing up to Marie Claire. You will receive a verification email shortly.
There was a problem. Please refresh the page and try again.
In 1976, all hell broke loose in the tabloid press when Princess Margaret was photographed in Mustique with her boyfriend, Roddy Llewellyn, while still married to Lord Snowdon, also known as Antony Armstrong-Jones. More than four decades later, photos from the set of season three of Netflix's The Crown showed Helena Bonham Carter (who plays Princess Margaret) holidaying with a handsome younger man, played by Harry Treadaway, and the scandal ended up playing a significant role in the season.
A little backstory: What we know now, but did not at the time, is that Princess Margaret and Lord Snowdon's marriage had been on the rocks for some time. Theirs was a turbulent relationship, and after he divorced Margaret, Snowdon went on to marry the woman he'd had an affair with, Lucy Lindsay-Hogg (they divorced 22 years later, in 2000). As for Llewellyn, the only person in the love triangle still alive today, he and Margaret dated for eight years, and remained friends after an amicable breakup.
It's thought that Margaret gave her blessing when Llewellyn married, and remained close to both Llewellyn and his new wife.
Even the Queen has reportedly weighed in on how much healthier Princess Margaret's relationship with Llewellyn was, in contrast to her explosive relationship with Lord Snowdon, noting at Margaret's funeral how happy Llewellyn made her.
But back to those photos. Taken in Mustique in 1976 roughly three years after the pair first met, they're candid by today's standards, but were enough to spark a royal frenzy (pun intended) and lead to Lord Snowdon separating from, and then divorcing Margaret, (which, by all accounts, the princess was absolutely fine with).
Here's Llewellyn en route to the airport to Mustique in 1976:
Llewellyn in the waters of Mustique:
Margaret in the waters of Mustique:
Llewellyn in a skintight Union Jack print swimsuit:
There are a couple of other photos from Mustique floating about—one here shows Margaret speaking with Llewellyn under a parasol—but nothing that could be considered capital S-scandalous. Nonetheless, the release of the photographs forced Margaret and Llewellyn into a tough spot, with Llewellyn offering a mortified statement to the press that did not comment specifically on the photos but claimed that he was, in fact, just gardening in Mustique. (He was, and remains, a gardening expert.)
"I am not prepared to comment on any of the events of last week. I much regret any embarrassment caused to Her Majesty the Queen and the royal family, for whom I wish to express the greatest respect, admiration and loyalty," it read. "I thank my own family for their confidence and support, and I am very grateful for the help of my friends at the farm who, with myself, share a common interest in restoring a house to its original order and beauty, and in farming land which it is hoped will provide food for our Parsenn Sally restaurant in Bath. Could we please be permitted by the media, who have besieged us, to carry on with our work and private lives without further interference."
Spoilers for season three. Season three of The Crown does, indeed, pay close attention to the relationship between Llewellyn and Margaret, and in particular the fallout from the photos of the two of them hitting the press. There's a real "before" and "after" sense to the storyline: Llewellyn and Margaret meet at a pool party and hit it off immediately, sparking a love affair that leaves Margaret remarking, absent-mindedly, that this is the first time in her life that she's ever really been happy. Their romance is tender and their holidaying idyllic—and then a photographer sneaks up on the two and snaps a few photos, and it's all downhill from there.
Trigger warning: The following paragraph continues an allusion to suicide. Notably, the photographs that were in the newspapers (above) are actually very tame compared to the "photos" the photographer is shown to take, which reveal Llewellyn and Margaret's easy intimacy while relaxing on the beach. (There's also a callback to that Union Jack swimsuit, you'll be glad to hear—Margaret drags Llewellyn to a store and cajoles him into trying it on.) But Margaret is a married royal, and in both the show and real life, the fallout is tremendous. In the show, the photos trigger a depressive spell, and Margaret tries to kill herself. And while the latter is, sadly, based in truth, Margaret's secretary has gone on the record to say that the photos also caused Lord Snowdon to file for divorce, which pleased Margaret. I quote: "Thank you, Nigel. I think that's the best news you've ever given me."
Correction: A previous version of this story included a quote believed to be written by Roddy Llewellyn. As The Guardian reported, that information was actually a compilation of newspaper clippings.
For more stories like this, including celebrity news, beauty and fashion advice, savvy political commentary, and fascinating features, sign up for the Marie Claire newsletter.
RELATED STORY
Celebrity news, beauty, fashion advice, and fascinating features, delivered straight to your inbox!