How Real Is Bravo's 'Below Deck'?
A charter broker makes waves with the truth behind the reality show.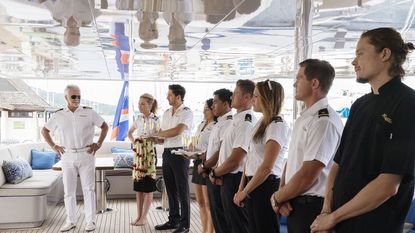 (Image credit: Bravo)
Marie Claire Newsletter
Celebrity news, beauty, fashion advice, and fascinating features, delivered straight to your inbox!
Thank you for signing up to Marie Claire. You will receive a verification email shortly.
There was a problem. Please refresh the page and try again.
Reality TV isn't exactly known for its measured and reasoned depictions. Think: the hot-headed cooks on Top Chef and Hell's Kitchen or the over-the-top romance on The Bachelor. But while we may be familiar with what going to a restaurant or on a date is like, not many people can afford the luxury of chartering a fully staffed yacht. Below Deck, the Bravo reality show now in its seventh season that goes "behind the scenes" of life on the high seas, gives viewers a glimpse into a world they might otherwise only see through celebrities' Instagram posts.
The featured yacht changes nearly every season and is often available for charter (even by us regular folk...well, rich regular folk), starting in the low six figures (plus expenses), for groups of up to 12 and a crew of nine or more. To get onboard one of these multimillion-dollar vessels, would-be guests turn to a charter broker, a person whose job it is to pair each guest with the right yacht. Lauren Littlejohn, now a charter broker for Ocean Independence, grew up in a yachting family (her father was a captain of a 102-foot yacht that cruised the Great Lakes and Bahamas) and spoke with us about what actually happens below deck.

So kick off your shoes (you can't wear them onboard anyway), and find out what yacht life is really like.
The guests onscreen are paying to be there, but don't get let off the hook on behavior.

Forget the pirate's life and any notion of international waters. Behavior onboard a yacht is regulated both by the laws of the country you're in and the country where the yacht is registered, as well as a code of conduct agreed to before setting sail. Rules can range from a typical zero-tolerance drug policy to yacht-specific rules like no red wine (it stains). It all comes down to the contract.
"If any of these written rules or laws are violated, the charter contract is considered in breach and the charter may be terminated immediately," Littlejohn says. "If one person's behavior is jeopardizing the charter (whether a guest or crewmember) remedies can sometimes be made with removal/replacement of the person in question."
Charter brokers talk, so bad behavior on one yacht could keep a guest off another.
Crew storming off or quitting unexpectedly is really, really frowned upon.
Crewmembers are working nearly 24 hours a day during a charter, then sleeping just feet apart, so it's no surprise that tensions can run high. Despite the dramatic footage of the show's chief stewardess storming off down the dock in season seven, professionals know they're agreeing to long hours and sometimes-demanding guests. The show's captain, Capt. Lee Rosbach, prefers a deckhand or stewardess to work through the end of a charter. If something goes very wrong mid-trip, guests are unlikely to spot the now-unemployed crewmember again, thanks to staff-only hallways, stairwells, and accommodations.
The most successful charter vessels employ a long-term crew, although some people do prefer the variety of yacht-hopping. "Longstanding crew create repeat clients and consistency. You'll find some crew members will leave a boat after a season, enjoying more flexibility personally this way," Littlejohn says. "Crew often miss out on big life events such as friends' weddings, birthdays, or the birth of children."
While Below Deck hasn't led to an increase in the number of charters, it may have increased the number of crew applications. "There seem to be fewer numbers of experienced crew, and most seem to be making a shorter career out of yachting," says Littlejohn. "I believe that the poor behavior being so emphasized on TV has possibly tightened up some of the behaviors nowadays; that may also come from captains tightening up their onboard rules."
If a guest has expensive taste, that's going to factor into "plus expenses."

There's a reason why the chef is one of the highest-paid crewmembers onboard: Everyone remembers the food, so it better be amazing. While noting dietary restrictions happens long before a guest steps on board, it's difficult to predict guests' mood and cravings once there. Plus, there's only one person preparing up to three three-course meals a day. (Yes, breakfast can be three courses.) Below Deck crew said they spent between $10,000 and $15,000 to provision the yacht for six weeks of filming season seven, but that's just the initial setup. What the guests on each individual charter want to eat could impact the bottom line.
"Because each charter is unique, one might have a group of pescatarians that sip on margaritas all day, while the next may have a group that only requests red meat and wine. This is where the provisioning allowance comes into play," Littlejohn explains. The yacht budgets a certain amount for basic necessities for every charter—think eggs, bread, basic wine—but an additional percentage of the charter rate is added to accommodate requests and preferences.
It's not uncommon for a chef to leave a Michelin-starred restaurant for a yacht because, as one said, "the view is so much better." But creating a week's worth of interesting and tasty menus for a dozen people takes skill.
"Chefs have become much more seasonal; some prefer the variety of settings between private estates, restaurants, and yachts," Littlejohn says. "It is also one of the few positions where the individual isn't looked down upon for short-term positions."
That envelope full of cash tips? That's real.
"That is surprising, but crew is actually often tipped from an envelope full of cash!" Littlejohn says. "It might not come directly from a client [at the end of a charter]—often they may wire the gratuity later—but then it is doled out to the crew in cash."
For more stories like this, including celebrity news, beauty and fashion advice, savvy political commentary, and fascinating features, sign up for the Marie Claire newsletter.
RELATED STORY
34 Most Dramatic 'Real Housewives' Moments of All Time
Celebrity news, beauty, fashion advice, and fascinating features, delivered straight to your inbox!