34 Most Dramatic 'Real Housewives' Moments of All Time
Cocktails, crying, and catfights.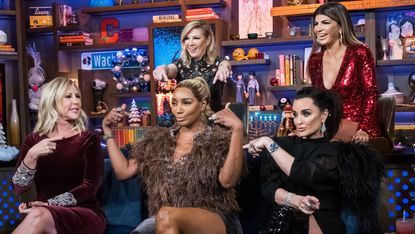 (Image credit: Getty Images)
When The Real Housewives of Orange County first premiered in 2006, reality TV fans had no idea the potential of the world they were stepping into. Viewers were invited into the lives of these housewives, experiencing their ups and their downs and getting a peek into their lavish lifestyles. As the franchise grew to include rich and eccentric women from cities like Beverly Hills, Atlanta, and New York, the drama also increased tenfold—as it turns out, having a little money doesn't mean that you can't bring the theatrics every now and then.
Here, we look back at the most dramatic moments ever in Real Housewives history.
"I Am Very Rich, B*tch!"
The Bravoverse may be split on many things, but i think we can all agree that this Nene Leakes vs. Sheree Whitfield showdown is one of the most iconic scenes on The Real Housewives of Atlanta, if not the entire Real Housewives franchise. Frenemies Nene and Sheree linked up for a lunch to clear the air between them, but with all the shade being thrown back and forth, that's just wasn't in the cards. No beef was actually squashed at that table, but at least we know one thing for sure: Nene is very rich...b*tch.
An Affair at The Regency
RHONY's Bethenny Frankel spilled some boiling hot tea involving Luanne de Lesseps's man Tom D'Agostino and another woman at the Regency, and the Countess flew into a panic—mostly at the fact that her beau had the nerve to do his philandering at The Regency, of all places!
Turning Tables
She may be a little more zen these days (yoga will do that to ya), but OG fans of The Real Housewives of New Jersey remember when Teresa Giudice was a ticking time bomb. A dinner between the 'Wives went left when Danielle Staub made a snide comment, totally setting Teresa—off to the point that she quite literally flipped a table. Wonder if the ladies were ever invited back to that restaurant...?
Kim Richards vs Everybody
Even before the ladies of Beverly Hills hopped on a jet to Amsterdam, tension swirled all around them. Kim Richards, pissed at Lisa Rinna for getting into her business and making certain claims about her sobriety, tore into the actress at the dinner table. Things escalated when Rinna's BFF Eileen Davis got involved; Kim called her a "beast" (*collective gasp*), wine was thrown, and Kyle Richards was seen sprinting down the street. Umm, check please?
Ire-land
The Real Housewives of Orange County's journey to Ireland was nothing short of a nightmare, especially for one Kelly Dodd. Singled out by Heather Dubrow and Shannon Beador, Kelly found herself the odd woman out for most of the trip. The climax of the drama actually occurred on their way home, when the ladies poked and prodded at Kelly until she literally exploded, pulling old rivals Vicki Gunvalson and Tamra Judge into the catfight.
Two-Faced LeeAnne
In season two of The Real Housewives of Dallas, resident shit stirrer (yes, I said it) LeeAnne Locken attended fellow Housewife Stephanie Hollman's Halloween party. The gag? LeeAnne, sporting a two-face costume, went around telling people that she was dressed as Stephanie for Halloween. At Stephanie's party...at her home!
Battle of the Joes
In a shocking twist, this dramatic moment was brought to us courtesy of the New Jersey husbands, not the wives. The longstanding beef between the Gorgas and Giudices came to a head when the Joes tackled each other at a family retreat. Both men got their fair share of bruises from the altercation, but the physical wounds were nothing compared to the emotional damage the families sustained that day.
Aviva Puts Her Foot Down (Literally)
The ladies of The Real Housewives of New York gathered for a fancy party hosted by Sonja Morgan at French hotspot Le Cirque, and during a heated exchange, Aviva Drescher slammed her prosthetic leg down on the table, claiming that it was the "only fake thing about her." Yes, you read that correctly—her prosthetic leg.
The OZ Opening
The Real Housewives of Potomac's second season fleshed out the complicated relationship between Ashley Darby and her husband Michael, an older, well-off businessman from Australia. As the couple attempted to open up their first restaurant, OZ, together, they butted heads at every turn. The conflict between the husband and wife exploded at OZ's soft opening, leaving viewers wondering if the Darbys would make it after watching the argument play out on television.
Spoiler alert: They did.
Cake-gate
At Heather Dubrow's change-of-name ceremony (yes, this is a thing), Alexis Bellino's friend Sarah innocently/drunkenly pinched off some of the fondant on a custom cake to nibble on, essentially starting World War III at the function. Pissed, Heather roped in Tamara Judge and Vicki Gunvalson, and they gleefully tore the RHOC friend a new one for her "classlessness."
(In hindsight, what Sarah did wasn't actually a big deal, but it's the principle of the matter! And you know...drama.)
Bad Bunny
The Beverly Hills Housewives were stunned when Kim Richards returned the stuffed rabbit that Lisa Rinna had gifted her as a peace offering at the end of the tumultuous seventh season. Kim, who didn't give the toy to her grandson as intended because it "didn't have good energy," could only muster up a half-hearted apology to a tearful Rinna, who quickly walked off the stage to compose herself. Talk about looking a gift horse in the mouth.
Pillow Fight
Nene Leakes might have put together her lingerie-themed party to help the couples of The Real Housewives of Atlanta grow closer, but more harm than good was done at the event. From beef between Cynthia Bailey and Kandi Burrus to actual fisticuffs between Phaedra Parks' husband Apollo Nida and another attendee, the night was less Pillow Talk and more WWE Smackdown.
Not Knives, Just Hands
LeeAnne Locken's trip to the plastic surgeon for a breast reduction became the hot topic of the second season of The Real Housewives of Dallas because of one particularly disturbing hot mic moment. LeeAnne was heard gossiping about her on-again, off-again frenemy Cary Deuber behind closed doors, sharing a sordid rumor about Cary's husband as well as what the rest of the Dallas socialites would later interpret as a thinly veiled physical threat against Cary herself.
Party Foul
In season two of The Real Housewives of Atlanta, Sheree got into it with a party planner when she realized that the process wasn't running as smoothly as she had hoped. The two went back and forth (weird, because isn't the customer always right?) until the planner issued a fierce warning to Sheree, to which the Georgia peach succinctly replied: "Who gon' check me, boo?" We really had no choice but to stan.
Eden Loses Her Cool
After an entire season of gossip and rumors, things in Beverly Hills came to a head when Eden Sassoon (daughter of hair icon Vidal) confronted Lisa Rinna for spreading stories about Kim Richards's sobriety. Lisa, who had vehemently denied talking about Kim to the other women, got an earful from an emotionally-charged Eden at the launch of Lisa Vanderpump's rosé at Villa Rosa.
"The Lies! The Lies!"
The season nine reunion of The Real Housewives of Atlanta brought us the tearful and abrupt end of the friendship between Porsha Williams and Phaedra Parks when it was revealed that Phaedra was actually behind the vicious lies about Kandi Burruss' "sex dungeon." It was the very last time that we'd see Phaedra with the rest of the 'Wives.
Andy Gets Caught in the Crossfire
It's another Teresa-Danielle showdown, but this time, moderator and face of Bravo TV, Andy Cohen, found himself smack dab in the middle of the drama. At the second season reunion of RHONJ, Danielle riled Teresa up by mentioning her family (a trigger for the Jersey mama, as we all know), and Teresa stomped over to give her some choice words. When Andy tried to step in to break up the catfight, Teresa actually pushed the host off of her and back into his seat!
Making It Nice
Anyone who's ever watched RHONY knows that trips to the Berkshires are usually...terrible. Something about that sunny Massachusetts air does a number on the New York 'Wives—aptly demonstrated by the season eight trip upstate. Bethenny Frankel, fueled by a number of cocktails, berated (former) Countess Luann de Lesseps for what seems like forever. Hostess with the mostest Dorinda Medley completely lost her shit and went on a now-iconic tirade: "I cooked for hours! I made it nice!"
Dinner Party From Hell
Camille Grammar hosted the one of the worst dinner parties in Real Housewives history when she brought together her fellow BH Housewives and a special friend who claimed to have a connection to the other side. As the drinks started flowing, tensions rose, and Alison the Medium's dark side came out. She told Kyle that her marriage would be unfulfilling, raising the ire of the Housewife and her friends. Before they knew it, the girls-night-in turned into an all-out verbal brawl.
Phaedra Kicks Apollo Out
Upon learning that her husband Apollo Nida had been charged with several felonies (including conspiracy to commit mail, wire, and bank fraud), Georgia peach Phaedra Parks swiftly decided to sever the ties between them, starting by changing the locks of their shared Atlanta home. Apollo returned to the house in a fury to confront his estranged wife, and the drama that unfolded was unnerving, to say the least.
Life Is Not a Cabaret
Bethenny and the NYC gang headed to Miami for some fun in the sun, but their girls' trip took an unfortunate left turn due to Luann's overinflated ego. Fed up with Luann's cabaret antics, the Queen B finally addressed the Countess at dinner. The confrontation, likely fueled in part by her grief over the loss of her fiancé Dennis, ended in Bethenny having crippling panic attack that shocked everyone at the restaurant.
Say Yes to the Dress
RHOA's Momma Joyce is known for having some very strong opinions, and she isn't the type to back down—even when she's dead wrong. Momma Joyce raised the ire of Kandi's close friend and then-employee Carmon by falsely insinuating that she was a little too close with Todd Tucker (Kandi's fiancé), and the women got into a shouting match right in the middle of the wedding dress boutique. The rumors about Todd and Carmon were perpetuated by Momma Joyce herself, as she was less than pleased with the idea of her daughter marrying a man that she would later call a "lemon." Yikes.
"I'm Tired of Being Strong."
The season three reunion of The Real Housewives of Potomac was explosive for various reasons, but one of the most dramatic moments of the three-part reunion came when Karen Huger excused herself from the stage while talking about the recent loss of her parents just months from each other. Despite their ongoing beef, Gizelle Bryant attempted to put her issues aside when made her way backstage to comfort the Grand Dame. While their friendship may never recover from the events of that season, it was still moving to see the two RHOP OGs embrace, even for a moment.
Seeing Red
After Jersey Housewives Margaret Josephs and Danielle Staub turned from BFFs to mortal enemies, their husbands also turned on each other. Joe and Marty got into a shouting match at RHONJ newbie Jennifer Aydin's red-themed anniversary party that resulted in Margaret and Joe teaming up to push Marty in the pool—fully clothed!
The End of An Era
Longtime fans of the opulent Beverly Hills Housewives have happily witnessed the special friendship between Kyle Richards and Lisa Vanderpump blossom over the course of the series, but the most recent season of the show revealed in real time the shocking and abrupt end of their relationship. Lisa, put in a bad situation because of a problem with a puppy from her rescue shelter Vanderpump dogs and friend Dorit Kemsley, found herself the target of a smear campaign that forced her to end her decade-long friendship with Kyle.
America's Next Top Shade-Thrower
Listen: Nobody, and I mean nobody, throws shade like the women of The Real Housewives of Atlanta. Eva Marcille and Marlo Hampton gave us a lesson on reading down on the season 11 group trip to Tokyo. The fashionistas faced off in the shadiest, most epic repartee that many have ever had the pleasure of viewing. Marlo did her best, but in the end, Eva took the crown as the shadiest member of the group.
The Great Cartagena Cruise Disaster
RHONY newbie Tinsley Mortimer treated her friends to an eclectic vacation in Cartagena, Colombia, but things were far from smooth sailing for this group of Housewives on their excursion. A booze cruise through the choppy waters of the Caribbean Sea quickly became a nightmare for the ladies of the Big Apple when their boat faced some serious technical difficulties.
Clueless
Brandi Redmond and LeeAnne Locken's feud reached its peak when the Dallas adversaries got involved in a major blowup at Stephanie Hollman's frat party during the season three finale. At one point, Cary Deuber had to step in to to pull LeeAnne, dressed in a yellow plaid co-ord set in a confusing homage to '90s icon Cher Horowitz (what exactly does Clueless have to do with a fraternity??), away from Brandi, much to the horror of the hostess and her guests. What was that about turning over a new leaf again, LeeAnne?
Wig Check
Atlanta OG's Kim Zolciak-Bierman and Sheree Whitfield weren't always the bosom buddies that they are today. Once upon a time (around season two), Kim and Sheree couldn't stand the sight of each other, and their mutual friend at the time Nene Leakes was forced to play middleman. A questionable "intervention" at a local restaurant ended in disaster when Sheree literally pulled Kim's wig. But, per Sheree, she wasn't trying to cause any real trouble: "I did not want to pull it off—I just wanted to shift it a little bit."
Scary Island
Former NYC Housewife Kelly Bensimon provided one of the most dramatic moments of RHONY history when she had a meltdown in the Virgin Islands. Kelly, without her allies Jill Zarin and Luann de Lesseps on the girls trip, unraveled in a serious way, claiming that she was afraid that Bethenny Frankel was going to kill her every night and that Alex McCord was...a vampire?
Cease and Desist
As Tamra Judge filed for divorce from her husband, nasty rumors began to spread like wildfire around the OC about the tumultuous nature of their relationship, and fellow Housewife Jeana Keough helped fan the flames by adding her two cents in the gossip magazines. Furious, Tamra showed up to the season six finale party with an Olivia Pope–sized glass of red wine and a cease and desist mandate from her lawyer. I'm sure you can guess what happened next.
"Who Said That?"
Marlo Hampton, a.k.a. the gift that keeps giving (give her a peach!), was the catalyst for what we now know was one of the most iconic Bravo memes of all time when she publicly asked Kandi Burrus if the rumors that she was a closeted lesbian were true. Kandi, who has been open about being involved with women in the past, was blown away and asked where she'd heard that rumor. "Who said that?" said Kandi...and Kenya Moore...and Porsha Williams. The source? Ms. Phaedra Parks herself, chile.
Sister, Sister
Things between Kyle and Kim Richards have always been a bit complicated; for seasons, we've watched them go at it like enemies and then make up again. One such blowup between the sisters took place at the end of the first season of The Real Housewives of Beverly Hills. Tense words were exchanged in a memorable limo ride home that escalated into something far more serious (and far sadder) than anything anyone could have imagined: the reveal of Kim's ongoing struggle with alcoholism.
Mommie Dearest
In the third season of The Real Housewives of Potomac, Ashley Darby's strained relationship with her mother created significant problems in her marriage. To remedy this, Ashley attempted to have a serious conversation with her mom that didn't have quite the end result that she was expecting.
•••
For more stories like this, including celebrity news, beauty and fashion advice, savvy political commentary, and fascinating features, sign up for the Marie Claire newsletter.
Marie Claire email subscribers get intel on fashion and beauty trends, hot-off-the-press celebrity news, and more. Sign up here.