Inside the New Sobriety Movement
Liquor no longer holds the allure it once did for "sober curious" women—far from alcoholics and not quite abstainers—who have discovered a healthier high in drying out.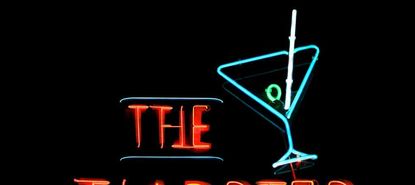 (Image credit: PHOTO ILLUSTRATION SOURCE IMAGES: IMAGE SOURCE/GETTY IMAGES + HENRY DILTZ/GETTY IMAGES (BLUE LINES); MICHAEL DUVA/GETTY IMAGES + JEFF BROWNELL/GETTY IMAGES )
Marie Claire Newsletter
Celebrity news, beauty, fashion advice, and fascinating features, delivered straight to your inbox!
Thank you for signing up to Marie Claire. You will receive a verification email shortly.
There was a problem. Please refresh the page and try again.
Juliana Goldman could be the poster woman for a growing phenomenon you've likely heard about by now: the "new" sobriety. She doesn't keep booze in her home, has dialed back alcohol-fueled friendships, and has practiced navigating after-work drinks without, well, drinks. But the 33-year-old owner of a New York City PR firm can't quite imagine going on a date without, as she puts it, that "personality drink." Nor is she interested in soldiering through weddings and other social-anxiety-provoking events without a glass of liquid courage in hand. Her main motivation for the 90 degree turn: "When you're drinking, you're not really yourself. It's an escape," she says. "I want to be more present in life in general."
"Sober" used to equal alcoholic, which used to equal rehab or AA, followed by—if you were lucky—a lifetime of careful teetotaling. No more. Today, sobriety, like so many things, exists on a spectrum. You've got your absolute, old-school nondrinkers. Then you've got Dry January practitioners, who periodically cut out booze to cleanse mind and body (there's also Sober October, a.k.a. "Mocktober"); "mindful drinkers," who imbibe on occasion and, as the yogis say, "with intention"; and those who never loved the way alcohol made them feel or behave and who now, in an era of CBD-infused everything and legal pot, have a wide and largely destigmatized array of nonalcoholic substances to choose from.
In July 2018, Audrey Gelman, CEO and cofounder of the women's coworking chain the Wing, posted on Twitter, "I am two years sober today. Feeling very grateful and very blessed." Her longtime friend Lena Dunham told a podcast last fall that she was "never a drinker." Blake Lively doesn't drink. Neither do Jennifer Lopez, Natalie Portman, Kim Kardashian West, Zendaya, Christina Ricci, Jennifer Hudson, Sarah Silverman, and Lucy Hale. Rumer Willis tried a sober January in 2017 and just kept going, she announced on Instagram six months later.
Virgin drinks aren't new, but sober bars are. The artfully concocted, blackberry-garnished glasses of Ginger Spice served at Getaway in Brooklyn are a manifestation of this movement: alcohol-free, $13 drinks served in a bar that—as a sign outside the door reminds those who enter—is strictly a "0 percent" establishment. Co-owner Regina Dellea, 30—who does drink, though rarely—sees questioning one's relationship with alcohol as her generation disrupting one more norm. "I think about it every time I watch, like, Modern Family," Dellea says. "The mom always has a glass of wine, even if she's sitting down to read or by the pool. It's like, Oh, this is how you relax." Also in New York, 33-year-old Lorelei Bandrovschi's rowdy booze-free pop-up Listen Bar—which, according to its website, serves "drinks not draaanks"—is raising funds through crowdfunding (nearly doubling its initial goal of $25,000) and private investing to help open a permanent space. New Yorkers also have nonalcoholic Ambrosia Elixirs and Nymphaea Elixir Bar at the Assemblage Hotel, and a nonalcoholic karaoke bar, Juicebox Heroes (part of regular bar Mini Rex), is in the works. There's dry Sans Bar in Austin (which has hosted pop-ups at SXSW and in St. Louis, Anchorage, and Portland, Oregon, and opened outposts in L.A. and Kansas City), plus London has three locations of alcohol-free Redemption Bar.

According to a February 2019 IWSR Drinks Market Analysis study, 52 percent of Americans are "currently trying, or have tried in the past, to reduce alcohol intake." Abstainers have plenty of new tipples to choose from that are far less conspicuous than the green-labeled O'Doul's of yore. The chicly bottled, golden-hued Töst, a sparkling white tea, cranberry, and ginger blend, will fizz alluringly in your champagne flute. British mixer Seedlip looks like hipster gin and calls itself a "distilled nonalcoholic spirit." Another U.K. alcohol-free brand, Stryyk, plans to launch products like Not Vodka and Not Gin stateside next year. Cocktail-alternative brand Kin Euphorics, which uses nootropics (supplements purported to enhance brain function), adaptogens (plants that may help you cope with stress), and botanicals, seems tailor-made for the Goop set; the company also hosts "Kin O'Clock" events, or booze-free happy hours. For those who miss mid-aughts-era cocktails, Philadelphia-based entrepreneur Laura Taylor, 48, founded Mingle Mocktails, which offers sparkling bottled riffs on Bellinis, cosmos, mojitos, and Moscow mules. In recent months, Heineken, Peroni, and Guinness have all released 0 percent beers. (Heineken 0.0 has even sponsored the U.S. Open and Formula E Racing.) And Molson Coors, which owns brands including Miller Lite and Grolsch, recently bought kombucha and chai-tea companies.
So who are all of these products and places catering to? The most talked about among the New Soberistas are the "sober curious"—a term popularized by author and new-sobriety guru Ruby Warrington in her 2018 book of the same title. (She has since launched a podcast.) It refers to those who drink less than they once did, or not at all, but who are not quite sober either. The "curious" part, Warrington explains, is about "questioning every instinct, every invitation, and every expectation to drink versus going along with the dominant drinking culture."
Even people who don't consider themselves anywhere near addicted are beginning to question our culture's deeply ingrained script on alcohol, rejecting the assumption that women in particular need that glass of rioja to wind down, to be "yourself," to loosen up—or just to feel baseline okay after a day of work or even a day of play. Which could make for an interesting holiday party season. At this risky, risqué time of the year—when the lines between personal and professional blur and the bar is perpetually open—a new and fairly radical question has taken shape in the minds of an increasing number of young women: Will I drink?
For many, this is sobriety not as addiction recovery but as a lifestyle choice that goes hand in hand with the wellness trend explosion. The number-one question Warrington gets from women who are newly sober curious: Am I committing social suicide? Her advice is to trust that your existing friendships are true, "not just based on your shared appreciation for mimosas," but also to find ways to meet up with other nondrinking people. "Thank goodness for Instagram," says Warrington, 43, who is planning Sober Curious–branded events for Dry January 2020 and beyond. Many people tell her social media is their alternative to AA meetings; it's how they find people in their own cities to confide in.
Founded in 1935, AA, or Alcoholics Anonymous, whose mission is to help people achieve sobriety, estimates more than two million members in 180 countries are in recovery today. The only requirement for membership is the desire to stop drinking. Members attend meetings, where they remain as anonymous as they choose to be. Some chapters give out milestone chips noting how long a member has remained sober. Though the organization bills itself as nonreligious, its famous Twelve Steps, a set of guiding principles for conducting one's life, often invoke God—including turning "our will and our lives over to the care of God." AA stresses, however, that the term God is up for personal interpretation. Still, younger generations are looking beyond church basements to find support when easing up on tossing it back.
At each of the Wing's nine locations, sobriety support-group meetings are led regularly by licensed therapists. The Wing declined to comment other than to say, "As you can imagine, we really try to preserve the sacredness and privacy of that space for our members." But their existence seems telling. Now, even among high-achieving, appearance-conscious young professionals, it's become socially acceptable to own up to having a drinking problem—or, as the sober curious might put it, a problematic relationship with drinking.
When Hip Sobriety website founder Holly Whitaker quit drinking in 2012, she felt like she "was somewhere before" becoming an alcoholic. And other than an expensive rehab that her insurance didn't cover, AA was the only game in town. But after a few sessions, she began to feel that Alcoholics Anonymous's philosophy that followers should "shut up and listen … give it up to God, be humble, ask forgiveness, break down ego" was designed to dismantle something she doesn't have: male privilege. She started to think, If I have to acknowledge that my ego is running the show one more time, I'm going to fucking scream my face off. Instead, Whitaker, 40, kicked booze on her own. In 2014, she founded her website, an account of her sobriety journey, and a few years later, she began coaching sobriety groups online several times a year; some 3,000 people have gone through her program.
This past May, Whitaker rebranded the site as Tempest, an eight-week virtual sobriety school that offers what she calls "a holistic approach"—daily emails, group processing calls, Q&A sessions, one-on-one coaching, and a follow-up aftercare program. Tempest offers a road map to address problem drinking without making anyone embrace the scarlet A that Whitaker, whose book, Quit Like a Woman: The Radical Choice to Not Drink in a Culture Obsessed With Alcohol, is out this month, herself rejects. "We look so closely at that label: Am I that? Okay, I'm not, so I'm going to keep drinking," she says. "A lot of my work is about allowing anybody to say, 'Do I hate hangovers? Do I hate getting trashed and forgetting parts of my night?'" She encourages people to ask themselves what seems like a newer question: Do I hate feeling like I have to drink two glasses of wine to normalize myself in the evening?
Online, a new skepticism about the "alcohol as lifestyle" narrative has taken root, with critics pointing out the hypocrisy of selling drinking as a form of self-care and the constant hokey memes—"no pain, no champagne"—emblazoned on everything from coffee mugs to workout tanks. Keith Humphreys, an addiction specialist and professor of psychiatry and behavioral sciences at Stanford University School of Medicine, likens the marketing of alcohol to women to the way Big Tobacco brazenly tapped into women's lib in the '70s with its now-notorious tagline, "You've come a long way, baby." Women drinking more heavily and more often—and, for college-age women in particular, drinking nearly as much as men—is a phenomenon of the past 20 years or so. "It wasn't something that came from women—that they spontaneously decided they should drink a lot more," Humphreys explains. "It was driven by very conscious marketing to women, that 'alcohol is freedom' and 'alcohol is equality.'"
Jen Batchelor, the bicoastal cofounder of Kin, sees women drinking less as a sign that we're pushing back against such patronizing messaging. But she also suggests that choosing sobriety, or drinking mindfully, is about making "smarter choices." "Think about all the times that we put ourselves in precarious situations. Alcohol is always a common denominator, right?" Batchelor, 35, says, echoing an anxiety that has plagued many of us in the wake of #MeToo. She recounts a familiar scenario: "You're at the bar, perhaps you're mingling with clients, the wine is flowing, and all of a sudden you're like, Oh, shit, what did I say? What just happened?" To be clear, Batchelor is not saying women are at fault because they drink. "But if you're someone who wants to move toward solutions, you're also like, What is my role in this?"
By her mid-30s, Charlottesville, Virginia–based writer Molly Minturn was unnerved to find that a bottle of wine no longer cut it. Then, at a wedding in 2017, a friend mentioned she'd quit drinking. "She looked at me and said, 'You know, it's the best thing I've ever done for myself. And it only gets better.'" Afterward, Minturn couldn't shake what her friend had said. She found a no-frills thread on the Reddit site called, simply, Stop Drinking, with almost 200,000 members, including people "either trying to quit or trying to cut back." Once she started reading people's stories, "I couldn't stop," Minturn, now 39, says. "I recognized myself in almost every one." Three weeks after that wedding, Minturn quit. Early on, she went on the site "many, many times a day" and signed up for its daily pledge, "I will not drink today," earning a virtual badge not unlike an AA chip.
That online community meant everything. But Minturn also needed to connect with people again in real life, without the crutch of a drink. In the comments feed of the Instagram account @sobergirlsociety, Minturn spotted a woman who lived in nearby Richmond and pinged her. The two have met for coffee a couple of times. "She's a complete stranger. We have really different backstories," Minturn says. "But it's powerful to talk to someone else who's going through the same thing." Here's to not not drinking alone.
This article originally appeared in the Holiday 2019 issue of Marie Claire.
RELATED STORY
Celebrity news, beauty, fashion advice, and fascinating features, delivered straight to your inbox!
Maggie Bullock is a writer and editor. She was the deputy editor of ELLE from 2010 to 2018.