10 Fall Mocktails That Are Actually Good for You
Move aside, artificial ingredients.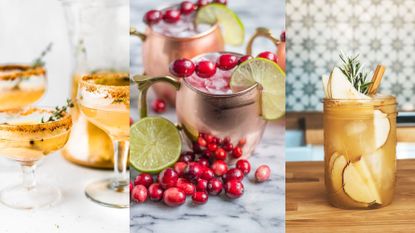 (Image credit: Getty Images)
Marie Claire newsletter
Celebrity news, beauty, fashion advice, and fascinating features, delivered straight to your inbox!
Thank you for signing up to . You will receive a verification email shortly.
There was a problem. Please refresh the page and try again.
If you've always dreamed of a cocktail that won't make you feel guilty or queasy the next morning, these wellness-friendly cocktails are perfect for you. Since these non-alcoholic drinks are made with all-natural ingredients and limited added sugars, you'll be free to overindulge in other areas of fall-inspired consumption (like Black Friday shopping, or pie) while still a having stylish drink at your table setting.
1. Rhubarb Mimosa Mocktail
Ingredients:
Serves: 8
8 ounces water
2 ounces honey
2 cups rhubarb, sliced into ½" pieces
16 ounces all-natural orange juice
24 ounces Health-Ade The Original (1-1/3 bottles)
Orange wheels, for garnish
Rhubarb curls, for garnish

Directions:
To make rhubarb-infused water: add water, honey and rhubarb to a small saucepan set over medium heat. Lower to a gentle simmer and stir well. Simmer 5 minutes. Remove from the heat and let the rhubarb flavor infuse water, about 30 minutes. Strain into a mason jar and chill until cold. Pour chilled rhubarb water into a 50 oz pitcher. Add orange juice and Health-Ade. Stir with a long bar spoon. Garnish with orange wheels, if desired. Pour into chilled champagne flutes. Use a vegetable peeler to slice ribbons of rhubarb. Garnish each glass with a ribbon and serve.
Courtesy of Health-Ade (opens in new tab)
2. Green Chinotto Mocktail
Ingredients:
1 oz/3 cl sage and mint syrup
¾ oz/2.5 cl lime juice
Top up with Sanpellegrino Chinotto
Directions:
Fill a large, sturdy glass (40 cl capacity) with all the syrup and juice. Stir gently with a bar spoon to combine well. Fill glass with ice and top up with Sanpellegrino Chinotto. Garnish with a lime segment and fresh mint.

Courtesy of Sanpellegrino Fruit Beverages (opens in new tab).
3. Sparkling Apple Cider
Ingredients:
3 oz. Apple Cider
Apples
Spindrift Lemon
Directions:
Pour cider over ice, top with Spindrift Lemon and garnish with apple slices.
Courtesy of Spindrift (opens in new tab).
4. Pear Cinnamon Mocktail
Ingredients:
1 cup sparkling water
1 Anjou pear
1/2 tsp cinnamon
1 tbsp lemon juice
1 cinnamon stick
1 sprig of rosemary
1/2 tsp coconut sugar
Ice

Directions:
Cut pear into thin slices. Muddle 1/4 of the pear in a medium sized glass. Fill glass with ice and add sparkling water, lemon juice, cinnamon and coconut sugar. Stir well and garnish with rosemary, sliced pears and cinnamon stick.
Courtesy of Wellness with Courtnie (opens in new tab).
5. Orange Turmeric Mocktail
Ingredients:
1 small orange
1/2 cup orange juice
1/2 cup sparkling water
1 tbsp lemon juice
1/4 tsp ground turmeric
1/2 tsp coconut sugar (optional)
Rosemary
Ice

Directions:
Cut orange into thin slices and place in a medium glass. Fill glass with ice, orange juice, sparkling water, lemon juice, ground turmeric and coconut sugar. Stir well and garnish with rosemary.
Courtesy of Wellness with Courtnie (opens in new tab).
6. Coffee Frappe Mocktail
Ingredients:
2 bar spoons of coffee powder
2/3 oz of caramel syrup
1 chilled Perrier
Directions:
Pour the coffee powder and caramel syrup into a blender cup. Add a bit of Perrier and stir well to dilute the coffee powder. Then add 5 oz (15 cl) of chilled Perrier. Blend the cocktail until foamy. Pour mixture into a tall glass with ice cubes.
Courtesy of Perrier (opens in new tab).
7. Autumn Harvest Punch
Ingredients:
3 Cups lemonade
5 Cups apple cider
1 Cup orange juice
5 Cups sparkling water
¼ Cup maple syrup
Rosemary sprigs
3 Apples
1 Orange

Directions:
In a tall pitcher, mix the apple cider with the orange juice and lemonade. Set aside. Cut the apples and the oranges and add them to the pitcher.Mix in the maple syrup and add the rosemary sprigs.
Cover and take to the refrigerator for 2 hours or until chilled. Add the sparkling water and mix.
Courtesy of Fivespot Green Living (opens in new tab).
8. Cranberry Moscow Mule
Ingredients:
3 cups Fresh Cranberries
1/2 cup Cranberry Juice
1 1/2 cups Water
3 tablespoons Brown Sugar
3/4 cup Fresh Lime Juice
4 cups of Ice
2 16 ounce bottles Ginger Beer
1 Lime
Directions:
First, prepare the cranberry concentrate. Pour 2 cups of cranberries, the cranberry juice, water, and brown sugar into a saucepan and bring to a simmer. Let simmer on low for 5 minutes, until the cranberries have bursted. Stir frequently. Use a fine mesh strainer to strain the cranberry concentrate. Use a rubber spatula to press as much of the concentrate as possible through the strainer. Then let then concentrate cool. To mix the cranberry Moscow mule, pour the concentrate, lime juice, ice, ginger beer, and vodka into a large container. Gently stir. Add the remaining cranberries and slices of lime to garnish.
Courtesy of The Kittchen (opens in new tab).
9. Honey Roasted Pear Sparkling Mocktail
Ingredients:
6 steckler pears or 1 lb pear sliced in half
1/4 to 1/3 c honey (divided)
1 tbsp balsamic vinegar
1/4 tsp cinnamon (divided)
pinch of ground nutmeg
2 tbsp apple juice or water
Pinch of ground clove
1 tsp vanilla
24–28 ounces sparking white grape juice
Brown sugar or coconut palm sugar to coat rims of glasses (optional)
Garnishes:
Fresh thyme, sage, or rosemary

Directions:

Preheat oven to 400F and line a baking sheet or grease it well. Slice your pears in halves or quarters. Remove the stems. In a small bowl, whisk together 2 tbsp honey, 1 tbsp balsamic vinegar, 1/8 tsp cinnamon, and pinch of ground nutmeg. Brush this over the pears, evenly. Place pears in oven for about 20 to 25 minutes, until soft and pears are browned on bottom. (Steckler Pears take closer to 22 minutes.) Remove from oven. Once cooled, scoop out the seeds from the pears. Place your honey roasted pears in a blender or food processor with vanilla and 2 tbsp juice or water. Blend until puréed. Add puréed pears to large glass pitcher or glass serving bowl. Let it chill before serving. Once ready to serve, add a pinch of ground clove, 3 to 4 more tablespoons of honey, 24-28 ounces sparkling white grape juice to the pitcher or bowl. Stir together. Coat wine classes or cocktail classes in brown sugar or coconut sugar. Then pour 5-6 ounces of the sparkling cocktail mix into each class. Garnish with a sprig of thyme, sage, or rosemary (optional).
Courtesy of Cotter Crunch (opens in new tab).
Jae Thomas is a contributor at Marie Claire Magazine. You can find her avoiding single-use plastic at all costs, cooking a new recipe every week and trying to visit all 61 National Parks.