I Attended Disney World's Mermaid School
Halle Bailey and Jodie Benson have nothing on me.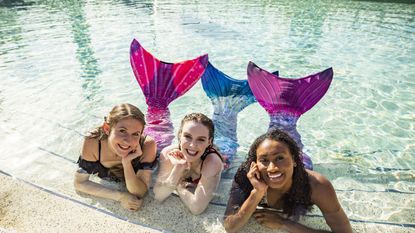 (Image credit: Matt Stroshane)
Marie Claire Newsletter
Celebrity news, beauty, fashion advice, and fascinating features, delivered straight to your inbox!
Thank you for signing up to Marie Claire. You will receive a verification email shortly.
There was a problem. Please refresh the page and try again.
The mermaid floated gently, occasionally flicking her neon tail, her head framed by long dark hair, floating in the water like a halo. That is, until she rolled over, promptly banging her knee on the bottom of the shallow pool. The spell was broken. And let me tell you…that wakeup call...it kinda hurt, being reminded that, yes, I am still a 30-something woman, not a mystical creature.
Growing up, The Little Mermaid was my jam, from the Jamaican-inspired refrains of "Kiss the Girl," which I played almost constantly on my Fisher Price tape recorder, to the giant Ursula that haunted my dreams. In 1989, after a 30-year break in in princess-themed movies, Ariel was Disney's first modern heroine. Strong-willed enough to not bend to her over-protective father. Inventive enough to comb her hair with a fork. And so fashion-forward she paired a purple bikini top with a green tail. I was in, never mind the fact she was willing to literally give up her voice to win a man—a problematic plot point I'm sure my mother was glad I failed to absorb despite near-daily post-kindergarten viewings.
As an adult, a mild fear of seaweed and a strong dislike for the feeling of sand between my toes generally keeps me out of the ocean. And I've finally given up on my ill-advised attempts to dye my hair fire-engine red. But I am still a big fan of The Little Mermaid's form of escapism, happily signing a Faustian contract to get out of anything resembling "adulting."
In March, Disney World Resorts began catering to would-be sirens like me. For only $50 (plus tax) you can strap on a tail at Disney's Art of Animation Resort, Disney's Caribbean Beach Resort, Disney's Beach Club Resort, or Disney's Yacht Club Resort, six days a week at 8 a.m. and, at the instruction of the local Mermaid Academy, learn to flip your fins.
Attendance is open for people 4-years and older, a fairly inclusive age policy that recently encouraged four generations of women to strap on tails and swim together. (Mermen and Merpeople are welcome as well.) In my session, I was joined by five wide-eyed girls under the age of 7, and a mother who admitted she was relieved to be swimming with another adult. I encouraged her to own her inner Daryl Hannah, which cracked us both up.
At a princess-themed breakfast the day before (not part of the experience—but then again at Disney World you're never far from some kind of fairytale enactment), I asked the giddy college student playing Ariel what I should know about being a mermaid. "Blow big, whale-sized bubbles," she told me. While I'm clearly the kind of person to go all-in on a concept (where's my Flounder, damnit?), I am also not the most athletic person in the world, probably due to the fact I type for a living. A bit more instruction was in order, delivered by Mermaid Academy founder Joe O'Rourke, whose teaching style is cross between a stern drill sergeant goofy dad, and his assistant Danielle, who is so invested in mermaid culture that she owned two tails and a keychain before getting the gig.
After several checks to make sure we could all swim, my classmates and I were finally given the greenlight to begin our mermaid journeys. Like slipping into Spanx of the sea, slithering into my hot pink tail took a bit of negotiation (read: undignified wiggling). While bobbing along with my legs held together by a tail felt awkward at first—even after years of childhood swim classes—it became easier as the instructors led us through a series of circus-like games. Learning to ignore my butt's natural buoyancy, I graduated from swimming laps fully under water, to weaving in and out of hoops submerged at various levels both in and out of the water. Did it matter that the kids picked it up faster than I did? There's no judgment in mermaiding. In retrospect, I probably should have accepted the goggles I was offered, especially for scooping "treasure" off the pool bottom (a very important mermaid skill). But I was too excited by the idea of reaching my full Ariel potential to consider practicalities, red eyes be damned.
I was promised I would feel "transformed" after pulling on the tail, a statement that on dry land felt like an overreach. But even though I was wearing the world's ugliest bathing suit (purchased already faded and stretched from a second-hand shop), I realized I did feel different. Sitting on the pool steps, I subconsciously scooped up water with my tail. Posing with it made me feel sleeker. After some trial and error, swimming with it made me feel faster. Peeling it off a bit over an hour later, I realized it also gave me an impressive core workout. To think, I didn't even have to shave my legs first!
If it were up to me I would have made a break from the pool and headed straight into the open sea, an escape plan that would have only worked if I was also magically gifted with stamina. But, with the area opening to the rest of the resort guests, we had to give back our tails at 9 a.m. Surprisingly tired, I headed back to my hotel to shower, one wobbly, human foot in front of the other.
For more stories like this, including celebrity news, beauty and fashion advice, savvy political commentary, and fascinating features, sign up for the Marie Claire newsletter.
RELATED STORY
Celebrity news, beauty, fashion advice, and fascinating features, delivered straight to your inbox!