Alicia Silverstone Talks Parenting (Both Real and Fake Kids)
The star of this summer's The Baby-Sitters Club reminiscences on her years watching the neighborhood crew, her childhood acting days, and the lessons she's teaching her son.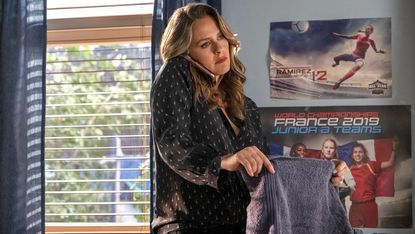 (Image credit: Kailey Schwerman/Netflix)
Your favorite childhood series, The Baby-Sitters Club, is getting a Netflix reboot this summer. This time, '90s icon Alicia Silverstone plays the mom of Kristy Thomas, HBIC (ahem, head babysitter in charge). Feel old yet? We talked with Silverstone about being a kid and keeping them alive.
Marie Claire: Were you a babysitter?
Alicia Silverstone: I babysat when I was way too young—at 10, maybe even younger. I don't know why people let me take care of their kids, but I'm grateful they did. I loved it. I had a very strong maternal instinct from the moment I was born. I remember babysitting this little boy close to where we lived: If I told him it was time to go to bed, he would cry in the cutest way that would just melt me. I loved helping him feel better.
MC: Wow, my babysitting stories are about the kids locking me in a basement!
AS: I still remember these two terrors who were drawing with crayons all over the wall. And I couldn't stop them. I'm 10 or 11; what am I going to do?

MC: Were you a fan of the original Baby-Sitters Club series?
AS: I'd never heard of it until this offer. We had only a few movies at our house on VHS, and it was The Sound of Music, Bruce Lee films—which I didn't really watch, but my brother did, so I'd see them by default—and The Three Stooges, which we watched over and over again.
MC: Did those early films spark your desire to act?
AS: I don't think so. My acting inspiration came from the theater. My parents are English, so they would take me to England every summer. [My dad] would take me to see so many plays on the West End, and I thought the plays were amazing. Somewhere along the line, that became something I wanted to do.
I was very young when I started [acting]. A woman came over to my parents' house when I was maybe four or five years old, and I put on a show for her, like all children do. She said to my dad, "This little girl has something, so you should explore this."
MC: You eventually emancipated yourself to do a role. What was that like?
AS: My first job that I got in film was The Crush (1993). When they selected me for this job, they told me—which wasn't really entirely true, I'm sure—that in order to get the job, I needed to be emancipated [emancipated child actors don't face the same restrictions as child actors]. My dad and I went down to Sacramento and got me emancipated. But once I was on set, the directors said, "God, I wish you hadn't done that." He was saying they weren't going to not give me the part.
When you're emancipated, it makes it cheaper. They can treat you like an adult. On The Baby-sitters Club, those children become pumpkins at a certain hour. The whole set revolves around their school and their time. But when I was 16, that was not the case. They treated you like an adult. One night I worked, I think we worked 23 hours.
MC: What was it like shooting with kids for The Baby-Sitters Club?
AS: It was really lovely to watch the little girl (Sophie Grace) who played my daughter. She's working way more than I am. I saw her grow over as an actress, and that was really fun to watch. I really saw her shift. By the end, I was so proud of her.
MC: You have a son, Bear Blu, in real life. Does he watch your work?
AS: I only let my son watch very few things of mine. He's eight years old now and I'm very mindful of what he consumes. He doesn't have a telephone. He doesn't have any access to social media. I try really hard to limit it because there's too many wonderful things [our brains can be doing]. He's so creative and so inspired. I just want to keep his mind fresh.
MC: What is something you know now that you didn't know at 17?
AS: Two things. I wish that I had a big sister to tell me the benefits of changing my diet [to veganism]. The other thing as a female—but for boys too—is having self-worth and knowing your thoughts and feelings matter. My son knows exactly who he is. I think this show celebrates kids being themselves.
A version of this article originally appeared in the May 2020 issue of Marie Claire. At press time, the premiere date of The Baby-Sitters Club was scheduled as May 10. It has since been postponed.
RELATED STORY
Marie Claire email subscribers get intel on fashion and beauty trends, hot-off-the-press celebrity news, and more. Sign up here.
Megan DiTrolio is the editor of features and special projects at Marie Claire, where she oversees all career coverage and writes and edits stories on women's issues, politics, cultural trends, and more. In addition to editing feature stories, she programs Marie Claire's annual Power Trip conference and Marie Claire's Getting Down To Business Instagram Live franchise.