The 19 Best 'WandaVision' Memes About Season 1
From jokes about Jimmy and Darcy to reactions to the many MCU reveals.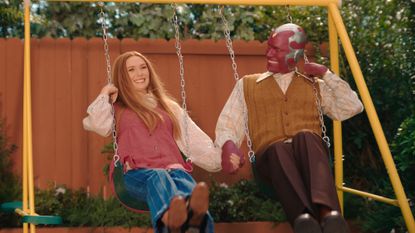 (Image credit: Disney)
Warning: This post contains mild spoilers about the plot of WandaVision. Every week, WandaVision dives deeper and deeper into the warped psyche of Wanda Maximoff as she struggles to cope with the trauma caused by the events of Avengers: Infinity War and Endgame. Because she's a superhero, her idea of coping involves creating some kind of an alternate reality that time hops through sitcoms tropes. It's all very dark and mysterious and confusing. But, fret not, because in true internet fashion we deal with all of the twisted and intriguing plotlines by—how else?—making memes!
Thanks to some jaw-dropping Marvel reveals (opens in new tab), several eyebrow-raising Easter eggs, a few highly-anticipated MCU crossovers (looking at you: Darcy, Agent Woo, and Monica Rambeau), and lots of retro costumes and antics (we haven't even gotten to the '80s yet!), the Internet has had plenty of fodder to keep occupied while waiting for episodes to drop weekly on Disney+.
See the best WandaVision memes from season 1; prepare for them to only get weirder and wackier as Wanda continues to unleash her wrath on Westview and S.W.O.R.D.
My brother sent me this and said it was me. I feel ATTACKED! #WandaVision pic.twitter.com/L1vbaWTnjeJanuary 29, 2021
See more
Geraldine mentions Pietro and Ultron to Wanda Wanda:#WandaVision pic.twitter.com/oin2LZH0kEJanuary 23, 2021
See more
Me after every #WandaVision episode pic.twitter.com/NAQXXvFyEUJanuary 29, 2021
See more
DARCY SAID: DR. LEWIS.I'M SO PROUD OF MY BABY #WandaVision pic.twitter.com/IqG40hnyH2January 29, 2021
See more
That moment when Jimmy Woo and Darcy are simultaneously every single person watching #WandaVision pic.twitter.com/WXnPsWoR9yJanuary 29, 2021
See more
Literally everyone in Westview except Wanda #WandaVision pic.twitter.com/j9w6Ittc6tJanuary 24, 2021
See more
Me after watching episode 4 of #WandaVision pic.twitter.com/oEBnWKfRuvJanuary 29, 2021
See more
When Wanda turned to look at Vision #WandaVision pic.twitter.com/8vKhiPgkOWJanuary 29, 2021
See more
the stuff they set up in "Westview" gave me so much First Thor Vibes #WandaVision pic.twitter.com/wH2gtestNcJanuary 29, 2021
See more
All I've ever wanted for myself is for a windbreaker to fit me this well. #WandaVision #MonicaRambeau @TeyonahParris pic.twitter.com/ZZvujJZAJTJanuary 29, 2021
See more
... my obsession with Wandavision may have gone too far - I made a power point.So far there are 15 slides, and I'm not even up to my slide on episode 3 yet...send help pic.twitter.com/wSEFcGYospJanuary 29, 2021
See more
after every episode of #WandaVision pic.twitter.com/nYQFJVWp4cJanuary 29, 2021
See more
Me, imagining Scott Lang seeing #JimmyWoo do magic. So proud. 🥲 https://t.co/Cq9sjGV9vL pic.twitter.com/R0GdCrIuD3January 29, 2021
See more
As Marie Claire's Entertainment Director, Neha oversees and executes strategy for all editorial talent bookings and culture coverage across the brand's print and digital entities, including covers, celebrity profiles and features, social takeovers, and video franchises as well as handles talent relations for our flagship summit, Power Trip. She's passionate about elevating diverse voices and stories, loves a hot-take, and hates TV reboots. Her bylines have appeared on Glamour, Vanity Fair, GQ, Allure, Teen Vogue, Brides, and Architectural Digest, and she is a graduate of the Columbia School of Journalism.