The Cast of 'Paradise City' Plays 'How Well Do You Know Your Co-Star?'
One of the cast members enjoys a snack that is so interesting you simply must watch to find out more.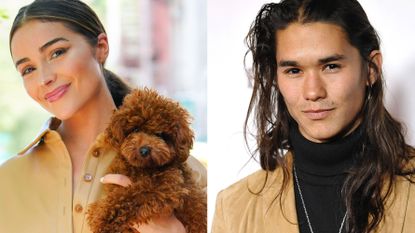 (Image credit: Marie Claire)
Paradise City–a new spinoff of the 2017 film American Satan–tells the story of a close-knit metal band who dabbles in the occult. In the supernatural-meets-musical-meets-thriller TV show, the dark secrets of the lead singer (Andy Biersack) threaten to tear the band apart. As they try to contend with the trappings of fame and their hard-partying life in Los Angeles, a teenager (played by the late Cameron Boyce), arrives in town hoping to make it big.
So, in classic Marie Claire fashion, we asked two of the show's stars to join us for our trivia game, "How Well Do You Know Your Co-Star"—and things got off to a rough start. Oliva Culpo and Booboo Stewart–who play Gretchen and Vic, respectively–seemed like they knew each other well enough, but the first few questions were a tad difficult and sometimes oddly specific. Luckily for them, they hit their stride as the game wore on and (spoiler!) nearly tied when all was said and done.
Watch the video to learn all about Culpo's beauty queen days and her snack indulgences that are too unique to spoil in this article (hint: it's a sour and savory beverage). And to see Stewart reveal his past life starring in mid-aughts music videos and playing animals in made-for-TV plays on NBC. The range!
You can stream Paradise City now on Amazon Prime (opens in new tab).
Zoe Guy is the digital fellow at Marie Claire, where she covers pop culture, hot celebrity gossip, movies and TV. She's obsessed with Martin Scorsese's adaptation of The Age of Innocence, anything written by Jesmyn Ward and stan Twitter.