Jennifer Coolidge Is the Queen of Camp
The White Lotus is a departure for the funnywoman—but she's not done making you laugh.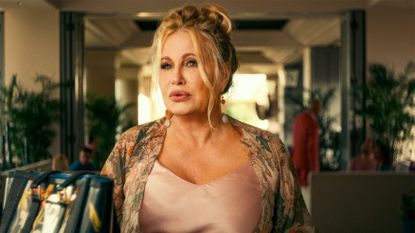 (Image credit: HBO)
Grief has never been so spectacularly unhinged as in HBO's new limited series The White Lotus. Funnywoman Jennifer Coolidge stars as Tanya MacQuoid, a woman who travels to a heavenly Hawaiian resort to cope with the loss of her mother. Coolidge infuses her character with both a of heartbreaking sensitivity and oblivious buffoonery, which will have you laughing through the tears. With an ensemble cast that boasts Connie Britton, Molly Shannon, and Sydney Sweeney, the social satire brilliantly juxtaposes the island's entitled guests with the increasingly skittish hotel staff to show that paradise doesn't solve all your problems. In fact, it might just drown you in them. In advance of the July 11 premiere, Coolidge chatted with us about her bucket list, how Ariana Grande reinvigorated her career, and the 20th anniversary of Legally Blonde.

Marie Claire: Your character sets the show's dark, eccentric tone. What drew you to the role?
Jennifer Coolidge: I was in a movie with [The White Lotus creator] Mike White many years ago; I played his love interest [in 2009's Gentlemen Broncos]. He said he wrote [this part] with me in mind. I thought it was funny because there are things that are really unflattering about the character.
MC: Did you recognize any similarities between you and Tanya?
JC: Mike always gives this legitimacy to all his characters. Her lack of awareness can make her seem not so nice, because [she's] self-absorbed. But it was someone whose loss of their mother was just too much for them to handle. I think Mike knew that the loss of my mother was a very big deal. It happened much earlier than I thought it would happen in my life. Being alone a lot [during the pandemic] made me really have to face some things I'd buried. And so it was sort of easy to access [those emotions to play Tanya]. I almost feel like [in playing her], some relief has happened—aspects that I never would have expressed in my own life. [Mike] encourages you to face your demons, and I remember some days [of filming], it was a little dark.
MC: How did you and Mike forge that kind of trust?
JC: I got this phone call from Mike one day, and he said, "I'm going to Africa. My boyfriend can't come. And I was wondering if you could be my guest?" I feel like later, when I was reading the script, I was thinking, God, I think Mike was observing me on the trip. He doesn't miss a beat. I see him do imitations of me, and I'm like, Oh, no. Is that who I am? But I don't know if my journey with men and dating men is quite parallel to what he wrote [for Tanya].
MC: This show is coming on the heels of Promising Young Woman, which was a departure for you. Has it been a conscious decision of yours to go for more dramatic roles?
JC: It's weird [because] you're not offered anything outside out of what you're [already] playing, a lot of the time. I [typically] play these heightened people, someone who has a very large personality. I'm very glad to be in [PYW] , 'cause it was just phenomenal. But it was like a freak accident, 'cause that's not what I get offered. It's such a gift for someone to believe that you could do something else.
MC: July 13 marks 20 years since Legally Blonde came out. Two decades later, it's still relevant. Have you watched it since it premiered?
JC: I'll watch any movie I'm in again, but I just won't be in the room for my parts. I can't see myself on camera. I don't want to see my acting performance. But I have seen Legally Blonde once. So many women come up to me and tell me they went to law school because of that movie. It really made an impact. Did I know it was going to be what it was? No. But I had a good feeling about it when we were shooting it.
MC: Have you started filming the third one yet?
JC: Every week someone will call me and say, "It's a green light. Legally Blonde 3. It's happening soon." But it never gets further than that.
MC: If it does happen, do you have any hopes for your character, Paulette?
JC: I'm really hoping that Paulette and [Elle] have some big adventure. Some wild ride.
MC: You're going to be in a movie with Jennifer Lopez too, Shotgun Wedding.
JC: It's a fun script, but you don't really know what a movie is gonna be until you get a taste of it at the table read. Josh [Duhamel] and Jennifer were sitting next to each other doing the scene, and you just knew immediately that there was really, really great chemistry between the two of them.
MC: You've had so many iconic roles. Paulette still resonates with people. American Pie also comes to mind. Is there one character that was your favorite or the most difficult?
JC: The White Lotus 'cause it's something so different. [And] Promising Young Woman, it made this shift happen [in my career]. I do also have Ariana Grande to thank. I got this phone call if I would do her video for "Thank U, Next"—that somehow put me back in the game. [At the time] it seemed like there were not a lot of interesting movie roles coming my way, and then that happened, and all of a sudden these cool things [came along].
MC: Your first "big break," as Stifler's mom, was in your 30s. Were you cognizant at the time that you were defying a lot of industry standards getting into acting at that age?
JC: I don't have a typical career. I wasn't one of those people that pursued it very hard. I was much more concerned with having a boyfriend than having an acting career. I would have these little spurts when I tried to get some jobs, and then I would just sit back and wait for the phone to ring. I don't think I busted ass hard enough.
MC: Do you feel like you constantly have to battle ageism in the industry?
JC: I mean, [in Shotgun Wedding] I'm Josh Duhamel's mother, but I think I'm like 10 or 11 years older than him. It's not really possible [for me to actually be his mom], but I wasn't going to pass that job up. So, I don't mind. Do I want to be a grandmother in every movie? No. But if it's a really funny role, if it's really well written, who gives a shit?
MC: What's left on your career bucket list?
JC: I want to do Broadway again. I'd like to do a serious play. I'd love to be in, even, a scarier movie. The sky's the limit.
A version of this story appears in the Summer 2021 issue of Marie Claire.
RELATED STORIES
As Marie Claire's Entertainment Director, Neha oversees and executes strategy for all editorial talent bookings and culture coverage across the brand's print and digital entities, including covers, celebrity profiles and features, social takeovers, and video franchises as well as handles talent relations for MC's flagship summit, Power Trip. She's passionate about elevating diverse voices and stories, loves a hot-take, and generally hates reboots. She's worked in media for more than 10 years and her bylines about pop culture, film & tv, and fashion have appeared on Glamour, Vanity Fair, GQ, Allure, Teen Vogue, Brides, and Architectural Digest. She is a graduate of the Columbia School of Journalism.