'The Heart Principle' Isn't the Light Romance Novel You Think It Is
"How do I review a book that made me laugh and cry and ache because the emotions emanating from every page were so real and so honest?"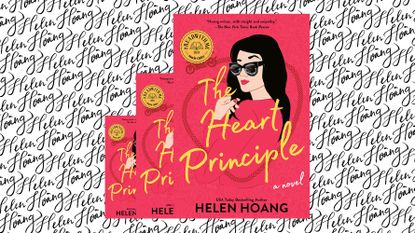 (Image credit: Design by Morgan McMullen)
Helen Hoang's The Heart Principle, the third novel in The Kiss Quotient series, is not the light, fluffy romance novel you may be expecting from Hoang. Rather, its impact is much deeper, exploring themes of "physical and mental illness, depression, anxiety, suicide, family conflict, sacrifice, unconditional love, and learning to speak up for what you want and who you love," per one #ReadWithMC reviewer.
The book begins with main character, Anna, who's simultaneously struggling with her relationship and her career as a violinist. It then switches gears into an emotional storyline that includes Anna dealing with insecurities between her and her failed one-night stand Quan, grappling with her family's disapproval of said relationship, caring for loved ones, and even death. This book was incredibly personal for Hoang—multiple readers pointed out that in Hoang's author's note she reveals she shares many similarities with Anna. "After reading her author's note, I knew this was my favorite novel in the series because I could feel the love she poured into writing it, but more specifically, writing Anna," another #ReadWithMC reviewer noted. "Her character arc was beautiful."
Find out exactly what readers loved about Marie Claire's September book club pick (which, yes, can be read as a standalone!), below.
---
"How do I describe a book that spoke so much to my soul? How do I review a book that made me laugh and cry and ache because the emotions emanating from every page were so real and so honest? Case in point? Chapter two begins with 'Confession: I don't like giving blow jobs. That's probably not a good thing to be thinking while I have my boyfriend's dick in my mouth, but here we are.' The awkwardness, the wry humor—@hhoangwrites blends these two elements so masterfully in her writing.
Anna, the heroine, is a violinist who shot to fame when a video of her playing Vivaldi goes viral. The subsequent success has frozen her with anxiety under the pressure to play perfectly and now she can't play a song from beginning to end. Instead, she stops whenever she feels she's made a mistake and has to restart the song from beginning. Amidst all this, her boyfriend suddenly tells her he wants to start seeing other women before he settles down with her so he knows he's not missing out. Distraught and shocked and hurt, she can't say anything because she has always put others' pleasures before her own.
However, his action sparks something in her and she signs up for a dating app in the hopes of a one-night stand where she meets Quan, the loyal, happy-go-lucky, shaved, heavily tattooed secondary character who stole everyone's heart from The Kiss Quotient and The Bride Test. Only now he's no longer that same happy-go-lucky guy. His confidence took a hit when he lost his health and although he has recovered, he feels like half a man. The way these two characters come together is perfect despite all their 'imperfections.' Their first date ends with Anna hiding out in the bathroom, but the beauty of their relationship is when one falters the other picks up the slack. One of my favorite moments from this book is when Quan tells Anna 'Just because something isn't perfect doesn't mean we need to throw it away.'
The love story is beautiful, but there are so many themes that make The Heart Principle the masterpiece it is. The relationship dynamics inherent in an Asian family are so hard to describe unless one is Asian, but they are beautifully portrayed in the interactions between Anna, her sister, and her mother. The author does not pull any punches as she lays out the expectations impressed on Anna as a younger daughter and sister, and even on Quan, the guy dating the daughter. When Quan meets Anna's mom he can tell he was 'the wrong variety of Asian for her daughter.' Guys, the angst, the pain, the love—they are all here in this book. I absolutely adored it and you will too. Brava, Helen! Brava!" —@what_a_girl_reads
---
"The Heart Principle is the third book of The Kiss Quotient series, which deals with the story of Quan Diep. Helen Hoang has done a brilliant job in portraying the various aspects of autism spectrum in a sensitive manner.
I loved how the bond developed between Anna and Quan, which went beyond a casual fling. Their maturity was reflected when they acknowledged each other's insecurities and promised to be patient with each other. This book has more emotional depth than the spice which was seen in Hoang's previous books. I recommend everyone dig into The Kiss Quotient series and enjoy this terrific ride of romance and relationships.
⚡Storyline - 5/5
⚡Literature - 4/5
🌟 P.S. Autism or no autism, it's important to be yourself, be proud of yourself, and not be a different version to please other people." —@life_in_a_bookshelf
---
"'How much of what people say is genuine and how much is politeness? Is anyone really living their life or are we all reading lives from a giant script written by other people?'
This is a deeply powerful story with aching vulnerability and heart. As someone who has a nephew with autism, this resonated [with] me on so many levels as Hoang explores the autism spectrum through Anna with integrity and grace. The Heart Principle also explores the dynamics of family and the crushing weight of expectations that can cause us to falter if we don't find the strength to put them down and claim our authentic lives. The Heart Principle is a powerful story that will stay with me for some time." —@suzylew_bookreview
---
"I'm not even sure if I can adequately express just how much I loved this book or how validated and seen it made me feel. It is definitely not a light and fluffy romance, but an incredibly powerful story covering themes of physical and mental illness, depression, anxiety, suicide, family conflict, sacrifice, unconditional love, and learning to speak up for what you want and who you love.
Anna is on the autism spectrum (which she learns during the course of the story) and is constantly analyzing others and the situation in order to determine how to respond. She can't say no, she doesn't want to let people down, and she doesn't know how to stick up for herself. While I'm not on the spectrum, I related to Anna's experiences so much. Her constant anxiety and need to be perfect, her unbearable need to please, and the constant worry about what others think.
Then there's Quan, still recovering from a physical surgery and dealing with feeling like he is less of a man, he is kind and understanding and wants what is best for others. The relationship between Anna and Quan was literally incredible. I loved how patient and tender they were with each other, and you could really tell how much they meant to the other. There are other characters that you HATE, but I also found them quite realistic. I also loved seeing more of Michael in this book, as well as some nods to Stella and Khai.
The thing that really got me about this story was the caring aspect when Anna and her family are required to care for their ill father. If you have ever been a carer of someone with a mental or physical illness, you will relate to Anna's experience—the burnout, the guilt, the lack of boundaries, and the mental and physical consequences for caring for someone else to your own detriment. The authors note also brought this home for me, where Hoang speaks of her own experience of being a carer.
I honestly could not recommend this book enough. You'll laugh, blush, cheer and cry. It's wonderful." —@chloeeereads
---
"'No one should need a diagnosis in order to be compassionate to themself.'
★★★★★
I am a simp for Helen Hoang. I will read anything she writes and I mean anything. If this woman wrote a children's book, I'd buy and read that too.
The Kiss Quotient was recommended by a friend a few years ago and I loved it. Diverse characters, awareness for mental illness and disorders, AND steam? What more could you possibly ask for in a romance novel? Nothing, ok! And let me tell you, the rest of this series has not disappointed.
When the most recent book came out, my entire TBR went out the window. Between the characters and the plot alone, this story was perfection, and Anna and Quan are my favorite couple to come out of this series. When you are familiar with an author, you can always tell when their work is personal. After reading her author's note, I knew this was my favorite novel in the series because I could feel the love she poured into writing it, but more specifically, writing Anna. Her character arc was beautiful. And okay, Quan...just add him to my roster of fictional boyfriends.
But I wouldn't be doing this book, and this series, any justice if I didn't talk about how Helen continues to weave in awareness for autism. You would think that by the third book I might be tired of reading a different rendition of the same thing, but no. In each of her novels, I was able to learn something entirely new about this disorder, and in some ways even relate. While autism spectrum disorder is never the same for any two people, I think that Helen intentionally writes characters that you can relate to. While it was pretty obvious that Anna was struggling with more than just difficult social interactions, there were so many times where I was reading the book and just thought hah, relatable!
I could not recommend picking this series up more if I tried. If you are a fan of romance, Helen Hoang is its queen. While each book can be read as a standalone, I do recommend reading them in order of publication since there are references to all of the main characters throughout." —@toobusyreadin
---
"Excuse me while I go buy the rest of @hhoangwrites books because WOW!! I loved every single thing about this book. First of all, the characters as individuals are so interesting and complex and so well-written. This book really did an amazing job at having the characters have so much more to them than just their love story.
Which brings me to my second point: the love story. Oh my god 😫😫 it was perfect. The development of their love was flawless. Not rushed, but not a slow-burn. Absolutely perfect 😻 also, never a bad thing then when a book has some spice, which this book definitely has!!!
And most importantly, this book does a phenomenal job at portraying mental health struggles and the importance of asking for help and standing up for yourself. Definitely my favorite part of the book was the representation of people who struggle with their thoughts. Very important topic in a great book!!! ❤️" —@readingwithris
---
"This was my first book that I have read of Helen Hoang's, but let me tell you I definitely want to read the other two now. This story was beautifully written and discusses topics we all can relate to. Between ending relationships, business issues, burnout, autism diagnosis, dealing with an ill family member, and navigating a new relationship. I found the relationship between Quan and Anna so sweet. They both put their trust in one another while they both worked through struggles of their own. I loved how Quan was so attentive to Anna and was her safe space when she didn't have one. This was another quick read for me and I love quick reads. 💕🎻" —@readsbydani
---
"Many things about this book resonated with me. Many Asian families generally have very high expectations of their children and would often like their children to marry whom they think is a 'suitable match.' Anna Sun deals with heartache and loss as she learns to stand up for herself, despite her family's expectations and pressure to marry Julian.
This is my first read by Helen Hoang and I am looking forward to reading her other two books. I had no idea Hoang was diagnosed with Autism Spectrum Disorder until my curiosity about the main characters in her books led me to read more about her. I love that Hoang shows this perspective through her main characters, including the fact that autism sometimes goes unnoticed with girls. I found this to be great insight showing the audience that autism looks different with everyone. I especially found this helpful as an educator that has and will work with students with ASD in the future.
This book focuses on happiness and taking the necessary time to heal. It encourages people to not give in to the pressures/expectations of family and/or society. There is emphasis in identity and wellbeing, including making decisions to do what is best for oneself. I was all in this for the love story. Much of the plot was focused on Anna's drama with her family, a family member's illness, and her self-discovery. Quan got a little too sappy for me at times, but I suppose he found the right woman who understood him and his circumstances. The perspective and message here were strong and I enjoyed this audiobook overall." —@mae.rox.wanders
---
"Have you ever rated every book in a series five stars? Aside from Harry Potter, I hadn't until The Kiss Quotient series came into my life! I was drawn to these books because of the Own Voices characters and the representation of individuals on the autism spectrum, which is a population very near and dear to my heart.
Like the first two in the series, The Heart Principle is steamy and easy to devour. However, it is much heavier and emotional. It deals with topics such as trying to fit in/finding yourself, family expectations, loss of a loved one, mental health issues, and more. This book might have you shedding a tear or two!
Our two main characters, Anna and Quan, meet when Anna's boyfriend decides he wants to try an open relationship before officially settling down with Anna. This leads Anna to pursue a one-night stand just to prove that she can. However, it turns out keeping a one-night stand to just ONE night is more difficult than Anna anticipated.
Anna's family is hit with a tragedy and forced into a position that no one should ever have to be in. On top of that, Anna is dealing with mental health issues and struggling with her career path. All of this weighs extremely heavy on Anna and I really felt for her.
In the author's note, Helen Hoang states that Anna isn't so much a fictional character, but rather HH herself. Much of Anna's difficulties were experienced by Hoang first. This book is vulnerable and extremely telling of Hoang as a person and author. Which, for that, it deserves ALL the stars!" —@avidreaderali
---
"CONTENT WARNING: grief, anxiety, death of a parent
Truly a gem of a book. I loved this so much y'all don't even KNOWWW. I read it on the plane and the lady next to me was reading a romance too, I wanted to keep showing her everything Quan did like 'Are you seeing this???'

It was so refreshing because it wasn't a picture perfect rom-com. I would say it's a 'heavier' contemporary romance because of the warnings mentioned above, PLUS trying to balance a relationship and dealing with an unsupportive and invalidating family on top of that. But they're all REAL issues and were written pretty perfectly.
I loved reading Anna come into herself amid her autism diagnosis and figuring out how SHE wants to live her life and standing up for herself. Hoang's author's note at the end about this is great and important!!" —@golbousbooks
---
"Finally got my hands on this book, which is the third book in The Kiss Quotient trilogy. For those that have read the previous books, the focus is on Quan, brother of Khai/cousin of Michael, and his love interest Anna. Like the other two books, one half of the featured couple has ASD like the author herself. This in itself makes these books stand out, offering both an interesting dynamic to the romance genre and representation to a marginalized group rarely seen in literature or indeed any media, in anything other than a stereotypical light. This is an honest, moving and heartfelt book (especially when you read the author's note and reflections on the semi autobiographical elements of the book at the end) that is a fitting finale to the series. Whilst it is connected to two earlier books, you do not need to have read them to enjoy or understand this one, as it works as a standalone too.💓" —@this_kat_reads
---
"Fans of The Kiss Quotient get on to this ASAP. This time HH introduces us to Anna, a violinist who is catapulted to fame thanks to a YouTube clip that goes viral. Anna subsequently starts to suffer from a type of creative block, then her longterm boyfriend requests to see other people, you know see what else is out there before they settle down and get married so they have no regrets (??!!! what the actual f***). That's when the universe intervenes and Anna stumbles across Quan.
For those new to HH, this is heavier than her previous work, so maybe start with The Kiss Quotient first (👀 @vtsreads). For HH fans like me, you may love this one above all the others. A lot of Hoang's heart went into this book and it's evident as she takes you along on this emotional rollercoaster ride. In the author's note HH says it took her almost three years to finish it.
I really liked the crossover to The Kiss Quotient and perhaps The Bride Test too, but I've yet to read that one. So, yes, Michael and Stella make a brief appearance in this one, which readers will enjoy. I'm not sure which one I loved more, The Kiss Quotient or The Heart Principle. All I know is I need to read The Bride Test ASAP because I'm not ready to say goodbye to HH's world and characters.
TW: cancer, death, suicide" —@hide.and.go.read
---
"I am sad to share that I didn't love this book. I am a big fan of Hoang's first two books in this series, and The Kiss Quotient is one of my OG favorite romances. I love the autism rep that Hoang effortlessly includes in her stories, and how she shows the different ways that autism can present, which is so important. The Heart Principle was so different from her other books, and after reading the author's note, I understand that she interwove a lot of her personal life into the third book.
There were some things I liked about this book. I thought Quan was amazing in the doses we got of him, and so considerate of Anna's needs and boundaries. I once again was a huge fan of the autism rep and how this book discussed late diagnosis of autism.
However, there were significantly more things I disliked about this book. I think the blurb and cover are quite misleading to what this book is about. This is not a romance or a spicy book, and instead is a heavy recount of Anna's dealings with self discovery, doubt, her unsupportive family, and caring for her sick father. Maybe that's why I found little enjoyment in reading this, as I was expecting a lighthearted story.
I also found Anna's family really hard to read about, and their lack of support for her needs so disgusting. I wanted so much more from Quan's character and more development, which unfortunately didn't happen. I also struggle to read one-sided romances, which this book definitely was. The ending felt rushed and I didn't know the book was ending so quickly until I flipped over and read the author's note.
This book just wasn't for me. However, I know a lot of people have enjoyed this, so read their reviews too. 😊 RATING - 3 ⭐️" —@cozyreadswithcass
---
"I absolutely loved this book! It is hard for me to even put into words how much I just adored it. It went above and beyond my expectations! The Heart Principle was steamy, sweet, sad, and seemed very personable (which, from the author's note it is understandably why because it's based on her own experiences). I was completely immersed into Anna and Quan's story. Their feelings and emotions were so real, relatable, and just completely captivated you throughout the book. I can definitely say this one is my favorite out of the series! It was just beautifully written with Hoang putting all the raw emotions on the pages! I cannot wait to see what is next for this author!" —@bookiesandtea
---
"'No one should need a diagnosis in order to be compassionate to themself.'
⭐️⭐️⭐️⭐️⭐️
The Heart Principle hit real hard and real close to home for me. Watching Anna discover who she is in a new relationship and transforming to the person she truly is and not who her family wants her to be was so powerful. I loved every second of it. I heard a lot of conflicting feelings about this being a heavy romance, but romance is allowed to be heavy and Hoang includes this in her romance in a beautiful way. I cannot wait to read more from Hoang in the future (hopefully soon because I NEED to add The Bride Test to my collection)." —@wildfire.reads
Missed out on our September book club pick? In October, we're reading The Night She Disappeared by Lisa Jewell. Read an excerpt from the book here.
Marie Claire email subscribers get intel on fashion and beauty trends, hot-off-the-press celebrity news, and more. Sign up here.