Exclusive Q&A: Melanie Notkin is The Savvy Auntie
Not a mom? Doesn't mean you can't join the Auntorage.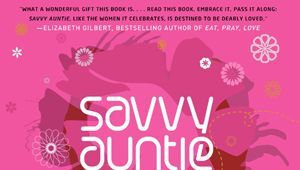 (Image credit: Archives)
With Mother's Day around the corner, those of us who don't have kids are feeling a little left out. In fact, the 2008 U.S. Census Report revealed that 45.7% of American women 44 and under are currently childless. Whether we've been holding out for the perfect guy, the perfect job or simply don't see ourselves ever having kids of our own, most of us still do our part in raising the next generation by being 'the cool aunt.'
Melanie Notkin, Founder of Savvy Auntie, created an entire brand devoted to giving aunts the tools to be as knowledgeable and resourceful as parents while reminding them of their unique role in a child's life. In her first book, Savvy Auntie: The Ultimate Guide for Cool Aunts, Great-Aunts, Godmothers, and All Women Who Love Kids, Notkin teaches aunts everything from how to ease the pain of teething to how to quiet a nosy relative who brings up the term 'biological clock.' We spoke to her about the recent launch of her first book and about what it really means to be savvy.
What is a Savvy Auntie?
She strives to be as savvy as she can possible be – just as a parent strives to do. She understands that she's not perfect. She understands that she's always learning but she also knows that her role in this child's life is really influential and really important. And from the day she hears she's going to be an aunt until her nieces and nephews are grown adults, there's always a time and opportunity to connect with them, to bond with them and to really be a positive influence for them.
Why do you think more women are delaying motherhood or choosing aunthood instead?
People will point a finger and say, 'You're a career women.' Well, I didn't know careers were a choice today. There are no 'career' men. We're waiting for love. And that man, whoever he is, deserves to be loved. And because we don't have to get married in order to draw an income, we can wait to make those right choices. There is a lot of pressure on women to have the great careers, the great wardrobes, the great apartments and the marriage and the kids. We all have to be superwoman.
Why is the idea of Savvy Aunties so important for women, especially single women, to embrace?
These are women who just aren't there yet in terms of having kids, who have decided not to have kids or who can't have children. I use the term circumstantially infertile for myself. It's the PANK (Professional Aunt No Kids) who stays late at work or works over the weekend so mom can be with her family. I'm 42 and haven't met the right guy. To know that what we do creates legacy is extraordinarily empowering to women. And I think that's what we need to do. We need to empower women. If we leave these women out of the conversation – we're talking about Oprah Winfrey, Elena Kagan, Ellen DeGeneres and Jennifer Aniston, women who have tremendous influence in America – we're hurting ourselves.
As an Auntie-by-relation to 6 children and an auntie-by-choice to countless others, why did you feel this book and these tools were necessary?
What we've tended to do unfortunately is to look at women without children as women who didn't understand children, who weren't savvy enough to take care of children, or who didn't have anything else going on in their lives besides being potential babysitters. So what I wanted to do was to educate aunts to be just like parents. Parents study – they've got shelves of books. There was no par-aunting guide for us. I'm not here to step on mom's toes. In fact, principle number one is that parents rule. It's their children. But we should also be acknowledged and respected for our role.


You launched Auntie's Day on July 26, 2009, which is now a national holiday. Do you think Savvy Aunties deserve anything on Mother's Day, too?
If the moms and kids think that they do, then yes, they do. When you're not a mother – especially if you want to be, or even women who are childless by choice who are judged for that choice – this whole idea of Mother's Day can feel like a judgment over circumstance or lifestyle. If we instead include all the maternal women in a child's life, then we all win. And obviously the Savvy Auntie book is a great gift because it helps mom, too.
What are your goals with the brand? How would you like moms and aunts to use this resource?
This is the beginning of a conversation that needs to happen in America. Get your Aunt-ourage together and talk about how you feel and help empower each other. The book isn't the end of the conversation, it's just the beginning.
Details: Savvy Auntie: The Ultimate Guide for Cool Aunts, Great-Aunts, Godmothers and All Women Who Love Kids, William Morrow, $24.99
Celebrity news, beauty, fashion advice, and fascinating features, delivered straight to your inbox!