Live Like a Mad Men Star
Set designer Claudette Didul shares some thrifty tips on how to score vintage treasures that even Don Draper would envy.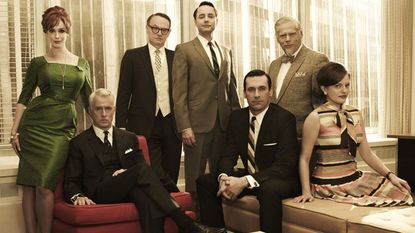 (Image credit: Frank Ockenfels 3/AMC)
Take a cue from your favorite returning drama when Mad Men set designer Claudette Didul sends you off to find hidden vintage treasures. "Shopping in thrift stores and flea markets is just like shopping at Ikea—put your blinders on and focus on where you need to go, and what you're there for," says Didul. "Don't get distracted."
Log on: "Etsy, Ebay and Craigslist are great, even if the item you want is in another state—last year we bought the vintage candy machine for Sterling Cooper Draper Price from a couple in Oregon who were trying to lose weight and had it Fed-Exed to us," says Didul. "Also sign up for estate sale emails. Many people who are either retiring or have passed away have held onto their furniture from the '50s and '60s, and now their entire estate is up for sale. My contact even texts me photos."
Be fashionably late: "You might think all the best stuff is gone towards the end of a flea market, but that's also when you get the best deals on the remaining furniture. Often times you can find a dealer who doesn't want to lug large items home again—and they'll deliver it."
Flip it: "Turn over any piece of furniture you're interested in and make sure that there isn't any mold where it sat in a damp basement or shed, and that the piece has good bones so there isn't anything falling apart underneath, or loose springs—those are dealbreakers. Remember that fabric can be reupholstered. Already have a place in mind for a piece when you buy it, so it doesn't sit sadly in your garage."