It's Kind of a Funny Story
With her buddy-cop movie The Heat, starring Sandra Bullock and Melissa McCarthy, hitting theaters this summer, up-and-coming comedy writer Katie Dippold is set to prove once and for all that women can pack 'em in—and keep 'em laughing.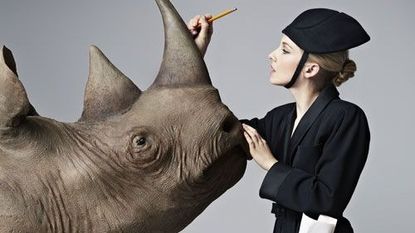 (Image credit: Peter Yang)
Marie Claire Newsletter
Celebrity news, beauty, fashion advice, and fascinating features, delivered straight to your inbox!
Thank you for signing up to Marie Claire. You will receive a verification email shortly.
There was a problem. Please refresh the page and try again.
GLAMOROUS THOUGH THE JOB MAY SOUND, sitcom writing is a grinding profession where storylines and jokes are conceived, tweaked, and discarded in a process as ruthless as it is democratic, making it virtually impossible for any one writer to claim bragging rights to much of anything. There are few I's in the writers' room—save for the one in charge, better known as the showrunner. Breakout stars in such a collaborative milieu are the exception, not the rule, and even those who manage to sell screenplays written in their off-hours quickly learn the perils of high hopes: Promising projects routinely wither on the vine, and for those who do make it, the process is a slog that can easily take years from start to finish.
So it must have seemed to Katie Dippold, one of roughly 10 writers for Parks and Recreation, that the stars had magically aligned when in February of last year, after just two and a half months of writing a script about two female cops, she promptly sold it to Chernin Entertainment for $600,000. Excitement for the project was so pitched that 10 days after the acquisition, Sandra Bullock and Melissa McCarthy jumped on to star, and Bridesmaids director Paul Feig signed on to direct. The Heat was on the fast track to becoming one of the buzziest properties in town, and by the time it opens in theaters nationwide on June 28, its gestation period from beginning to end will have been just 20 months—a supernova by Hollywood standards. "I had just gotten a haircut and was walking back to my car when my agent called and said the producers were on the other line and they were going to make an offer over the phone—the deal would either happen or not by the end of the call," recalls Dippold, 33, a petite, delicate-looking blonde with a faint resemblance to a young Doris Day. "Then I realized my cell phone was dying, so I was trying to stay on the call while driving to get home in time to plug it into my charger. I finally made it just as the deal closed, and my car was a pool of sweat."
There is a dryness to the way Dippold tells a story—straightforward, without affect, as though utterly unaware of just how crazy-funny it is—that makes it hard to believe that she is one of the hottest on-the-rise comedy writers in Hollywood. Over lunch at Little Dom's in Los Angeles, Dippold is downright demure. More goofball than wiseacre, she doesn't curse much or gesticulate, doesn't crack jokes, do imitations, or tweet witty quips (the equivalent of a mike and stool for comedians these days). As we brunch on scrambled eggs and Arnold Palmers—half iced tea, half lemonade—she regales me with a kooky story about wanting to impress her bosses on the first day of a college internship with Late Night With Conan O'Brien. "I remember I wore heels, like some new pair of shoes that I would never normally wear. I thought I had to take it up a notch. And they were like, 'OK, run downtown and take this ferry, and then this plane and get on this train, and, like, grab onto the wings of this bird.'"
Her humor, Feig tells me, is "smart, funny, irreverent, but grounded—and that's all I ever look for." I press Dippold to name the episodes of Parks and Rec she conceived. "There may be some ideas that I'm proud of, but someone else probably added to it, and that's where it gets tricky," she tells me. After further prodding, she relents and admits she came up with the idea for "Indianapolis," which finds unapologetic carnivore Ron Swanson (Nick Offerman) devastated to learn that his favorite steak house has closed. In another episode, in which Leslie Knope (Amy Poehler) goes on a blind date with a crazy MRI technician (her then husband Will Arnett), Dippold owns up to writing a killer line that has Knope confessing that her ideal mate has "the brains of George Clooney and the body of Joe Biden." She tells me, "I liked [the line] because I really do believe it works both ways: George Clooney is very smart and Joe Biden is very handsome." Dippold is gender-agnostic when crafting funny bits—she's as comfortable writing for a meat-and-potatoes type guy like Swanson as she is for an ambitious do-gooder gal like Knope.
"What attracted me to the script [for The Heat] was that Katie didn't write a female-buddy movie thinking, Hmmm, women aren't supposed to say or do that on film," Bullock tells me over e-mail. "Katie wrote a story that required two human beings to be uncensored and not mind looking like idiots, something both women and men do on a daily basis."
To be clear, Dippold wasn't thinking about all that when she set out to write it. "I loved cop movies growing up—Lethal Weapon, 48 Hours, Running Scared," she says. "I always felt like those guys, the buddy cops, were so cool and badass and funny, and I always wanted to see two women like that."
Born in Freehold, New Jersey, she attended Rutgers University, where she dabbled in college improv. Later, after watching a classmate perform at the Upright Citizens Brigade (UCB) in New York City, she signed up for classes there, too. "At that time, UCB was still a really small theater on 22nd street, with people like Amy Poehler [a founding member] and Adam McKay [Will Ferrell's writing partner] performing in Asssscat," the theater's now legendary Sunday night showcase. Dippold took a class with Mindy Kaling, performed with Saturday Night Live's Bobby Moynihan, and hung out with UCB regulars Ellie Kemper (The Office, Bridesmaids) and Casey Wilson (Happy Endings). She landed the internship at Late Night With Conan O'Brien and later had cameos on the show.
Still, for a while she was on the fence about a career in comedy. "I would go back and forth between FBI and comedy writing," she says. "I was obsessed with The Silence of the Lambs when it came out; I loved the FBI so much. But you had to apply online and there was no room to make myself sound good. 'Do you speak any language fluently?' No. 'Do you have any full-time employment?' No. 'Have you done any drugs?' Yes. And that was it. 'We aren't interested in you.'" So she stuck to comedy.
In 2006, Dippold relocated to Los Angeles for a writing job with MadTV and, after the show was canceled, began work on an original pilot—a dark comedy about the mayor of a Northeastern island town plagued by spooky, supernatural crime who is nonetheless trying to lure new homeowners. The pilot didn't go anywhere, though it did score her a meeting with Mike Schur and Greg Daniels, the creators of Parks and Recreation. "There were 15 awkward moments in that meeting," Dippold recalls, laughing. "I think at some point we talked about the title Parks and Recreation and I might have accidentally suggested a different title. I remember thinking, No! Don't suggest they change the title of a show that you are trying to work on!" She got the job anyway.
Dippold's success comes on the heels of Bridesmaids, the box-office breakthrough cowritten by and starring Kristen Wiig, which grossed nearly $300 million worldwide. Critics called it a game changer, sure to usher in a slew of edgier female-driven comedies in place of the softer, sweeter rom-coms so many actresses have been relegated to. Instead, television has been the primary beneficiary of that change. Today, young female writers are leading a creative resurgence of comedy on TV—Lena Dunham (Girls), Mindy Kaling (The Mindy Project), and Liz Meriwether (New Girl), among them. Still, it's hard to imagine a studio like Twentieth Century Fox, which is releasing the film, taking a chance on a movie like The Heat—with its two hard-nosed, gun-toting officers on a mission to take down a drug kingpin in Boston, with nary a whiff of romance in the storyline—without some shift in the Hollywood mindset. (The last commercial comedy to be made about two female partners was the 1988 flop Feds, starring Rebecca De Mornay and Mary Gross.)
And yet there remains profound uncertainty among studio executives as to whether a female-led cast can really open an action comedy. "There were people suspicious of this attempt, who thought girls won't want to see a cop action movie and guys won't want to see two girls holding guns and we'd cancel out our potential audience," says producer Jenno Topping (Country Strong, Catch and Release). "But we really believed, at the end of the day, it wouldn't be about gender as much as it would be about delivering a courageous action comedy with some heart to it. Those same naysayers thought 'the fix' would have been to include a conventional romantic storyline, so as to be at least 'guaranteed' women's interest, but we thought that was such a reductive way to think about female audiences."
A lot is riding on The Heat, which with its lack of romance and abundance of high jinks mines new territory for female-driven comedy. (Even Bridesmaids centered on a wedding.) Feig and Topping are betting that the movie will draw both men and women, and they point to test audiences that seem to indicate as much. In one funny scene, Bullock and McCarthy bond over shots of whiskey, getting so drunk that Bullock makes out with a man in his 60s—shades of the cringe-worthy closing scenes of The Hangover between Zach Galifianakis and a senior citizen in a Las Vegas elevator; in another scene, McCarthy opens her refrigerator to reveal an arsenal of weapons. For good measure, the film is rounded out with a supporting cast of popular guy's-guy comics like SNL's Taran Killam, Spoken Reasons, and Marlon Wayans. "When this got sent to me, it was called the 'untitled female buddy-cop comedy.' I just was like, 'That just sounds fun to me,'" says Feig. "It's not a rom-com, and it's not women dealing with women's problems, which can be funny but can also feel limiting."
If Feig is right and The Heat succeeds, it will prove in earnest what Bridesmaids hinted at: that shit-talking, real-looking women can carry a movie. Feig is so confident, he and Dippold are already working on the sequel. In the meantime, she's enjoying some well-earned downtime, including weekly kung fu classes and ruminations on her next steps. "Since this summer was such hard work, I am really, truly forcing myself to just enjoy [this time], just relax," she tells me. "I spent all my 20s writing—every family holiday I would just be in the corner working on something. So I have gotten better at forcing myself to really appreciate time off now. But I mean, we're talking half a day. And then I'm like, 'All right, get back to it.'"
Celebrity news, beauty, fashion advice, and fascinating features, delivered straight to your inbox!