Girls Season 3 Episode 8 Recap: Are Adam and Hannah Headed for Trouble?
They say women treat you fine on Broadway.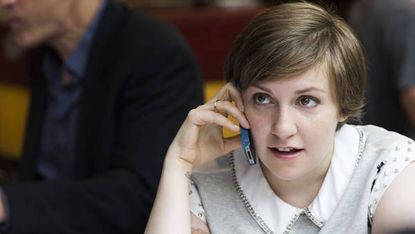 (Image credit: HBO)
I can feel it coming in the air tonight. Hold ooo-on. Hannah and Adam are headed for trouble. Even Phil Collins knows it. In the last episode, I thought it was possibly going to arrive in the form of Joe, the GQ colleague in the rainbow gingham-or-maybe-plaid shirt. (Which I have from Madewell and I think he's wearing a women's shirt. Which is totally fine. Perhaps he wrote GQ's 10 Ways to Work Womenswear charticle, brought to you by Neiman Marcus.) There was an unmistakable whiff of flirtation, which kind of drifted out the window when Joe confessed to a crush on another colleague. Even so, I hadn't quite given up on the idea that Hannah would be seduced, or simply distracted, by someone in her new environment. Things have been going too good, too steady, and too mature with her relationship for too long.
But now, the will-he-or-won't-he feeling is with Adam, who has nabbed his first Broadway role. It's Patti LuPone in a fabulous (because what else would Patty LuPone be?) cameo, playing herself, who puts the idea in Hannah's head that the stage will be Adam's mistress. Although Adam doesn't do or say anything startling—he even says "I don't want to be part of any scene," meaning he doesn't care to cat around—the suspicion and fear Hannah incurs feel like a set-up for what's to come.
Girls usually gives its episodes straightforward titles—"Beach House" for when they're at a beach house, "Dead Inside" for the book-editor funeral thanatopsis. This episode, "Incidentals," refers to the hotel room at the Gramercy that Hannah is supposed to be reviewing (Jenna Lyons continues to be a bawss). But incidental also means "liable to happen as a consequence of an activity." And I think a separation—whether due to fighting, or cheating, or just emotional estrangement—is going to be a Broadway incidental for Adam and Hannah.
(By the way, he's starring in George Bernard Shaw's "Major Barbara," a play about sinning, salvation, and true nature. I would love to read a Girls deconstruction in the context of Shaw, but I'm sorry to say I can't write it myself. As LuPone tells Hannah, she didn't understand a f***ing thing about Shaw.)
For them to break up would be a shame, because Adam is not nearly as "weird-looking" as Hannah tells people, and the idea that hulking, sculpted, dead-sexy Adam would be so devoted to scrambled, oddball Hannah has always been one of the show's winning points. They shatter our film/TV expectations for equivalencies of attractiveness, and the relationship has an underdog element that you can't help but root for. For all her other personality flaws, Hannah is self-confident, and seems fully aware that the Queen sh*ts too. If Adam bails because his eye starts to wander, we all lose.
As for other couples' attractiveness equivalencies—let's just call that A.E.—Ray drops Marnie's ass, finally, which sends her to the hotel room as well, where she encounters Adam's costar, Desi (Ebon Moss-Bachrach, who is simply a babe of the first order). As far as looks go, it's a 10 to a 10—but Desi has a girlfriend. Looks like the theme of infidelity will play out for the rest of the season.
And Jessa relapses with Jasper, the old creep from rehab (Richard E. Grant, whose scenes are a little too stage-act-y for my taste). The storyline feels forced, yet inevitable. There seems to be nothing else to do with the character of Jessa—we still don't know whether she is plagued, or empty. For her, when you're bored and boring, relapsing seems simply like an incidental.
Marie Claire email subscribers get intel on fashion and beauty trends, hot-off-the-press celebrity news, and more. Sign up here.