Hollywood's New Leading Ladies
An Oscar Winner. A Godzilla heroine. A mother of dragons. A revolutionary. And a Disney princess come to life. These five eminently watchable actresses are having their moment—one that we bet will last a good, long while. Photographs by Cedric Buchet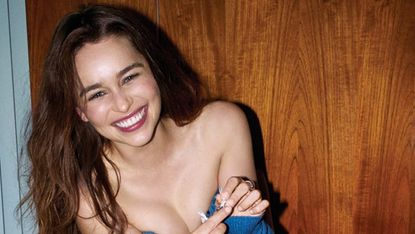 (Image credit: Marie Claire)
Marie Claire Newsletter
Celebrity news, beauty, fashion advice, and fascinating features, delivered straight to your inbox!
Thank you for signing up to Marie Claire. You will receive a verification email shortly.
There was a problem. Please refresh the page and try again.

Dress, $3,460, Christopher Kane
"BEING CALLED GORGEOUS is not a bad thing!" says Lupita Nyong'o, blushing over an omelet, berries, and tea (she doesn't like coffee) at The Carlyle hotel in New York City. "But at the same time, I don't want to thrive on people's opinions of me." Those opinions are nothing but fawning, about everything from her bravura performance in 12 Years a Slave, which won her Academy and Screen Actors Guild best supporting actress awards, to her flawless red-carpet fashion sense.
"I wasn't a follower of fashion," says the 31-year-old, perfectly turned out in a floral top of vintage silk scarves, black pants, and a Miu Miu tailored black coat. "It was a world unknown. Then I met my stylist, Micaela Erlanger [introduced to her by friend and Non-Stop costar Michelle Dockery], and we came to interpret my style: clean lines, strong color. I don't dress to impress; I don't feel that pressure." Nothing seems to ruffle the Mexican-born, Kenyan-raised Yale Drama School graduate. (Except maybe waiting for her category at awards shows. "I wouldn't wish it on my worst enemy. It's an internally loud moment. It's not even about the outcome; it's about the agony of the unknown. It's like waiting for test results in a hospital.") If anything, she's enjoying the perks of fame, especially meeting people she's long admired, as any of us would. (But unlike ours, her selfies include the likes of Rihanna, Brad, Jared, and Pharrell.) "I met Sidney Poitier, who has been someone I've looked up to and a blessing from afar," she says. "It was an incredible thing and something that I hold very dear to my heart."
Watch this short film with our May cover stars
Now that acceptance-speech season is over, Nyong'o is on holiday after the Paris fall runway shows, keeping mum on her future projects as she gets back to her day-to-day life in Brooklyn. One thing she won't be doing is attempting to re-create or duplicate a magical year. "It was phenomenal," she says. "As brilliant as it was, onward ho. I hope that I will get to work soon. In due time, what I should do next and what I want to do next will reveal themselves. I am not in the business of trying to top this year—that's virtually impossible. I'd have to be pronounced the queen of England or something." —Merle Ginsberg
Dress, price upon request, Scarf, $450, Dior; Ear Cuff, $290, Graziela Gems
AGE: 31
PROVENANCE: Mexico City
CURRENT RESIDENCE:Brooklyn, NY
BIG BREAK: 12 Years a Slave
SEE HER NEXT IN: "I don't want to jinx it!"
WHO KNEW? At 16, she helped cater a New Year's Eve party to celebrate the millennium. "I should've done something more interesting."
Top, $3,425, Margiela.
Elizabeth Olsen didn't set out to become an indie darling. "I didn't really have another option—those were the jobs I was getting," she says. Good thing for her, because the 25-year-old, so mesmerizing in 2011's Martha Marcy May Marlene, has earned the kind of critical praise that actors dream of. "I feel very lucky that the reviewers have been on my side, even when it comes to a project that isn't so great," Olsen says. "I was seizing every opportunity. I'm not embarrassed by my work in them or anything—it's all learning."
Subsequently, she's landed two huge commercial movies, Joss Whedon's The Avengers: Age of Ultron, which she's filming now, and Godzilla, opposite critics' pets Bryan Cranston, Juliette Binoche, and Sally Hawkins, opening May 16. "The cool thing is the studio pieces I have been lucky to become a part of are ensemble pieces, so it's not like I have this Hunger Games on my back. It's not going to skyrocket one person; it's a team thing."
At Broome Street General Store in Silver Lake, near where the actress is crashing with her fiancé, model/actor Boyd Holbrook, Olsen goes unrecognized. With her long, wavy blonde hair spilling out of a watchman's cap, holey J Brand jeans, and oversize Theyskens sweater, Olsen (Lizzie to her friends) could be any other hipster at the tiny outdoor coffee shop. And she prefers it that way: "I definitely know what kind of lifestyle I want to have. Some people recognize you for your work, not for being pictured going to clubs. So, I try and keep that kind of profile that people know you from your work and that's it. There are some jobs that I've said no to, because I know what kind of attention they will bring. I choose not to have that specific kind of attention."
Though her sisters, Mary-Kate and Ashley Olsen, named one of their fashion lines Elizabeth and James (which happens to be the given name of their brother), she insists she's not their muse: "God, no. I just try and see what they do and copy them like the rest of the world does." So that Olsen name—boon or burden? "Everyone has their hurdle to get over, and if mine is that I have to [prove] I've earned my jobs, I'm OK with that," she says. "I'm in it for a ride, and I'm in it for the long run." We're happily going along for the ride. —Laurie Sandell
Jeans, $204, Iro Jeans; Bracelet, $1,790, Band Rings, $1,675 each, Cluster Ring, price upon request, Hearts On Fire.
AGE: 25
PROVENANCE: Sherman Oaks, CA
CURRENT RESIDENCE: NYC
BIG BREAK: Martha Marcy May Marlene (2011)
SEE HER NEXT IN: Godzilla, out May 16
WHO KNEW? While a student at New York University, she worked as a licensed real estate agent for two summers.
Dress, Price Upon Request, Louis Vuitton; Ear Cuff, $290, Graziela Gems.
FOUR YEARS AGO, when Emilia Clarke was fresh out of drama school and "working six jobs to pay the rent," she got a call from her agent: She had 24 hours to prepare for an audition for a new HBO show called Game of Thrones. "I called in sick to my catering job and Wikipedia-ed the crap out of it," recalls the 27-year-old London-based actress, who landed the part of Daenerys "Dany" Targaryen four days later. "To be employed by HBO, I was like, 'I can die now.'" These days, she flies off to locales like Malta, Croatia, and Morocco to film the fantasy series, the fourth season of which just premiered. Though her role—a displaced, white-blonde queen with three dragons as charges—is arguably the most memorable in a show full of unforgettable characters, the Emmy-nominated Clarke herself goes unrecognized most of the time, thanks to her natural brown hair and decidedly contemporary wardrobe. Today, she's wearing white Topshop skinny jeans, a Helmut Lang tank top, and Tory Burch wedge sandals, a far cry from Daenerys' signature flowing togas.
But flying beneath the radar keeps her humble. Clarke's response to a recent AskMen survey that named her Most Desirable Woman of 2014? "I'm sure it was some member of my family clicking a thousand times," jokes Clarke. "Maybe one of those men could ask me out on a date." And should she ever fall prey to an inflated Tinseltown ego, her tiny hometown in Buckinghamshire in the south of England promises to keep her grounded. "I get to go home and walk the dog and no one really cares in the most glorious way," she says. "They're more intrigued about whether people are picking up the dog muck from the path."
Clarke might have inherited her down-to-earth genes from her parents. She recalls showing her father, a theater sound engineer, a gold necklace inscribed with her "Mother of Dragons" moniker, "MOD," given to her by Game of Thrones writers David Benioff and D.B. Weiss. Upon inspecting the nameplate, her father asked with a furrowed brow, "Why on earth have you got 'Ministry of Defense' 'round your neck?"
In addition to her Game of Thrones role, Clarke has played Holly Golightly in the Broadway version of Breakfast at Tiffany's. She waxes exuberant equally about those she knows and respects (stage co-star Cory Michael Smith is "the love of my life...a fierce talent...a serious one to watch") and those she's never met and respects, like her "favorite person on the planet": Ryan Gosling. "I don't know him," she says. "I've just read this interview where I'm like, 'Okay, you're now officially beautiful and intelligent.'"
She's also done small British indies like 2012's Spike Island, for which she claims viewers will need subtitles to understand her Manchester accent, and the just-released Dom Hemingway, in which she plays a daughter estranged from her criminal father (Jude Law). And for her next huge break, she's currently training to play Sarah Connor in the next Terminator movie, set for 2015.
Though Clarke is just getting started, she already has her eye fixed firmly on the golden ring: "Personally, I'd like as many children as I can pop out, I reckon. You come from a happy family; you want to create a happy family. And in the same breath, I'd like to be on stage at England's National Theatre, doing Miller and Chekhov. Give me a Sam Mendes/Tennessee Williams combination—that would be glorious. And to be making some Oscar-worthy movies with Scorsese. I'm always looking for the hard road. That way, you remain interested and interesting. Hopefully." —Laurie Sandell
Sweater, $895, Bandeau, $1,995, Skirt, price upon request, Michael Kors. On Clarke's Right Hand, From Bottom: Wave Rings, from $130 each, Graziela Gems; Diamond Band Ring, $1,675, Hearts on Fire. On Clarke's Left Hand: Ring, $1,950, Djula.
AGE: 27
PROVENANCE/CURRENT RESIDENCE: London
BIG BREAK: HBO's Game of Thrones
SEE HER IN: Dom Hemingway, now playing
WHO KNEW? She backpacked throughout northern India when she was 16 to scatter the ashes of her Delhi-born grandmother.
Top, Price Upon Request, Chanel; Necklace, $4,750, Hearts on Fire
KATE MARA IS STILL A VIRGIN. A hair-color virgin, that is. "This is my first dye job ever!" laughs the natural redhead turned blonde at Café Gratitude, a vegan restaurant in L.A. "It's for an indie movie I did called Captive [in postproduction]. I felt relieved getting rid of red—people in my family were saying, 'Red hair is your identity—you'll ruin it!' But I'm an actor. I'd shave my head if the part called for it. I love morphing into someone different; it makes you wear makeup differently."
It seems to be making her wear clothes differently, too. She's clad in a black-and-white perforated-leather Yigal Azrouël motorcycle jacket, a black skirt, a rock-and-roll T-shirt, a fringed Prada bag, and black spiked Miu Miu loafers. (Her actress sister, Rooney Mara, "bought this same jacket and T-shirt—without knowing it!") It's a little flamboyant for both the boho Angeleno and for Zoe Barnes, her ambitious D.C. reporter character on House of Cards who (spoiler alert!) meets a violent, Anna Karenina–like end when ex-lover/source House Majority Whip Francis Underwood (Kevin Spacey) pushes her onto the tracks at a Metro station in the premiere episode of season two. "It was the plan from before we began the first season," says the 31-year-old. "It was definitely shocking, but I was quite mentally prepared for it. Everyone on the show was so sweet about my leaving. The nicest thing is people's reaction that they will miss Zoe's character."
Thankfully, we don't have to miss Mara, who's had poignant yet only small movie roles (Shooter, 127 Hours, Brokeback Mountain) for too long. She's currently filming the next Fantastic Four sequel, in which she plays Sue Storm/The Invisible Woman, alongside Michael B. Jordan and Miles Teller. But first up, she stars with Johnny Depp and Paul Bettany in this month's mega-budget man vs. technology action-adventure-drama Transcendence. "For a movie this large, it didn't feel huge," says Mara, who plays the leader of an anti-technology revolutionary group. "Except for the occasional explosion. A lot of my scenes are just me and Paul—intimate. My favorite kind of project. I would love to be in a love story. My favorite movies to watch are relationship dramas."
Meanwhile, her own relationship with actor Max Minghella, son of the late director Anthony Minghella, has had little drama since they met in 2010 (just a brief breakup in 2012). "Our only issue," she says, "is he insisted on buying me an iPhone, and I wanted to stay with my BlackBerry. I know I'm in a movie about technology, but I'm not interested in it at all. Nor do I pay attention to politics. I'm not the person looking for the next big thing. Just the next good role." —Merle Ginsberg
Dress, Price Upon Request, Fendi; Chain Earring, $445, Kismet by Milka; Cutout Ring, $1,790, Djula; Band Rings, $1,675 Each, Hearts on Fire.AGE: 31
PROVENANCE: Bedford, NY
CURRENT RESIDENCE: L.A.
BIG BREAK: Netflix's House of Cards
SEE HER NEXT IN: Transcendence, out this month
WHO KNEW? She once sang the national anthem at a New York Giants game.
Dress, price upon request, Fendi; Necklace, $445, Kismet By Milka; Rings, from $130 each, Graziela Gems.
EVER SINCE SHE STARTED ACTING at age 3, all we've read about Elle Fanning is how beyond-her-years sophisticated the now 16-year-old is. And when she arrives at Los Angeles' Chateau Marmont, there's little to visibly contradict that observation: She's decked out in Marni tweed cigarette pants ("very Marilyn Monroe-y," she says) and shoes, an Acne sweater, and this season's Prada face-printed bag. And at 5'8", she's almost easy to lose in the crowd of other leggy blondes with big aspirations and designer clothes in the hotel's lobby—ground zero for starlets.
Except for two things. First, she's not trying. She doesn't have to, having made more than 25 movies, including this month's Maleficent with Angelina Jolie; Low Down with Glenn Close; and Young Ones, written and directed by Jake Paltrow (the latter two premiered at Sundance). And second, Fanning doesn't have a jaded bone in her body. That's obvious when she gets super-animated about her two passions: acting and fashion. Her jubilant, girlish self emerges, revealing the contrast between lovely ingenue and the child who grew up on a film set and is hanging onto every remaining moment of innocence.
While she's gone to the Sundance Film Festival three times ("The first time, I was 9"), attended Chanel Haute Couture shows (at 12), shot a Miu Miu campaign, and made movies with Brad Pitt and Cate Blanchett, the high school sophomore is most surprising—refreshing, even—when talking about dolls, junk food, boys, and homework.
"I love to do my homework in the doll room," Fanning says, giggling, of the playroom at home she once shared with her big sister, actress Dakota Fanning. "It's where we keep our collection of Madame Alexander dolls! We get one every Christmas and every birthday." She confesses a penchant for French fries and Milky Ways; is relieved that, finally, boys her age are nearly her height; and unlike her friends, will not be taking driving lessons yet because of work. And while she might have been drawn to Maleficent by its fairy-tale-size, reportedly $200 million budget and by the prospect of working with Jolie ("She was so amazing—you should have seen her walking around the set in her witch costumes, feeding her twins"), it was the Sleeping Beauty story that actually got her. "You know how each [Disney] princess has a different hair color and dress?" Fanning asks. "I identified with Aurora and her long blonde hair, so to get to play her was a huge thing, because she's mine! My princess."
During the three-and-a-half-month shoot, Fanning did her schoolwork with a traveling teacher. "I'm just used to it by now," she says breezily. "I like discipline. I'm not happy when I have nothing to do. I prefer doing everything!" More evidence of Fanning's inner 16-ness: the ways she does not identify with girls her age. "I don't normally wear much makeup," she pronounces. "Everyone does what they're comfortable with, but you don't need all this foundation and stuff. Then you can look forward to something when you're older!" And despite her true love of fashion—Rodarte, Oscar de la Renta, Prada, Valentino—she knows her limits: "I like to dress my age. You don't want to look too old when you're not, or too young when you're not." But keeping herself interesting is one of the more mature parts of the way Fanning approaches life and stardom. "When it comes to what I wear, I always try to choose something no one's seen before. I at least try to create a look that's interesting, even if someone hates it!" How adult is that? —Merle Ginsberg
Shirt & Skirt, Price Upon Request, Chanel; Bra, $995, Jason Wu; Belt, $19.90, Express; Band Rings, From $150 Each, Cluster Ring, $380, Graziela Gems.
AGE: 16
PROVENANCE: Conyers, GA
CURRENT RESIDENCE: L.A.
BIG BREAK: Playing the younger version of her older sister, Dakota Fanning, in I Am Sam (2001)
SEE HER NEXT IN: Maleficent, out May 30
WHO KNEW? "I refuse to wear jeans!"
Celebrity news, beauty, fashion advice, and fascinating features, delivered straight to your inbox!