How to Summer-Proof Your Phone
A few tools can protect you from disaster.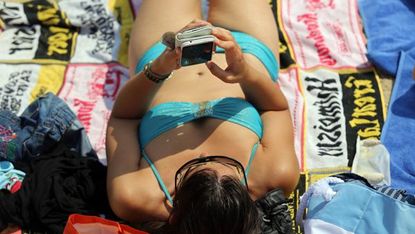 (Image credit: Archive)
If you go to the beach and don't take a swimsuit selfie, did it ever really happen? Taking your phone and other tech devices to the beach is par for the course these days, so you need to know how to protect them. With a few extra tools in your beach bag, you can Instagram (opens in new tab) to your heart's desire.
1. Keep It Dry

There are tons of waterproof cases on the market. OtterBox (opens in new tab), LifeProof (opens in new tab), and RainBallet (opens in new tab) all make phone cases that will survive a drop into the waves. Choose one of these over "water-resistant" brands to be sure your device is safe.
If you want to save your cash, try a zippered plastic pouch like Hefty's Slider Sandwich Bags (opens in new tab) instead. Plop your phone in and zip all but a half-inch of the bag, pressing all the air out before sliding it shut. You'll still be able to use your phone through the plastic and it will be protected from any accidental spills or wet hands.
2. Keep It Sand-Free

Protective device cases—waterproof or otherwise—have plenty of crevasses where sand can sneak in and seriously damage your phone. We're talking stuck buttons, scratched screens, and clogged headphone jacks. Rather than letting your phone chill at the bottom of your sand-filled beach bag, store it in it's own plastic mesh pouc (opens in new tab)h so you can shake the sand out of its surroundings. Grab a plastic cuticle pusher like E.L.F.'s (opens in new tab) for your trip, too, to scoop any lingering grains out of harm's way.
3. Keep It Clean

Sunscreen, moisturizer, bronzer, sweat: They will all end up on your phone during a day at the beach if you're not careful. Unless you're pouring it on, greasy residues like these most likely won't damage your phone, but they will spread germs all over your perfectly glowy, sun-kissed skin. Summer acne, anyone? Try non-greasy SPF formulas instead like Neutrogena Clear Face Liquid Lotion Sunscreen (opens in new tab) or Honest Co.'s SPF 30 mineral sunscreen (opens in new tab).
When your screen gets sticky from all those beachside daiquiris, regardless of your skincare routine, pack a few Cleen Cell Wipes (opens in new tab) to quickly disinfect and de-grease.
4. Keep It Cool

All devices heat up a bit when in use, but leaving your phone in the sun for too long leads to overheating, which can kill your battery. Turn off all idle apps and only use your phone in the shade.
If you can't stay out of the heat, keep a handheld, battery-powered fan from O2COOL (opens in new tab) with you to cool down your phone in emergencies. In a pinch, don't hesitate to pop it in your cooler for a few seconds if you need to.
Related:
Your Summer Eye Shadow Update (opens in new tab)
3 Ice Cream Cocktails To Make This Summer (opens in new tab)
52 Vintage Pictures of Our Favorite Icons Enjoying Summer (opens in new tab)
The 13 Greatest Iced Coffee Recipes for Summer (opens in new tab)
Photo Credit: Getty Images