The Best Podcasts of 2019
Line these up for your upcoming commute.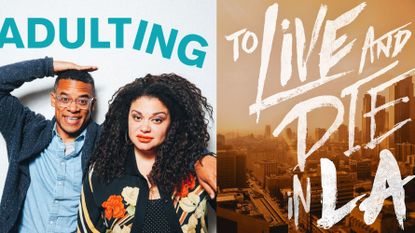 (Image credit: Courtesy)
In 2019, it feels like everyone, their mother, and their second cousin's ex-boyfriend has a podcast. So which ones are actually worth a listen? We made it easy for you, rounding up the best podcasts of 2019 once and for all. For this list, we picked either brand-new podcasts, or singled out an already existing podcast with an amazing new 2019 episode (or episodes!). You'll find a little bit of everything on this list—from brand-new voices to true crime terrors, from political discourse to sex chronicles you won't believe. Trust us, you'll want to add these podcasts to your playlist.
Over My Dead Body
Over My Dead Body is from the same people who gave us the iconic podcast Dirty John. Season one, we meet an attorney couple whose wedding was ritzy enough to be featured in the New York Times. But when the couple breaks up, there's a huge divorce battle...and a murder. Season two, we're introduced to Joe Exotic, a hunter and zoo owner in Oklahoma City who uploads everything to YouTube. But with a lifestyle like his, you'll make a couple of enemies.
Encyclopedia Womannica
Calling all my history lovers: Meet Encyclopedia Womannica! Spend five minutes of your day learning about incredible women from different periods of history. Some of the women highlighted include Maya Angelou, Julia Child, and Joan of Arc. If only history class in high school had been this women-centered.
Slow Burn
The first two seasons of Slow Burn focused on stories that change history and pop culture as we know it: Watergate and the impeachment of Bill Clinton. Season three tackles another big one: the murders of Tupac Shakur and Notorious B.I.G. Slow Burn is one of those podcasts that make it clear why, everyone, their mother, and their cousin's ex-boyfriend has a podcast—to tell a story.
Mobituaries with Mo Rocca
Emmy winner Mo Rocca is a correspondent for CBS Sunday Morning and hosts Mobituaries with Mo Rocca. In each episode, listeners are introduced to deceased people and things (obit of the station wagon, anyone?) who have long intrigued him.
American Girls
In each episode of American Girls, hosts Allison Horrocks, and Mary Mahoney reflect on the American Girl dolls and books you loved as a kid. Episodes ask questions like: "Could Samantha hack it as a social media influencer?" and "What could Felicity learn from Janet Jackson?" It's such an odd but hilarious mix of the '90s and 2019.
Room 20
Room 20, produced by L.A. Times Studios, follows investigative reporter Joanne Faryon's two-year journey to learn the identity of a seemingly comatose man known only as "Sixty-Six Garage." As unexpected as the revelations about Garage's identity are, what Faryon uncovers about his medical condition may be the most shocking discovery of all.
The Last Days of August
In The Last Days of August, journalist Jon Ronson, who embedded himself in the porn industry for his previous podcast, The Butterfly Effect, investigates the final days of porn star August Ames, who committed suicide at age 23 following a barrage of criticism on social media.
Bachelor Happy Hour
If you consider yourself a resident of the great Bachelor Nation, then there is no excuse for not subscribing to Bachelor Happy Hour, the one and only "official" Bachelor podcast out there. Hosted by former Bachelorette Rachel Lindsay, the show includes brutally honest interviews with Bachelor Nation alums and behind-the-scenes info about The Bachelor, The Bachelorette, and Bachelor in Paradise. Plus, Rachel pulls no punches when holding controversial Bachelors and Bachelorettes to account, which pushes this podcast beyond purely promotional territory and makes it something fans will actually want to listen to and engage with.
The Queen
In Slate's The Queen, Josh Levin sheds light on the never-before-told story of Linda Taylor, a con artist, kidnapper, and maybe-murderer who became the embodiment of the "Welfare Queen" villain described by Ronald Reagan to forward his economic policies. Taylor might have been a lot of things (okay, she definitely was), but she wasn't the caricature that became her lasting legacy.
Pretend Radio
Pretend Radio is back for its fifth season this year, with a new slate of addictive, stranger-than-fiction, real-life tales. Every episode of Pretend focuses on a real person pretending to be someone else—including riveting interviews with con artists, snake oil salesmen, undercover FBI agents, catfish, and others who have chosen to live a lie in one way or another.
On Second Thought
You can think of On Second Thought as an afterparty to The Daily Show, where hosts Trevor Noah and David Kibuuka focus on "the news that isn't happening," as Trevor calls it. The two take a humorous, yet analytical approach to a popular news story and expose its less popular, yet tangential cultural implications. Take the widely-covered burning of Notre Dame for example, and then the less popularized conversation around the ethics of philanthropy.
White Lies
White Lies uncovers the untold truths of the 1965 murder case of Rev. James Reeb. Three men were tried for his murder and all three were acquitted. Now more than 50 years after Reeb's death, two journalists revisit his hometown of Selma, Alabama and reopen the case so many tried to cover up.
listen now
To Live and Die in LA
The LAPD adult missing persons unit investigates 3200 cases a month. In Feb 2018, an aspiring actress vanished from her Hollywood apartment, joining the evidently overwhelming caseload. "If someone you love ever goes missing, don't depend on the police," host of To Live and Die in LA, Neil Strauss tells listeners as he guides them along the multi-state investigation of Adea Shabani.
Blackout
Blackout is not your typical podcast. This apocalyptic thriller will transport you into the world of Simon Itani (Rami Malek), a small-town DJ forced to become a hero and protect his family when modern civilization comes to a complete halt.
Julie
If you love a good car cry, Julie will bring you to sobbing tears of joy and sadness. The podcast recounts the final moments of Julie Yip Williams' life, before dying from Stage 4 colon cancer. Julie, an immigrant, mother, wife and lawyer had one hell of a life—from growing up blind in Vietnam to becoming a Harvard-educated attorney. You'll never forget her words. This series is an addition to her posthumous memoir, "The Unwinding of the Miracle."
The Dropout
Apparently, nothing is more convincing than a woman in a black turtleneck. At least that's what Elizabeth Holmes seemed to prove when she dropped out of Stanford and convinced America's wealthiest men to invest in her sham of a medical tech company known as Theranos. New podcast The Dropout tells her story—it's captivating, and many times feels almost unbelievable.
Adulting
No one really know hows to be an adult, right? Hosts and comedians Michelle Buteau (Always Be My Maybe) and Jordan Carlos of the new podcast Adulting will make you feel like that's...absolutely normal. They'll make light of some of life's most awkward and everyday situations, from navigating threesomes to budgeting for new pillows.
Hear to Slay
It's finally here! Authors Roxane Gay (Hunger) and Tressie McMillan Cotton (Thick) are here to give listeners the black feminist perspective on everything from pop culture and art to politics and mental health. Joined by celebs like Gabrielle Union and changemakers like Stacey Abrams, Hear to Slay creates a space where women can support, challenge, and grow with one another through critical conversation and whole lot of laughs.
Dare I Say
Hosted by Olivia Wilde with Harper's Bazaar, Dare I Say is a new podcast that places the most influential women, from Jane Fonda to Rosario Dawson, in the center of society's most pressing issues. After all, it's girls who run the world.
Gay Future
Fast forward to the year 2062, and everybody is gay. Clay Aiken is president and the hope of returning to heteronormativity is in the hands of one teenage boy with a secret: he's straight. But that's not even the best part of this comedy podcast. Gay Future is actually—get this—an adaptation of a YA novel written by Mike Pence!
All My Relations
The time to amplify Native American voices is long overdue. That's why this new podcast hosted by Matika Wilbur (Swinomish and Tulalip) and Adrienne Keene (Cherokee Nation) is so important. The two are unpacking the notion of what it means to be Native American today. That could mean exploring the threats of Ancestry DNA tests, diving in deep on tribal sovereignty, or discussing the popularity of cultural appropriation. With Wilbur and Keene you'll get a history lesson, a laugh and a dose of humility all in one episode.
Fiasco
Fiasco revisits the historical political power moves that shaped our country and society into what it is today. Season one starts out on the deep end, covering the unforgettable contested election between All Gore and George W. Bush in 2000.
Nice Try!: Utopian
Nice Try! follows Avery Trufelman as she tries to unpack our need as humans to find or create utopia, a.k.a. the perfect place. The first episode will dive head first into the real story of the settlement of Jamestown.
Gangster Capitalism
Dive deep into the college admissions scandal that shook the country with C13Originals and Andrew Jenks' Gangster Captialism. Bribery, scamming, lies—it's all coming out.
The Shrink Next Door
You'll never look at your neighbors the same way again. Reported by Joe Nocera, The Shrink Next Door tells the story of Ike Herschkopf, a celebrity therapist in Nocera's Hamptons neighborhood whose dark and twisted life is suddenly revealed.
Ear Hustle
Produced in one of America's most notorious prisons, San Quentin, Ear Hustle shares the raw and unfiltered reality of life behind bars and post-incarceration. Season 4 kicked off with brand-new episodes on June 5.
Jesus and Jollof
Now on their second season, Yvonne Orji (Insecure) and Luvvie Ajayi (I'm Judging You) are two female powerhouses that discuss their glow-ups, hardships and mishaps as Nigerian women in the United States who've "made it." Check out their Season 2 episode "Scared Money Don't Make Money" to learn more about the art of their hustle.
F**ks Given
F**ks Given is dismantling sexual stigmas, one shared sexual experience at a time. Who has time for taboos, anyway? The podcast has been around since 2018, but one of their latest episodes, "Stripping Season and Safety Nets," will have you thoroughly entertained as an ex-porn star talks industry and sexcapades.
Safe For Work
Need a little extra help at work? Liz Dolan and Rico Gagliano began hosting Safe for Work in 2018 to provide actionable ways to listeners looking to navigate their work environments from avoiding burnout to negotiating a raise. And when you're really having a bad day, tune into their June 3 episode: "Is Rage Quitting Ever Worth It?"
Call Your Girlfriend