The 2020 Books You Should Add to Your Reading List
Exciting new and upcoming releases to order today.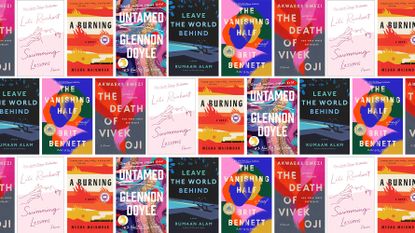 (Image credit: Design By Morgan McMullen)
Marie Claire Newsletter
Celebrity news, beauty, fashion advice, and fascinating features, delivered straight to your inbox!
Thank you for signing up to Marie Claire. You will receive a verification email shortly.
There was a problem. Please refresh the page and try again.
Somehow we've made it to the end of 2020. Despite being a trash year overall, it's still been an amazing year for books. Fiction seems to be the most compelling genre—see: Emily Henry's Beach Read and Brit Bennett's The Vanishing Half—as we attempt to immerse ourselves in another world to escape the current political climate and COVID-19 crisis. Then there are the purely therapeutic books, like Lili Reinhart's Swimming Lessons and Maggie Smith's Keep Moving, that encourage us to practice more self-love. Ahead, a list of the 2020 book releases we loved the most.
1/105
'Long Bright River' By Liz Moore
The opioid crisis is plaguing our country. Liz Moore brings the crisis to light in a twisty mystery where one of two inseparable sisters addicted to drugs goes missing. Oh, and that just so happens while a string of murders are happening in their Philadelphia neighborhood.
Available January 7, 2020
2/105
'Topics of Conversation' By Miranda Popkey
If you loved Lisa Taddeo's Three Women, you'll appreciate Miranda Popkey's debut novel, Topics of Conversation. The book is formatted into a series of conversations between fictional women who discuss everything from motherhood to loneliness to anger and guilt.
Available January 7, 2020
3/105
'We Wish You Luck' By Caroline Zancan
It's nearly impossible to describe the premise of Caroline Zancan's We Wish You Luck. Just know that a group of students want to take revenge on their professor, and this is their story.
Available January 14, 2020
4/105
'Followers' By Megan Angelo
Megan Angelo's debut novel traces the stories of three women, unexpectedly connected, who find themselves on the brink of high-profile success while discovering what their follower counts really means for their goals and dreams. It's a deep dive into the social media dominance we currently live within with lots of dark and hilarious turns.
Available January 14, 2020
5/105
'Uncanny Valley' By Anna Wiener
When Anna Wiener was in her mid-20s, she left her book publishing job in New York City for a data startup in Silicon Valley. What she didn't realize is that she'd find herself in a falsely progressive world masked by company ski vacations and in-office speakeasies. In her memoir, Wiener documents the rise and fall of her Silicon Valley dream.
Available January 14, 2020
6/105
'Love Her or Lose Her' By Tessa Bailey
New York Times bestselling author Tessa Bailey writes a juicy rom-com about a couple who seemingly grows apart instead of growing together—forcing one of them to establish a marriage boot camp and the other to expose a big secret.

Available January 14, 2020
7/105
'Open Book' By Jessica Simpson
Every person nostalgic for the early 2000s will fall in love with Jessica Simpson's juicy memoir, Open Book, where she talks about everything from her relationship with ex John Mayer to how she convinced people to take her seriously while building an epic career.
Available February 4, 2020
8/105
'The Other Mrs.' By Mary Kubica
Mary Kubica's The Other Mrs. tells the chilling story about a woman named Sadie who moves from Chicago to Maine with her husband. All seems well...until her next door neighbor is murdered and she's one of the whispered-about suspects.
Available February 18, 2020
9/105
'Here For It' By R. Eric Thomas
One could argue that ELLE.com columnist R. Eric Thomas is one of the funniest people on the internet, and now he's blessing the world with his debut book, Here For It: Or, How to Save Your Soul in America, filled with humorous essays about growing up and feeling like an outsider.
Available February 18, 2020
10/105
'The Girl With the Louding Voice' By Abi Daré
U.K.-based novelist Abi Daré makes her debut with an emotional story about a 14-year-old Nigerian woman determined to get an education and escape the fate of a child marriage her father forces her into with a local man.
Available February 25, 2020
11/105
'Anna K: A Love Story' By Jenny Lee
Marie Claire's March #ReadWithMC pick, Anna K, certainly doesn't disappoint. Jenny Lee's modern YA retelling of Leo Tolstoy's Anna Karenina follows rich kids in New York as they navigate everything from sex and relationships to drugs and depression. Expect to be reminded of Gossip Girl.
Available March 3, 2020
12/105
'The Henna Artist' By Alka Joshi
In Alka Joshi's The Henna Artist, 17-year-old Lakshmi escapes her rural village to Jaipur and becomes a henna artist to the wealthy, discovering secrets and challenges along the way.
Available March 3, 2020
13/105
'Writers & Lovers' By Lily King
Lily King, the bestselling author of Euphoria (2014), knows exactly how to combine love, grief, creativity, and balance. A young prodigy who loses her mother must confront how to channel her ambition again...all while finding herself in love with two men at the same time.
Available March 3, 2020
14/105
'The Night Watchman' By Louise Erdrich
Based on the author's grandfather, The Night Watchman takes place in 1953 as Thomas Wazhashk fights against the consequential treatment of Native Americans after a bill threatens to take away their land.
Available March 3, 2020
15/105
'My Dark Vanessa' By Kate Elizabeth Russell
This isn't your cliché trope about a high school student-teacher relationship. Kate Elizabeth Russell brings forth all of the emotion and complexity when Vanessa discovers almost two decades later that her first love has been accused of sexual abuse by a former student.
Available March 10, 2020
16/105
'Untamed' By Glennon Doyle
Untamed is a beautiful memoir from activist, speaker, and bestselling author Glennon Doyle that explores the true lessons of motherhood, family, and divorce.
Available March 10, 2020
17/105
'In Five Years' By Rebecca Serle
Rebecca Serle's New York Times bestselling novel, In Five Years, is Marie Claire's April book club pick. Read an exclusive excerpt here, then dive in with us throughout the rest of the month. You'll devour it.
Available March 10, 2020
18/105
'The Herd' By Andrea Bartz
Anybody obsessed with the exclusivity of private women's clubs, typically accessible only to the elite, will appreciate Andrea Bartz's latest thriller, The Herd, about what happens to the members of (fictional) NYC–based THE HERD when its glitzy founder vanishes without a trace.
Available March 24, 2020
19/105
'The Honey-Don't List' By Christina Lauren
You're always guaranteed a good time in Christina Lauren's novels, and The Honey Don't List is no exception. Home designers Melissa and Rusty Tripp have a very public Chip and Joanna Gaines-like relationship, except there's one problem: They actually can't stand each other. The story is told from the perspective of Melissa and Rusty's longtime employees, Carey and James, who are doing whatever it takes to keep their bosses' secret.
Available March 24, 2020
20/105
'It's Not All Downhill From Here' By Terry McMillan
Terry McMillan, the bestselling author of How Stella Got Her Groove Back and Waiting to Exhale is back with yet another heartwarming novel about the inevitabilities in life—this time with a 68-year-old who knows her best days are still ahead of her.

Available March 31, 2020
21/105
'Chosen Ones' By Veronica Roth
The New York Times bestselling author of the YA Divergent series is releasing her debut #adult novel about the aftermath of a group of five teens who save the world, essentially asking the existential question: Where do we go from here?
Available April 6, 2020
22/105
'The Beauty of Your Face' By Sahar Mustafah
The unfortunate timeliness of Sahar Mustafah's The Beauty of Your Face will be triggering for anybody who has experienced gun violence or lost a loved one to gun violence. In the novel, a Palestinian principal for an all-girl Muslim school in Chicago is confronted with a school shooter fueled by radical alt-right beliefs.
Available April 7, 2020
23/105
'Afterlife' By Julia Alvarez
Julia Alvarez, one of the most influential Latina writers of all time, returns with Afterlife—a story centered on Antonia Vega, an immigrant writer who is forced to cope with the sudden death of her husband, her sister's disappearance, and an undocumented teenager who shows up at her doorstep all at once.
Available April 7, 2020
24/105
'Joy at Work: Organizing Your Professional Life' By Marie Kondo
The inimitable Marie Kondo is here to transform your messy desks...and stressful work relationships.

Available April 7, 2020
25/105
'Perfect Tunes' By Emily Gould
Fans of Daisy Jones & The Six will appreciate Emily Gould's Perfect Tunes—a story about one mother's journey to pursue her singing dreams and her daughter's quest to find the answers she's desperately searching for 15 years later.

Available April 14, 2020
26/105
'The Book of Longings' By Sue Monk Kidd
You'll recognize Sue Monk Kidd from her critically-acclaimed novel The Secret Life of Bees (2003). In her fourth novel, The Book of Longings, she takes readers all the way back to the first century in a tale about a young woman who meets 18-year-old Jesus. Yes, that Jesus.
Available April 21, 2020
27/105
'All Adults Here' By Emma Straub
Emma Straub's All Adults Here will make you question your entire childhood, and how much your parents influenced it as you learn one mother's perspective of what went right and what went wrong with her own family.
Available May 5, 2020
28/105
'Big Summer' By Jennifer Weiner
Jennifer Weiner always writes honest, relatable stories, and Big Summer—a story about ex friends Daphne Berg and Drue Cavanaugh who unexpectedly re-enter each other's lives—is no exception.

Available May 5, 2020
29/105
'Rodham' By Curtis Sittenfeld
As one Marie Claire reviewer wrote, Curtis Sittenfeld writes a "frustrating but fascinating look" at Hillary Clinton's life if she didn't marry Bill.
Available May 19, 2020
30/105
'Beach Read' By Emily Henry
Emily Henry's Beach Read is a brilliant meta novel about two authors who are complete opposites and decide to spend the summer helping each other finish their books. Nobody will fall in love at the end, right?
Available May 19, 2020
31/105
'All My Mother's Lovers' By Ilana Masad
While Maggie Krause struggles with her own sexuality, she discovers her mother's own shocking secrets following her tragic death. Now, she must navigate what this all means for herself and her family moving forward.
Available May 26, 2020
32/105
'The Paper Girl of Paris' By Jordyn Taylor
Jordyn Taylor's debut novel, The Paper Girl of Paris, follows 16-year-old Alice who spends the summer in Paris and receives the keys to the apartment of her grandmother, who recently passed away. The catch? It's been locked for more than 70 years. Little does Alice know a whole world is waiting for her inside.
Available May 26, 2020
33/105
'Camp' By L.C. Rosen
Anybody who experienced sleepaway camp during their childhood will appreciate L.C. Rosen's Camp about a queer teen who reinvents himself to get his camp crush to fall in love with him.
Available May 26, 2020
34/105
'The Vanishing Half' By Brit Bennett
Two identical twin sisters who grew up in a southern Black community and ran away at age 16 couldn't be more different as they navigate their lives as adults. Expect hard conversations about race, family, and how decisions of the past affects the rest of their lives.
Available June 2, 2020
35/105
'Exciting Times' By Naoise Dolan
Naoise Dolan's Exciting Times, Marie Claire's June #ReadWithMC pick, is a lovely novel about an Irish millennial expat in Hong Kong who finds herself in a love triangle with a male banker and a female lawyer.
Available June 2, 2020
36/105
'A Burning' By Megha Majumdar
Megha Majumdar's 'A Burning' tells a compelling story of three Indian women who seek to rise to political power and fame in the midst of a catastrophe in India.
Available June 2, 2020
37/105
'You Should See Me in a Crown' By Leah Johnson
Liz Lighty had a plan to get out of her small, rich, white town of Campbell, Indiana: attend Pennington College, play in its world-famous orchestra, and become a doctor. When the financial aid falls through, Lighty goes on a quest to become prom queen—the next best thing she can think of to receive scholarship money—and there's nothing she won't do to win.
Available June 2, 2020
38/105
'You Exist Too Much' By Zaina Arafat
After a 12-year-old queer Palestinian-American girl is shunned for exposing her legs in public in a biblical city, readers are taken on a journey from the protagonist's teen years to her growth into a sought-after DJ and aspiring writer.
Available June 9, 2020
39/105
'Pizza Girl' By Jean Kyoung Frazier
Pizza Girl is a witty, humorous novel about a pregnant 18-year-old pizza girl working in Los Angeles who ends up forming an unlikely relationship with a stay-at-home mother who's new to the neighborhood.
Available June 9, 2020
40/105
'The Boyfriend Project' By Farrah Rochon
Escape reality with Farrah Rochon's juicy rom-rom, The Boyfriend Project, that tells the story of three friends who swear off men after a catfish incident. That is, until Samiah meets Daniel at work.
Available June 9, 2020
41/105
'You Can't Catch Me' By Catherine McKenzie
If you're in need of a new thriller, Catherine McKenzie's You Can't Catch Me is a gripping account of a woman who escapes a cult and attempts to reenter society. All goes according to plan until she lands next to a woman in an airport bar with an identical name and birth date.
Available June 9, 2020
42/105
'Death in Her Hands' By Ottessa Moshfegh
Ottessa Moshfegh brings her genius to her latest novel, Death in Her Hands, where an elderly widow finds a note about a dead body while on a walk with her dog and attempts to discover what happened to her.
Available June 23, 2020
43/105
'My Eyes Are Up Here' By Laura Zimmermann
Laura Zimmermann's relatable My Eyes Are Up Here documents a young girl's self-discovery while her body starts to change.
Available June 23, 2020
44/105
'Head Over Heels' By Hannah Orenstein
Hannah Orenstein is getting ready to release her latest novel, Head Over Heels, a rom-com set in the competitive gymnastics world. Avery Abrams is forced to learn a new way of life after her gymnast career suddenly ends. Meanwhile, her best friend slash former teammate, Jasmine, becomes an Olympic champion and marries their emotionally abusive coach, Dimitri. Twisty storylines about love and relationships follow.
Available June 23, 2020
45/105
'Party of Two' By Jasmine Guillory
Jasmine Guillory's Party of Two follows Olivia, a lawyer who moves to L.A. and unexpectedly meets a high-profile junior senator. Finally going public with their relationship after keeping it a secret, they couple is forced to deal with intense media scrutiny and the consequences of their past lives.
Available June 23, 2020
46/105
'The Last Flight' By Julie Clark
Psychological thriller The Last Flight tells the story of a woman, Claire, who plans to disappear from her seemingly-perfect life. When she meets a woman in an airport bar who's planning to do the same, they end up switching tickets. Tragically, the woman who ends up taking Claire's ticket dies in a plane crash (it was supposed to be Claire!), prompting Claire to assume the woman's identity and, therefore, her secrets.
Available June 23, 2020
47/105
'Empty: A Memoir' By Susan Burton
In her raw memoir, Susan Burton explores her relationship with food and the secret binge-eating, which later led to anorexia, that shaped her life.
Available June 23, 2020
48/105
'Thin Girls' By Diana Clarke
Thin Girls recounts the story of twin sisters who help each other through their eating disorders and toxic relationships—attempting to save each other from themselves.
Available June 30, 2020
49/105
'Mexican Gothic' By Silvia Moreno-Garcia
When Noemí Taboada receives a frantic letter from her cousin, she discovers her trapped in a nightmare that only she can see. Expect Mexican folklore mixed with darkness and suspense in this captivating novel.
Available June 30, 2020
50/105