Tana French's New Book "The Searcher" Is the Mystery Novel of the Season
You'll be on the edge of your seat.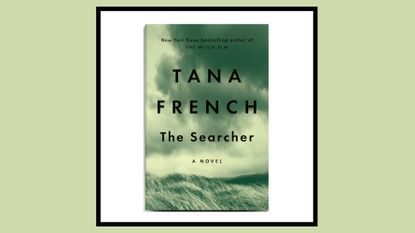 (Image credit: Design by Bridget Burns)
Lovers of mystery novels like myself, recognize that author Tana French sets herself apart from the group. Rather than relying on shocking-yet-typical twists and dramatic outbursts, French's books rest on beautiful writing, vivid descriptions of Irish scenery, and incomparable storytelling.
Fans of French might be familiar with the Dublin Murder Squad series (my personal copy of The Likeness is held together by duct tape and love), but French's two most recent books have left those familiar characters behind. The Searcher, her most recent book (it hit shelves on October 6th), is yet another step away from her go-to.

The protagonist, world-weary and suspicious Cal Hooper, is a retired cop from Chicago, who intended to retreat to the Irish countryside, away from the drama he left behind. Of course, a bit of peace and quiet isn't what he finds. When a local kid asks for Hooper's help finding a missing teenager who no one in the small town is looking for, Hooper is drawn back into his old habits, but without the power or protection of being an officer.
The Searcher is far more than your average mystery novel. It has everything you love–the suspense, the questions, the unraveling of lies–without bureaucracy, clichés, or the moral high ground. This book draws you in with images of an idyllic town with friendly neighbors, but by the end you're left with an understanding that nothing is what it seems—even the characters you trusted implicitly are hiding something dark. If that's not enough to convince you to read it, here's something else: I finished it in 8 hours straight. That's how obsessively fascinating this book is.
RELATED STORIES
Tatjana Freund is a Beauty Commerce Writer, covering makeup, skincare, and haircare products and trends. She's a fan of vodka tonics and creepy Wikipedia pages.