'Grey's Anatomy' Behind-the-Scenes Photos Every Die-Hard Fan Will Appreciate
Meredith and Derek forever.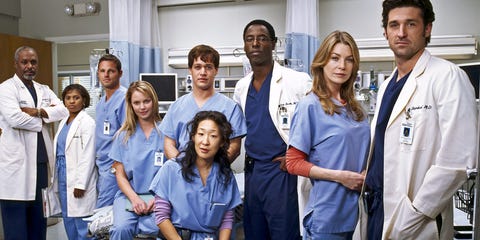 Frank Ockenfels
Getty Images
There's a reason why Grey's Anatomy is the longest-running primetime medical drama of all time. Since 2005, the show has offered viewers suspenseful health mysteries, interoffice love stories, epic laughs, and much-needed sobs. In honor of one of the most popular shows of all time, we've rounded up 45 behind-the-scenes photos from the set of the show—from the pilot episode all the way to the current season. (Yes, there are 16 of them and counting.)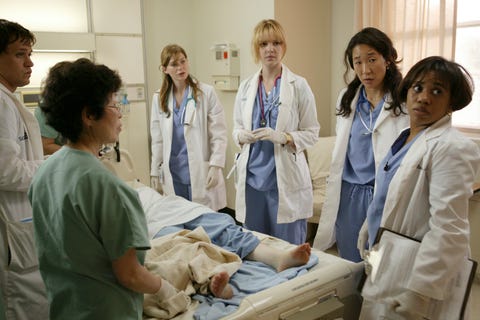 Richard Cartwright
Getty Images
2005: The Pilot
Back in 2005, it was hard to predict that a medical drama about residents at a Seattle hospital would become the longest-running primetime show on television. But that's exactly what happened. This is one of the first photos from the set of the series 15 years ago.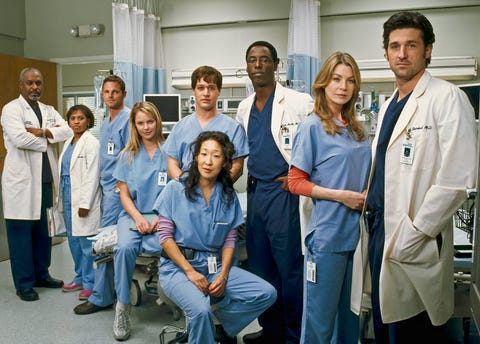 Frank Ockenfels
Getty Images
2005: The Cast
After the first episode, the casting seemed *chef's kiss* perfect. We later found out that Sandra Oh was originally offered the role of Dr. Bailey (Chandra Wilson), but asked to audition for Cristina instead. Meanwhile, show creator Shonda Rhimes added the part of Alex Karev a year after the pilot was shot.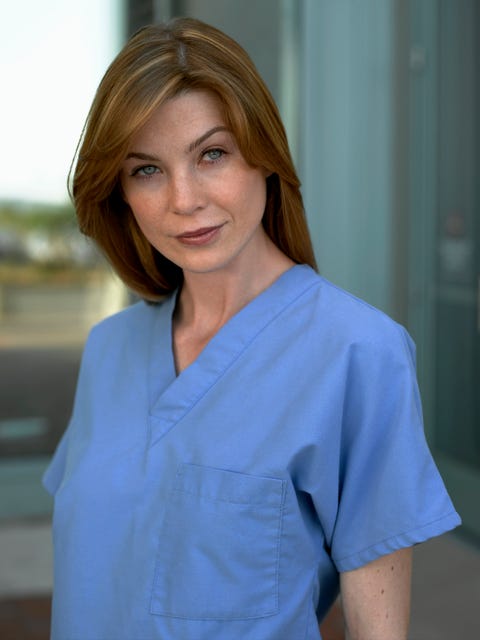 2005: Becoming Meredith Grey
Ellen Pompeo is the highest-paid actress on TV thanks to Meredith Grey—but she almost turned it down.
"I was offered the role of Meredith. I had done a movie for the studio called Moonlight Mile, so the studio was aware of me. Then...I met Bob Orci and Alex Kurtzman...We sat down and talked about me possibly doing an arc on Alias. That didn't happen. Bob and Alex wrote a show called Secret Service," Pompeo told TV Guide. "I really wanted to do that and the studio really wanted me to do Grey's instead. I wanted to do the Secret Service pilot that didn't go, of course; me and my brilliant choices. I read Grey's and I went and met Shonda and I decided to come on and do this. It was just an invitation and I happily accepted."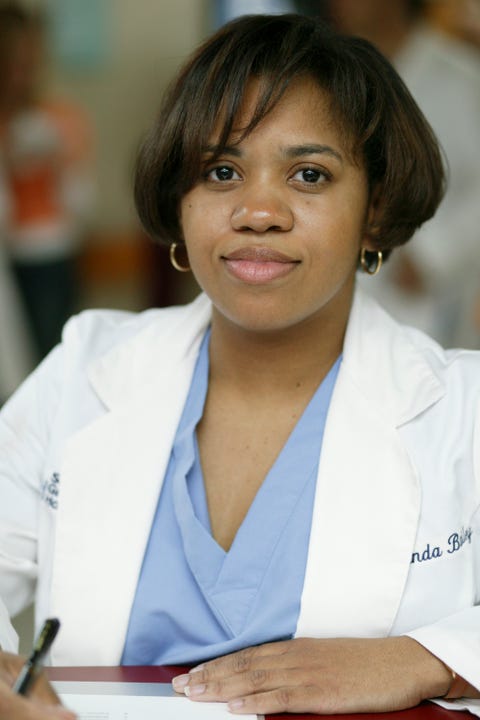 Richard Cartwright
Getty Images
2005: Developing the Characters
There was a lot of pressure put on Chandra Wilson to nail the role of Miranda Bailey, as the character was based on Shonda Rhimes's mother—you know, the show's creator, executive producer, and head writer. "She's very no-nonsense. Dr. Bailey says stuff like 'These people are nasty—all they think about is sex while we're trying to save lives here.' My mother is definitely that kind of realist," Rhimes told O, The Oprah Magazine.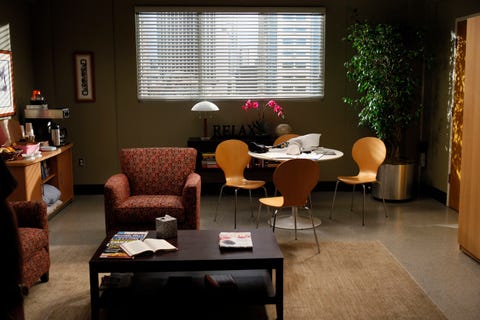 Kelsey McNeal
Getty Images
2005: The Set
The patient's rooms, the doctor's lounge, and the apartments are filmed on Los Angeles sets. However, a real hospital set is used at times to bring Seattle Grace to life.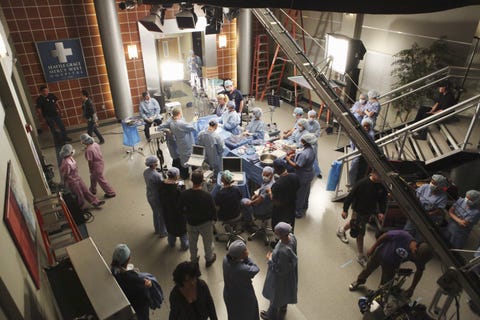 2005: Making It Realistic
The crew of Grey's Anatomy use aerial cameras to film the scenes on the operating table and the producers consult with medical professionals to make sure it all looks realistic.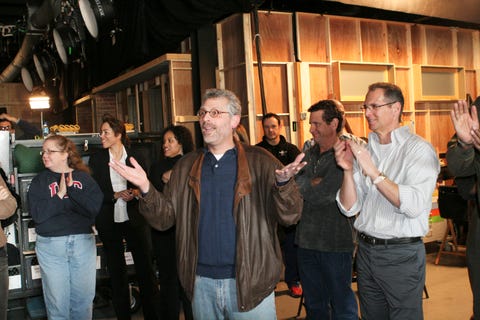 Richard Cartwright
Getty Images
2005: Going to the Golden Globes
The president of Touchstone Television joins the cast and crew in-between takes to congratulate them on their Golden Globe nominations after their first season.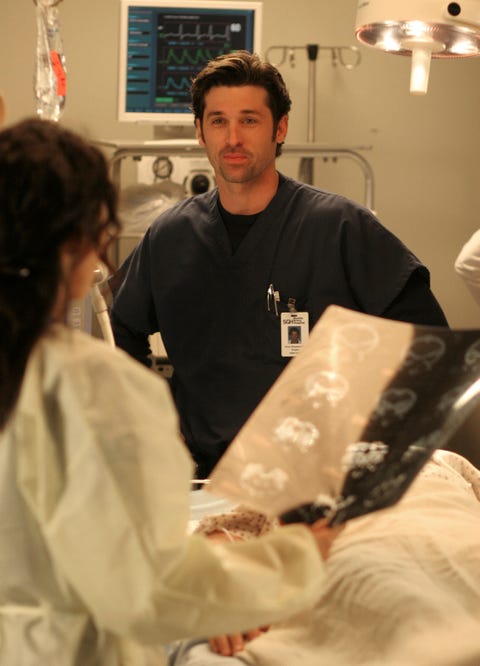 Michael Ansell
Getty Images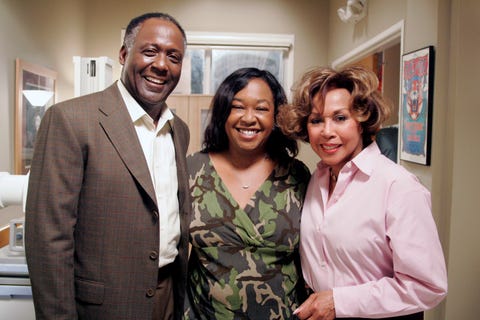 2006: The Creator
The show's mastermind, Shonda Rhimes (center), poses with actors Richard Roundtree and Diahann Carroll. Rhimes has gone on to be the showrunner for many successful series on ABC, including Scandal and How to Get Away With Murder.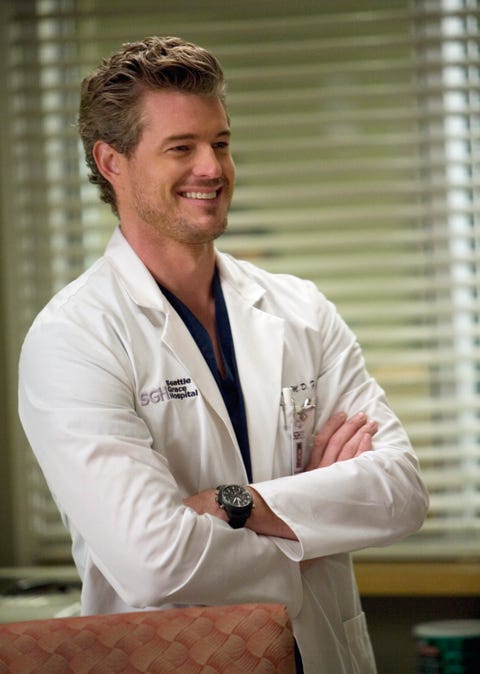 2006: Welcome, McSteamy
In the second season, the show welcomed Eric Dane who played Dr. Mark Sloane (a.k.a. McSteamy). Dane started out as a guest star on the series and ended up becoming a central character up until his character's death in season nine.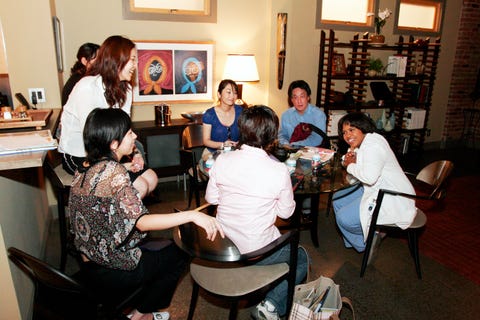 2006: International Audiences
Chandra Wilson meets with executives from the show's Japanese broadcaster, Wowow, on the set of Grey's Anatomy in 2006.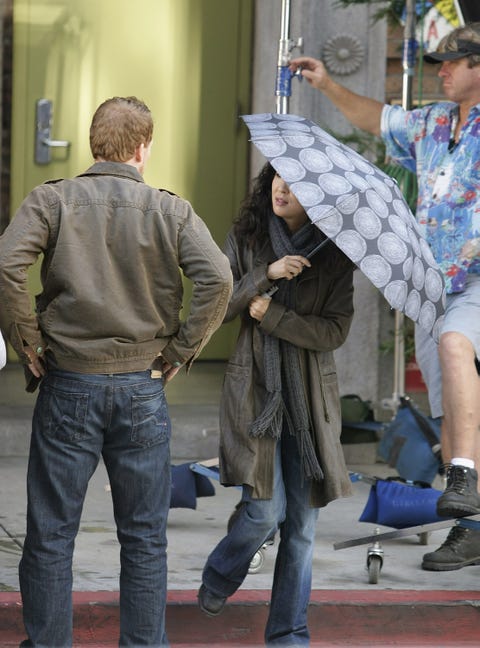 Jean Baptiste Lacroix
Getty Images
2008: Making It Rain
Sandra Oh carries an umbrella while on location in Los Angeles with costar Kevin McKidd. The crew used a rain machine to replicate the weather needed for the scene.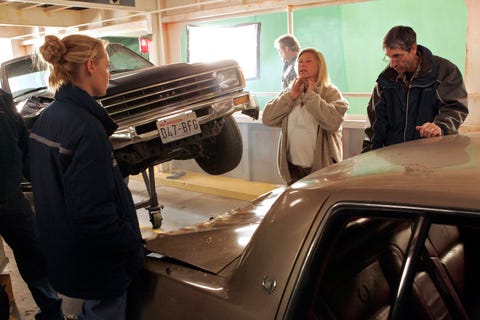 2007: Extreme Scenes
Actress Katherine Heigl gets advice from Grey's Anatomy's technical director as they prepare to film a car accident scene.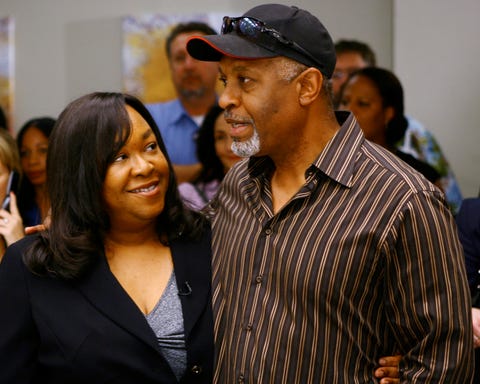 Scott Garfield
Getty Images
2009: The Best Actors for the Job
Shonda Rhimes told O, The Oprah Magazine that she didn't intentionally cast any of the characters for a specific race, she just went with the best actors for the role: "We read every color actor for every single part. My goal was simply to cast the best actors."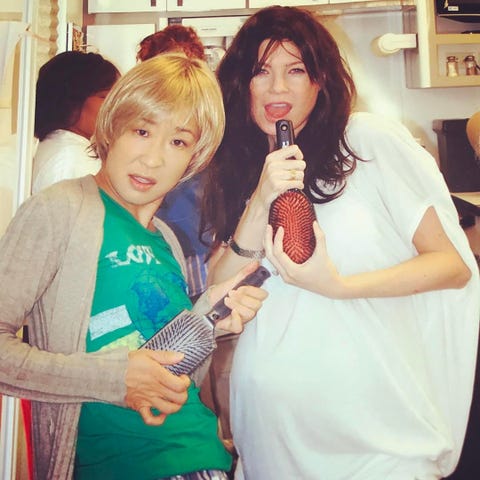 2009: Goofing Around
Ellen Pompeo shared an Instagram of her and costar Sandra Oh joking around in the makeup trailer.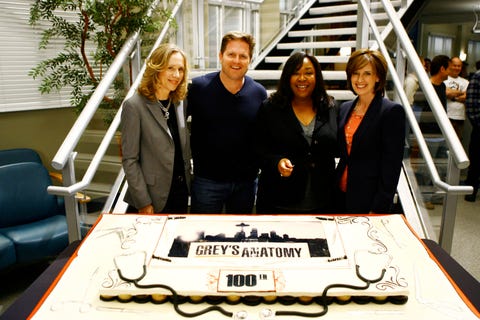 Scott Garfield
Getty Images
2009: The 100th Episode
Shonda Rhimes poses on the set of Grey's Anatomy with a few of the show's producers as they celebrate the filming of their 100th episode—a huge milestone.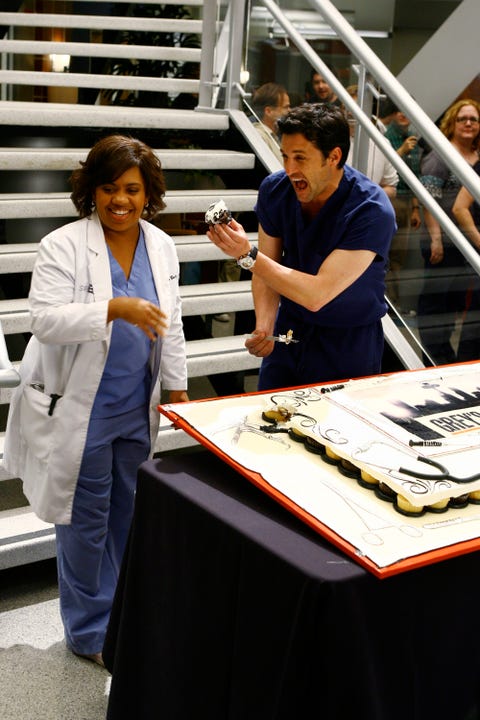 Scott Garfield
Getty Images
2009: A Big Celebration
Patrick Dempsey and Chandra Wilson goof around with the celebratory cake during the celebration of the 100th episode.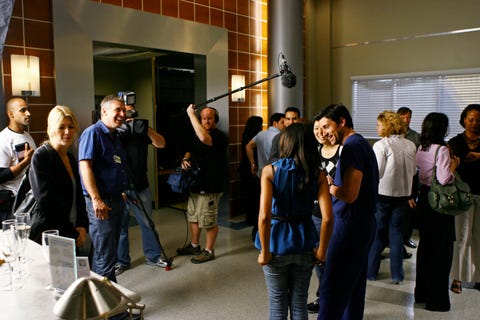 Scott Garfield
Getty Images
2009: Filming the Episode
After eating cake, the cast, producers, and crew get to work creating the milestone 100th episode for audiences.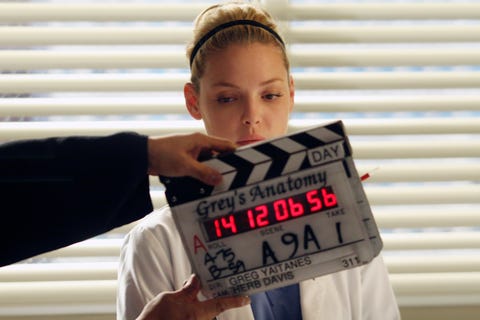 Michael Desmond
Getty Images
2010: A Dramatic Exit
Katherine Heigl's character, Izzie, was beloved by fans—however, the actress left the show in the midst of drama. After refusing an Emmy nomination because she didn't think the show's writing warranted her one, Heigl's character was written out of the show at the end of season six.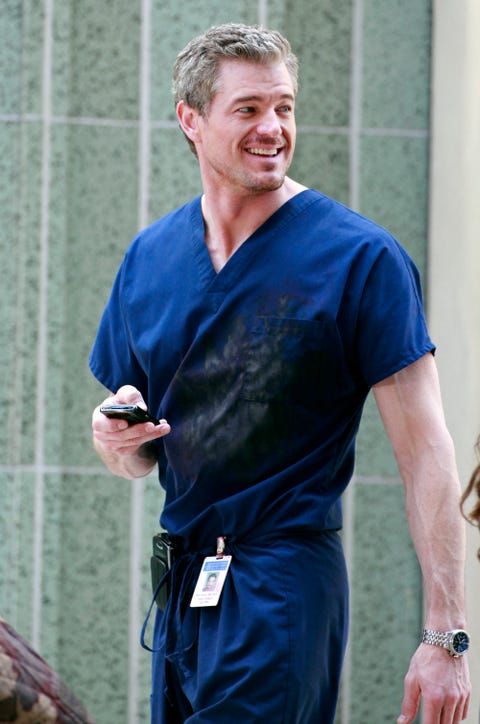 Jean Baptiste Lacroix
Getty Images
2010: Off-Duty McSteamy
While on a break from shooting, Eric Dane checks his phone as he walks around set in bloody scrubs after filming a scene on location in Los Angeles.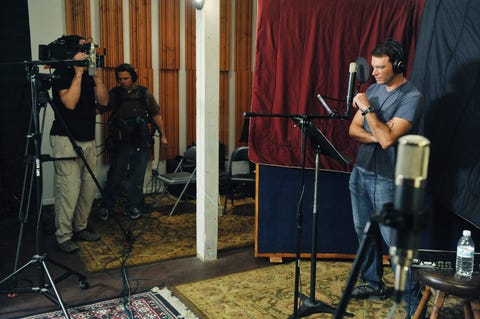 Eric McCandless
Getty Images
2011: A Musical Episode
Actor Scott Foley records a song for a Grey's Anatomy episode that doubled as a musical event in season seven.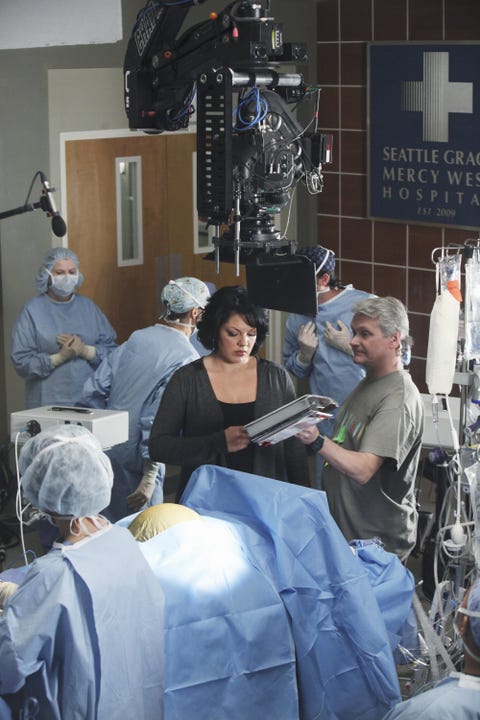 2011: Reviewing the Script
Sara Ramirez goes over her script one more time before shooting a scene in which her character is in the operating room sans scrubs.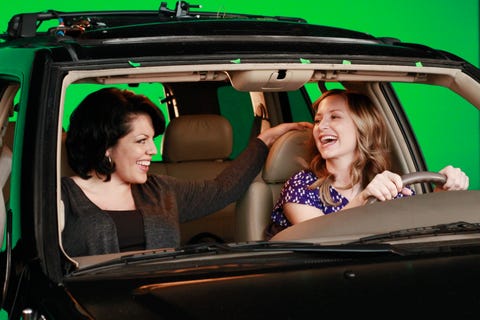 2011: The Green Screen
Sara Ramirez and Jessica Capshaw sit in a car in front of a green screen that's used to simulate that they're driving on a road. TV magic!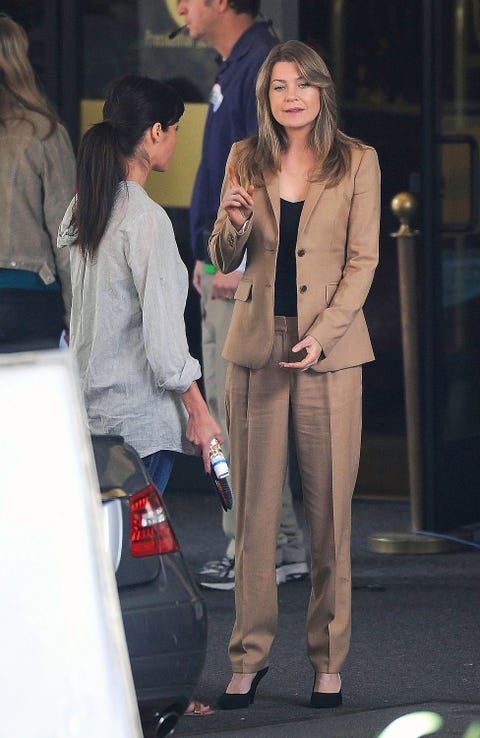 GONZALO/Bauer-Griffin
Getty Images
2012: On Location
Ellen Pompeo talks to a member of the crew as she shoots a scene on location in Los Angeles. Instead of wearing her usual scrubs, she wore a camel colored suit and heels.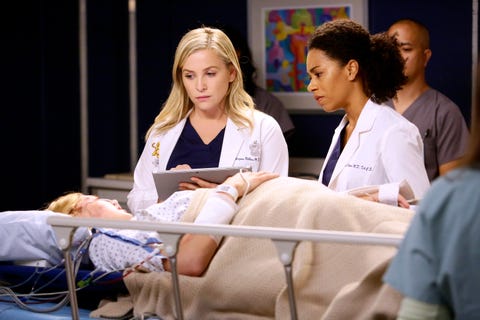 Nicole Wilder
Getty Images
2012: New Cast Members
In 2012, Camilla Luddington, Gaius Charles, and Tina Majorino were the new faces around Seattle Grace—and many have come and gone since. Today, Ellen Pompeo, Chandra Wilson, and James Pickens Jr. are the only three original cast members still on the show.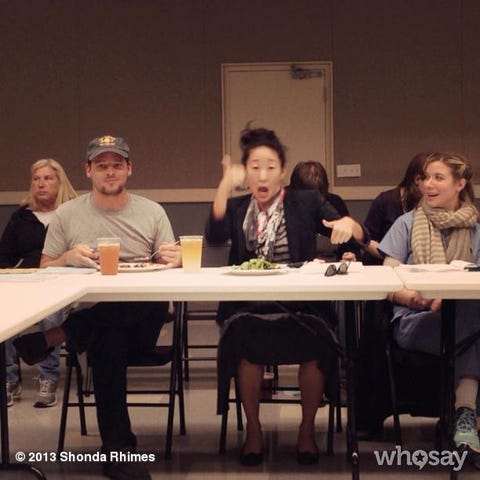 2013: Table Reads
Shonda Rhimes shared an Instagram of Justin Chambers (left), Sandra Oh (center), and Tessa Ferrer (right) during a table read with the cast.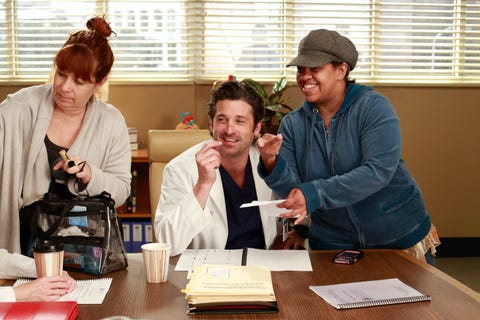 2013: Chandra Wilson Directs
Chandra Wilson tried her hand at directing for the episode "Transplant Wasteland." Here, the actress is seen giving notes to Patrick Dempsey, while another actor gets their makeup touched up off-screen.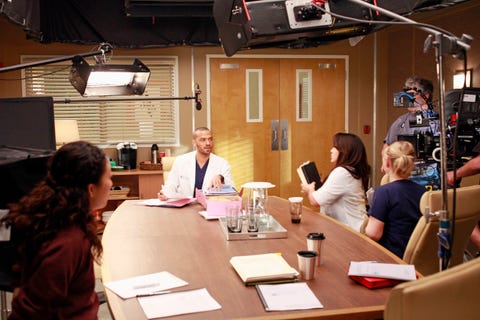 2013: Running Lines
Actor Jesse Williams runs lines with Sara Ramirez, Sandra Oh, and Jessica Capshaw before shooting in Seattle Grace's conference room.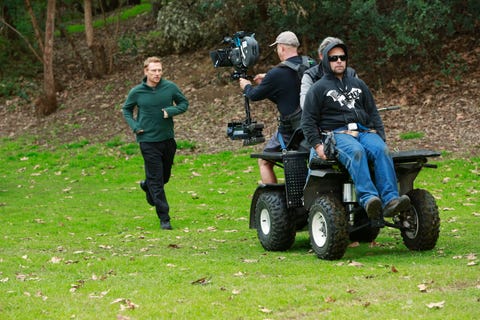 2013: Jogging on Set
This behind-the-scenes photo reveals the film crew driving an ATV in front of actor Kevin McKidd to capture his character, Owen Hunt, on a run.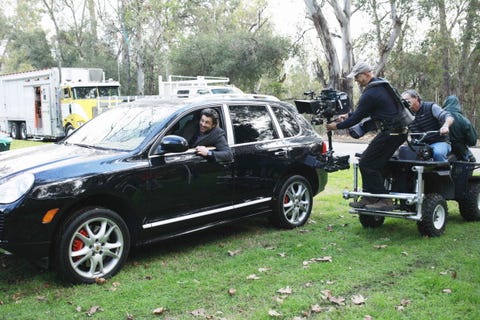 2013: Driving
Similarly, Patrick Dempsey is photographed inside his character's car as a film crew rides alongside him.
This content is created and maintained by a third party, and imported onto this page to help users provide their email addresses. You may be able to find more information about this and similar content at piano.io