The Best Music Podcasts, Old and New
Musical talent not required.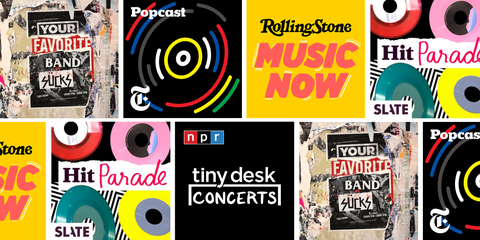 Design by Morgan McMullen
Listening to music is unlike any other experience, but you knew that. When you're listening to a piece of music, it evokes something in you that's hard to describe. The same can be true of podcasts, which many listeners find to be a unique combination of soothing and addictive. So why not mesh the two? A good music podcast will not only add weight to your perception of an artist, song, or beat, but allow you to absorb crazy amounts of knowledge in an hour or less. (I mean, how else are you to discover how songwriters are writing songs now for TikToks or how your favorite boyband came to be?)

Music podcasts cover all sorts of topics, from the most beloved tracks for your favorite artists to fan analyses of the songs they've listened to thousands of times. The search for a good music podcast may seem like a voyage, but this article is here to help you think it's like a walk to the mailbox. Here are 11 music-themed, editor-picked podcasts we recommend pressing play for your next listen.
This content is created and maintained by a third party, and imported onto this page to help users provide their email addresses. You may be able to find more information about this and similar content at piano.io