Podcast Episodes About Coronavirus to Help You Make Sense of It All
They'll also help you feel less isolated.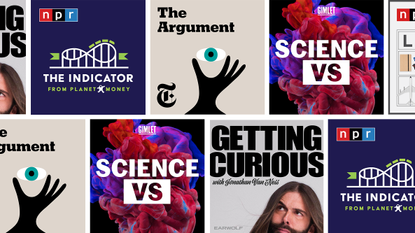 (Image credit: Design by Morgan McMullen)
Marie Claire Newsletter
Celebrity news, beauty, fashion advice, and fascinating features, delivered straight to your inbox!
Thank you for signing up to Marie Claire. You will receive a verification email shortly.
There was a problem. Please refresh the page and try again.
We're living in a weird, sad, and eventful time. What initially looked to be a potential and distant threat has come sharply into focus, and all of our lives are impacted. Working from home has become the new norm, Zoom happy hours have replaced hanging out with friends, schools have done away with graduation ceremonies, populated areas have become ghost towns, and hospitals are overwhelmed. The novel coronavirus, formally known as COVID-19, has changed everything for every one of us, and it doesn't look as though circumstances are going to change anytime soon.
We're also receiving information from all sides—our phones, our TVs, our friends and family—and it can be hard to parse through the fear and uncertainty to get valid and useful information. Luckily, there are several thoughtful, well-executed, fact-checked podcast episodes that, as a bonus, will make you feel less alone—like you're talking to your most knowledgable friend. These ten podcast episodes will answer a lot of your big questions, from how it'll impact the presidential election to how we're going to move forward as a society.
'Instagram vs. Reality Coronavirus: How Social Media Handles Pandemics'
Who's it by: Business Casual
What's it about: In this world of social distancing, we're scrolling through our social media feeds more than usual. It's a lifeline that can also be a source of misinformation, so listen on in on how big tech companies are trying to stop the spread.
'How Do We Vote in a Pandemic?'
Who's it by: The Argument
What's it about: While the big election day isn't until November, we're currently in the thick of the Democratic primaries and a pandemic at the same time. The Argument asks: How do you hold a presidential election in the middle of public health emergency? It's a hard question with long-term consequences, and captured my attention from the get-go.
'No Season, No Pay: How Ballpark Workers are Getting By'
Who's it by: The Lead
What's it about: When the MLB announced they'd be postponing opening day until mid-May, a lot was left up in the air. While sports talk may not be my usual tempo, I was fascinated listening to what 22 ballpark workers, ranging from hotdog vendors to parking lot workers, would be doing now that their jobs, and paychecks, are on hold.
'Is Our Economy Going to Survive This Pandemic?'
Who's it from: Getting Curious with Jonathan Van Ness
What's it about: I love and adore Queer Eye's Jonathan Van Ness as much as the next person, and if you haven't listened to his podcast yet, consider this your introduction. In this episode, the man with luscious hair sits down with a business professor from the University of Texas to learn about how we can get creative when it comes to jobs and making money during this time.
'The History of Quarantine'
Who's it from: Sawbones
What's it about: The art of quarantining has been around for a long time, and there's no better time to learn about quarantining then while you're kicking it back in your house until who knows when. Dr. Sydnee McElroy and her husband Justin provide A+ history knowledge and make a subject that would seem boring highly entertaining.
'Stuck Inside? Here's Your TV Streaming Strategy'
Who's it from: Life Kit
What's it about: You probably have more time on your hands than usual these days, and deciding what streaming service to spend hours and money on is hard. An NPR TV critic lays out the best strategy for streaming—it's the advice you and your TV have been missing.
'Considering Human Rights in Restriction Response Strategies to COVID-19'
Who's it by: Public Health On Call
What's it about: In the land of free, the idea of government-regulated lockdowns seem like a myth—yet as the virus grows, it becomes more and more likely (and some cities have already enacted such rules). Listen to this to learn more about how that can affect different communities in the U.S. and what a lockdown would look like, practically speaking.
'How Will Pop Music Respond to the Coronavirus?'
Who's it from: Popcast
What's it about: Now that major festivals like Coachella and SXSW and tours from the likes of Billie Eilish and Madonna have announced cancellations, the music industry has hit pause. Hosts Jon Pareles and Ben Sisario try to figure out when it'll start playing again.

'Coronavirus: A Story From the Front Lines'
Who's it from: Science Vs.
What's it about: Hear what it's like to be on the front lines of the fight about coronavirus: Dr. Antoinette Ward, who's leading the fight at a hospital in Atlanta, is trying to find more than one way to treat the increasing number of patients that walk through her doors using limited supplies and aid.
'The Test Shortage'
Who's it by: The Indicator from Planet Money

What's it about: In a perfect world, everyone would have access to being tested for the virus. Unfortunately, that's not the case. The U.S. is gravely behind on testing kits, staff and equipment in a way that other affected areas, like South Korea and Hong Kong, are not—and the question The Indicator asks is: How did we get here?
...
For more stories like this, including celebrity news, beauty and fashion advice, savvy political commentary, and fascinating features, sign up for the Marie Claire newsletter.
Celebrity news, beauty, fashion advice, and fascinating features, delivered straight to your inbox!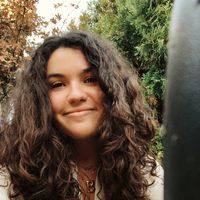 Bianca Rodriguez is the Fashion & Luxury Commerce Manager at Hearst Magazines, covering fashion, beauty, and more for Cosmopolitan, Elle, Esquire, Harper's BAZAAR, and Town & Country. She likes lounging about with a good book and thinks a closet without platform sneakers is a travesty.