Podcast Episodes About Coronavirus to Help You Make Sense of It All
They'll also help you feel less isolated.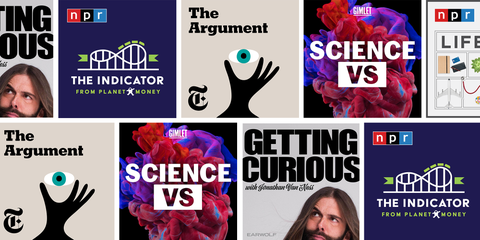 Design by Morgan McMullen
We're living in a weird, sad, and eventful time. What initially looked to be a potential and distant threat has come sharply into focus, and all of our lives are impacted. Working from home has become the new norm, Zoom happy hours have replaced hanging out with friends, schools have done away with graduation ceremonies, populated areas have become ghost towns, and hospitals are overwhelmed. The novel coronavirus, formally known as COVID-19, has changed everything for every one of us, and it doesn't look as though circumstances are going to change anytime soon.
We're also receiving information from all sides—our phones, our TVs, our friends and family—and it can be hard to parse through the fear and uncertainty to get valid and useful information. Luckily, there are several thoughtful, well-executed, fact-checked podcast episodes that, as a bonus, will make you feel less alone—like you're talking to your most knowledgable friend. These ten podcast episodes will answer a lot of your big questions, from how it'll impact the presidential election to how we're going to move forward as a society.
This content is created and maintained by a third party, and imported onto this page to help users provide their email addresses. You may be able to find more information about this and similar content at piano.io