Editors handpick every product that we feature. We may earn commission from the links on this page.
Anti-Racist Books for Children and Teenagers' Bookshelves
It's never too early to start the conversation.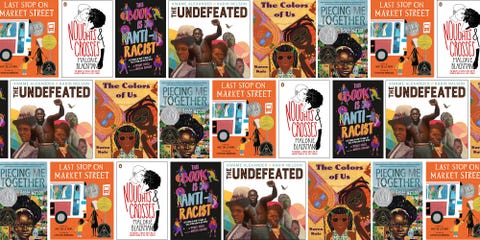 Design by Morgan McMullen
All right, the secret's out: I'm not a parent. Instead, I'm someone who had her head stuck in a book before she could even talk. (My mom can attest to this.) If there's one thing I wish I'd had more of on my childhood bookshelf, it's books that discuss race. There is no "set age" a child learns how to be anti-racist and how to stand up for what they believe in. Instead, children and teenagers learn from those around them—from friends, family, and any kind of media they can get their hands on.
It's so important to educate ourselves (and the future people of this country) about race and allyship with the goal of creating a better world for us all. It won't happen overnight, but if we continue to support Black-owned businesses, call for justice wherever racial injustice strikes, and educate ourselves with the proper tools, we can get there. And there's no better time to educate yourself and others than right now. Ahead, here are ten books for children and teenagers that you can pick up and read to your own family or give as a gift. (If you're looking to educate yourself and your family further, have a movie night and watch one of these Black history documentaries.)
'A is for Activist' by Innosanto Nagara
This beautifully illustrated alphabet board book was initially written for the author's son. The colorful piece of literature covers topics from environmental justice to LGBTQ rights, and is written for the youngest of minds to understand.
'The Colors of Us' by Karen Katz
In this heartwarming picture book, you'll meet seven-year-old Lena who wants to paint a picture of herself, and explains to her mother she wants to paint her skin brown. Before she puts paint to paper, her mother encourages her to walk around their neighborhood to see that there are many different shades of brown to be celebrated.
'Noughts & Crosses' by Malorie Blackman
The bestselling YA series poses the question: What if Europeans were the ones colonized? Sephy is a Cross, otherwise known as a member of the dark-skinned ruling class, while Callum is a Nought, who were once slaves to the Crosses and are deemed the underclass. The two friends have known each other all their lives, but soon they start to feel things for each other that terrify them both. You know the trope, but Blackman's characters put it on a whole new playing field.
'This Book Is Anti-Racist' by Tiffany Jewell and Aurélla Durand
Whether you want to figure out how to combat racial prejudice in your own life or are looking to educate someone a little younger, you've found the perfect book. Jewell's words, mixed in with Durand's illustrations, makes understanding how to be an ally easy for absolutely everyone.
'The Undefeated' by Kwame Alexander and Kadir Nelson
Winner of the 2020 Caldecott Medal and the 2020 Coretta Scott King Illustrator Award, this picture book properly tells the history of Black people in America. Spread over 40 pages, Alexander's tribute to the African-American experience is a love letter worth reading.
'Antiracist Baby' by Ibram X. Kendi and Ashley Lukashevsky
It's the best of both worlds: a book that rhymes and teaches valuable lessons. Antiracist Baby teaches children the basic concepts and powers of antiracism, but its contents can be used as a learning tool for those who don't have a set nap time. You get my drift?
'Last Stop on Market Street' by Matt De La Peña and Christian Robinson
Another Newberry winner on the list, and does this book deserve it. Every Sunday, CJ and his grandma ride the bus across town after leaving church. But one day, CJ starts to ask a lot of questions about what he sees on his commute and why his life is different from his friends'. Thankfully, his grandmother has the perfect answers to help CJ see the beauty in the world around him.
'All American Boys' by Jason Reynolds and Brendan Kiely
When Quinn sees his best friend's older brother, a cop, beating his classmate Rashad over "stealing," he doesn't say anything because he doesn't want to get involved. The next day, Rashad isn't at school. Instead, he's in the hospital, and a video of the incident goes viral across the country. Quinn must decide if he's going to stay silent or speak up for his classmate. Told between both boys, All American Boys provides a harrowing look into both sides of the well-known narrative.
'Mixed: A Colorful Story' by Arree Chung
There once was a time when only three colors existed: red, blue, and yellow. The colorful things all lived in harmony until one day, a red says, "Reds are the best!" and chaos ensues. To save their town, the remaining colors will have to come together to find a solution, and they soon realize some beautiful things get created when you come together. The whole book is basically next-level cuteness.
'Piecing Me Together' by Renée Watson
This New York Times Bestseller tells the story of high school junior Jade, who believes the only way she'll ever succeed is by leaving her poor neighborhood. In between studying to maintain her scholarship at her wealthy white private school, she's asked to join the "at-risk" mentorship program. At first, she's unsure what she can learn from the program, but the after-school activity soon does more for her than she could ever realize.
This content is created and maintained by a third party, and imported onto this page to help users provide their email addresses. You may be able to find more information about this and similar content at piano.io