Documentaries About Black History to Educate Yourself With
Take your allyship a step further.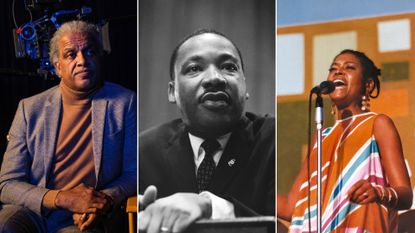 (Image credit: Getty / Alamy Stock Photo)
As allies, one of the most important things we can do is educate ourselves about Black history—and not just during February, either. And one of the easiest (and most entertaining) ways to do so is to read and watch art that tells Black stories. It's no secret that your U.S. history class didn't teach you the real story about how we got here, but, thankfully, there are a plethora of documentaries for you to educate yourself with. Whether you want to dive into the legacy of unsung Black trailblazers or learn the impact Black creatives had on fashion and music, there's a documentary out there to pique your interest.
If you're looking for resources to further educate yourself about race relations in America, we have a reading list. We've also listed more than 50 Black-owned businesses you can support, today and every day.
'The 1619 Project'
Adapted from The New York Times' acclaimed "The 1619 Project: A New Origin Story," each episode—"Democracy," "Race," "Music," 'Capitalism," "Fear," and "Justice"—dives into how slavery has impacted different aspects of American life, in addition to centering and spotlighting the stories and lives of notable Black Americans.
'The Loving Story'
The love story of 1960s interracial couple Richard and Mildred Loving proved to be one filled with challenges. After traveling to Washington D.C. to get married, the two returned home to Virginia and faced massive public backlash, legal trouble, and even jail time. Their case went all the way to the Supreme Court, eventually leading to 16 states overturning bans on interracial marriages. There's also a dramatized version of their story starring Joel Edgerton and Ruth Negga on Netflix.
'The Death and Life of Marsha P. Johnson'
In case you're not familiar, Marsha P. Johnson was a drag queen, activist, and trailblazer for the LGBTQ+ community. Tragically, her life was cut short by suicide in 1992, but many people believe she was actually murdered. In this documentary, activist and friend of Johnson's, Victoria Cruz, investigates the suspicious circumstances surrounding Johnson's death while also celebrating her life.
'Summer of Soul'
Just 100 miles away from Woodstock, another major music festival was taking place in 1969. This documentary explores the Harlem Cultural Festival, an epic showcase of Black music, art, and culture. In this documentary, director Questlove unearths footage from the festival with performances from B.B. King, Stevie Wonder, Nina Simone, and more.
'Is That Black Enough For You?!?'
Cinema, as we know it today, would be nothing without the contribution of Black creatives. Culture critic and historian Elvis Mitchell dives into the evolution of Black cinema from its start to the 1970s in this inspiring documentary. Hear from prominent voices in the field like Samuel L. Jackson, Whoopi Goldberg, Laurence Fishburne, and more.
'Olympic Pride, American Prejudice'
In 1936, 18 Black athletes participated in the Berlin Olympic Games. But history remembered only one: Jesse Owens. Olympic Pride, American Prejudice tells the story of the other 17 contestants. These men set out to make a nation proud, even when, at the time, their own nation didn't accept them (this was during the Jim Crow era). If you're looking for a more in-depth look into the games and players, you can also read the book it's based on.
'LA 92'
When four cops were filmed severely beating Rodney King were named not guilty in court, it sparked a protest movement lasting several days in Los Angeles. This new documentary of the incident features new and rarely seen archival footage. Sadly, it goes to prove that our country's history of police brutality against its Black citizens continues to repeat itself.
'Versailles '73: American Runway Revolution'
Calling all fashion history fanatics: This one's for you. Versailles '73 looks back at one of the biggest moments in fashion history, remembering the once-in-a-lifetime fashion show where five American designers went up against five French designers in 1973. The event signaled the rise of Black models such as Pat Cleveland and changed the way people saw the fashion industry forever.
'13th'
Netflix's 13th has become so influential that the streaming giant released the whole documentary on YouTube, allowing viewers everywhere to learn about the lasting effects of the 13th Amendment and how it led to America's mass incarceration problem. Director Ava DuVernay combines archival footage with a mixture of interviews from powerful political figures to create a product that will stand the test of time—a forever piece of learning material.
'Slavery By Another Name'
Our school history books told us that slavery in our country ended with the Emancipation Proclamation, but PBS' Slavery By Another Name proves them wrong. The 90-minute documentary goes back in time to explain that while slavery was ending in the South in 1865, thousands of people of color were forcefully pulled into forced labor. The film features conversations with the family members who are still living, reminding us that the passing of time means little when it comes to these scars.
'King In The Wilderness'
Winner of the Emmy for Outstanding Historical Documentary, King In The Wilderness chronicles the final 18 months of Dr. Martin Luther King Jr.'s life. The documentary covers his part in the Voting Rights Act of 1965, his relationship with key political figures of the time, and his assassination in 1968. Interviews with his friends from that period make clear that Dr. King was even more of a trailblazer than you knew.
'The Black Power Mixtape: 1967-1975'
When filmmaker Goran Hugo Olsson discovered a 30-year-old film canister set featuring footage of the anti-war and Black Power movements in the '60s and '70s, he knew he had a story to tell. The archival film features appearances from notable figures, from Angela Davis to the Black Panther Party's early leader, Eldridge Cleaver. The film is a reminder of how far we've come—and how far we still have to go.
'American Son'
American Son isn't a documentary per se, but is inspired by events faced by the Black community on a daily basis. Star Kerry Washington told The Wrap: "It allows people, African-American people, to see our selves, to have our experience mirrored and highlighted and affirmed, acknowledged, honored in a way."
Based on the Broadway play of the same name, American Son stars Washington as Kendra Ellis-Connor, who along with her estranged husband Scott (Steven Pasquale) is awaiting the answers about missing son at a police station with a cop who can't tell them anything. As with a documentary, this film "allows other people to really be able to step into the challenges of raising black children, with real empathy and personal investment," Washington told The Wrap.
'The Black Panthers: Vanguard of the Revolution'
PBS' The Black Panthers: Vanguard of the Revolution is the first feature-length documentary to dive deep into the Black Panther Party and how they changed history. Made over the course of seven years, the documentary features over 25 interviews with surviving Panthers members, FBI informants, journalists, and more.
'America to Me'
This 10-episode limited series tells the story of one academic year at Chicago's Oak Park and River Forest High School. Featuring interviews from its students, administrators, and faculty, the documentary lays bare the overwhelming issues that people of color face in the American school system. The first episode is free, no matter where you watch.
'Dark Girls'
Dark Girls takes a hard look at the biases and attitudes that dark-skinned women face all over the world. Through skin lightening, countless women actively try to make their skin lighter in the hope that it will lead them to a better life. Filmmakers Bill Duke and D. Channsin Berry then examine how white women go to tanning beds, get Botox, and undergo plastic surgeries to make them look "more ethic." It'll make you furiously angry, and force you to think about the male gaze from a new perspective.
'When They See Us'
Another example of exceptionally great storytelling from director Ava DuVernay. This time, it's about the Exonerated Five, formerly known as the Central Park Five. In the four-part limited series, this Netflix show re-enacts the Central Park jogger case from the perspective of the Five and their family. If you're not familiar with the case, in 1989, five African-American male suspects were falsely accused and prosecuted on charges relating to the rape and assault of a woman in Central Park. It's beautifully acted, and an important reminder of how the justice system has repeatedly let people of color down for decades.
'I Am Not Your Negro'
Based on James Baldwin's unfinished manuscript Remember This House, filmmaker Raoul Peck forges an end to the book that was supposed to be. Baldwin's last novel was going to dive into the lives and assassinations of three of Baldwin's close friends: Medgar Evers, Malcolm X, and Martin Luther King, Jr. Using Baldwin's words, I am Not Your Negro connects the Civil Rights Movement to the #BlackLivesMatter movement and traces the ways that black representation has evolved over time.
Black Lives Matter
Celebrity news, beauty, fashion advice, and fascinating features, delivered straight to your inbox!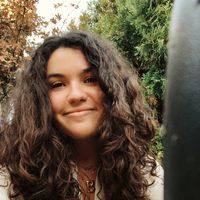 Bianca Rodriguez is the Fashion & Luxury Commerce Manager at Hearst Magazines, covering fashion, beauty, and more for Cosmopolitan, Elle, Esquire, Harper's BAZAAR, and Town & Country. She likes lounging about with a good book and thinks a closet without platform sneakers is a travesty.