60 Gifts for Mom She'll Truly Love
From creature comforts to luxe indulgences.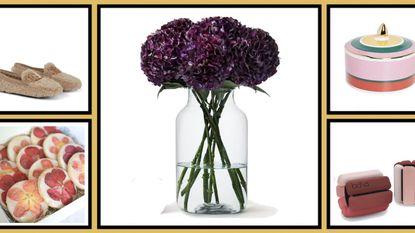 (Image credit: Courtesy of The Brands)
Whether you're right around the corner or live oceans apart, nobody deserves a really good gift (opens in new tab) more than your mom. You want to get her something thoughtful, something that shows her just how much she means to you—whether it's her birthday (opens in new tab), a special anniversary (opens in new tab), or just a regular Sunday. We've searched long and hard to find a perfect gift for just about every kind of mom, from precious trinkets and luxe indulgences to more practical finds. Surprise her with flowers (opens in new tab), a shiny new kitchen gadget (opens in new tab) she'll actually use, or a subscription (opens in new tab) to a class or workout she'll enjoy. Ahead, our favorite gift ideas for mom that she'll really and truly love.
1/60
Longchamp Le Pliage Original Coin Purse
This cute coin purse will ensure there's no more loose change at the bottom of mom's bag.
2/60
Tory Burch Lettuce Ware Salt Cellar, Set Of 2
Each cellar is delicately molded, detailed, and painted by hand, perfect for the mom who loves a great tablescape.
3/60
DOZYANT Bamboo Bathtub Tray Caddy
This is the no-brainer gift for bubble bath loving mamas.
4/60
Feather and Down Pillow
Give mom the gift of a great night's rest with these one-of-a kind feather and down pillows from Mandarin Oriental's stylish bedroom collection.
5/60
FlowerBx Fresh Blooms
Flowerbx sources the freshest flowers and delivers them straight to mom.
6/60
La Double J Goodie Jar
Handmade in Italy, this candy colored porcelain dish is the perfect vessel for candy or jewels. Plus, it's dishwasher safe.
7/60
OffHours Homecoat
Help mom unwind after a long day with this ultra cozy robe coat made from French terrycloth fabric.
8/60
Jewels For Hope Blue Monochromatic Earrings
Mom will love these handcrafted earrings. The best part? They're made by a mother-and-daughter-run small business, Jewels for Hope, that gives a percentage of their profits to charity.
9/60
The Class The Class
With a monthly subscription to The Class, mom can join in on this cathartic workout in the comfort of her own home.
10/60
Westman Atelier Baby Cheeks
This industry-favorite blush can be used on the eyes, lips, or cheeks. Ideal for any mom who's also a beauty buff.
11/60
Tod's Shearling Loafers
These cozy loafers will keep her feet warm on chilly mornings. Made with a pebbled sole and ergonomic design, these shearling shoes can also be taken to the street.
12/60
Michael Aram Black Iris Frame
Put a picture of you and your mom on show in this brass and black Iris adorned frame.
13/60
Sprout Basil Indoor Garden Kit
This indoor garden kit comes with a self-watering pot, making it a full-proof way to incorporate fresh basil into any meal.
14/60
Nette Spring 1998
Using only natural ingredients, mom can feel good about lighting this magnolia, freesia, and neroli-scented candle in every room of the house.
15/60
Objecto Objecto H4 Hybrid Humidifier
She'll be impressed. A humidifier that's also attractive is hard to come by,
16/60
Silver Oak Cheers with Cabernet
Give your vino-loving mom a bottle of Silver Oak's 2017 cabernet, wrapped especially for the holidays.
17/60
Kenwood Kenwood Bistro Apron
With 15 years of experience in NYC's fashion industry focusing on tailoring and fit, Rendall Co. founder Deirdra Jones developed the perfect cook's apron. Deep patch pockets will help mom keep her phone and cooking gadgets close by.
18/60
Janessa Leone Blanket Scarf
Crafted from Alpaca wool, this two-in-one blanket scarf is lightweight, making it the perfect layering piece for spring weather.
19/60
Rapha RCC Women's Pro Team Long Sleeve Jersey
Get your Peleton-loving mom a pro sweat-wicking jersey to climb and sprint in.
20/60
Rothy's The Bucket Bag
Help mom stay on trend with this spacious bucket bag. The hands-free strap option will help a busy mom carry everything she needs.
21/60
Helen Ficalora "M" Alphabet Charm With Diamond
Tell mom you heart her with this "M" charm with diamonds.
22/60
FUJIFILM INSTAX Link Wide Smartphone Printer (Ash White)
Picture loving mamas will get instant gratification with this pocket size printer that attached to her smartphone.
23/60
Ratio Eight
If mom's a coffee loving, design aficionado, this elevated coffee maker is a must.
24/60
Leze The Label Athena Sweater
Crafted from recycled fishnets this cozy sweater is utterly polished and looks best when paired with the matching bottoms (opens in new tab).
25/60
Neely and Chloe Vanity Case
Personalize this sturdy vanity case with mom's initials for the perfect travel gift.
26/60
Oster Cordless Electric Wine Bottle Opener With Foil Cutter
No more struggling with corked wine with this handy tool.
27/60
Penhaligon Babylon
With notes of vanilla, cedar and saffron, this will be mom's new holiday scent.
28/60
Eberjey Gisele Printed Sleepshirt
This perfectly oversized button-down can be worn to sleep in, but looks utterly polished when your mom throws this on with her favorite pair of jeans.
29/60
Chantecaille Gold Recovery Intense Concentrate A.M./P.M.
Go for gold and gift mom this supercharged 24k gold treatment that will make her event more radiant.
30/60
Anova Anova Precision® Cooker
Great for the mom who likes to entertain. This easy-to-use sous vide is wi-fi enabled, and will ensure a perfect cooking temp every single time.
31/60
Allbirds Women's Wool Cardi - Natural White
Crafted from 100% merino wool this relaxed yet structured cardigan is the ideal cold weather layering piece.
32/60
Athleta Whisper Featherless Jacket
This lightweight jacket made from recycled thinsulate insulation will keep mom toast without weighing her down.
33/60
Carolina K Cross Stitched Yoga Pillow Cover
Hand stitched by artisans in Mexico, this embroidered pillow will add a pop of color to mom's favorite chair or couch.
34/60
Libbey Kentfield Coupe Cocktail Glasses, Set of 4
This elegant set of coupe glasses will get happy hour off to a good start.
35/60
Ember Mug
Mom's coffee or tea will never get cold with this revolutionary warming mug that maintains a designated temperature for one and a half hours.
36/60
Joanna Czech Joanna Czech Facial Massager
If she can't get to the spa, give mom a set of these de-puffing glass globes instead.
37/60
Great Jones Cookwear The Dutchess
This cute, cast iron oven is a pro at retaining heat. The smooth enamel finish makes it easy to deglaze and clean after mom cooks her favorite dishes.
38/60
Sarah Flint x Maman 4-Piece Dinner Napkin Set
Mom will have the prettiest table scape with these original floral napkins hand-painted by Sarah Flint in Maman's signature color palette.
39/60
Oura Ring Heritage - Gold
Help mom be her best self with this Oura ring that delivers daily, personalized sleep, and overall health insights straight to her phone.
40/60
Nori The Nori Press
Help mom look her best with this handy steaming tool that doesn't require any bulky equipment to use.
41/60
Dad Grass CBG Pre Rolled Joints 10 Pack
Help mom unwind with this "Mom Grass" pack of pre-rolled CBG joints.
42/60
Baloo Living Weighted Throw
This weighted blanket molds to the body and doesn't trap heat, making it cool enough to use year-round.
43/60
Perrier Jouet Belle Epoque Champagne
Champagne rosé all day with this special edition gift box that's almost too pretty to drink.
44/60
JUDY Emergency Preparedness Kit in Bin
Hand-picked by emergency preparedness experts, The Safe has the supplies needed to make sure any home is safe and prepared.
45/60
Assouline The Missoni Family Cookbook
The fashion family best known for their colorful knits are also fabulous cooks.
46/60
MacKenzie-Childs Radish & Root Oven Mitt
These colorful veggie oven mitts will look adorable hanging in your mom's kitchen.
47/60
Estelle Cake Stand Lavender
This pretty lavender cake stand is perfect for mom's fresh pastries.
48/60
Hermès H Kelly Belt
Help mom win best dressed with this gold and leather logo clad belt.
49/60
Mateo 6mm Pearl Studs
Gift mom these timeless studs, made from beautiful cultured freshwater pearls.
50/60
ROAM Luggage The Jaunt Carry On
ROAM will let mom design the luggage of her dreams, complete with custom-monogrammed initials.
51/60
Chanel Première Chain Watch
Time to tell mom you love her with this forever watch.
52/60
Neon MFG LED Customized Sign
Help her glow up any room with a custom neon sign.
53/60
Bala Bangles
These versatile one pound weights can be worn for mom's work outs, walks, or to simply wear around the house.
54/60
Happy Dance CBD Bath Bomb
You really can't go wrong gifting these ginger and grapefruit scented CBD bath bombs.
55/60
Aerye Home Coro Cup
Mom can savor her favorites teas in one of her new vintage-inspired mugs.
56/60
Alma Kitchen Co Ginger Pear Shortbread
Deliver these gorgeous ginger pear shortbread cookies straight to mom's door.
57/60
Naked Cashmere Leah Striped Pillow Sham
For the mom who has a closet full of cashmere sweaters: gift her a luxurious cashmere pillow set.
58/60
Dyson Airwrap™ Styler Limited Edition Gift Set
She can master curls and waves like a professional, all with air, not extreme heat.
59/60
Jo Malone English Pear & Freesia Diffuser
This elegant diffuser bares the scent of fresh pears, freesias, amber, patchouli and woods.
60/60
A Girls Trip to The Breakers, Palm Beach
For the ultimate indulgence, consider a girl's trip to one of America's most iconic seaside resorts, founded in 1896. Hang out at one of the four onsite pools, book a spa treatment, and take mom to dinner at the hotel's newest restaurant, Henry's Palm Beach, showcasing some of her favorite comfort foods with an elevated twist. For an extra special treat make a reservation for The Breaker's legendary champagne and caviar-filled Sunday brunch (opens in new tab).
Sara Holzman is the Style Director at Marie Claire, covering runway trends and tracking down the latest finds to buy and wear. When she's not writing about fashion, she pens about the best places to jet-off to. Over her six years with Marie Claire, Sara has reported on the ever-evolving world of fashion— covering both established and emerging designers within the industry. Sara has held fashion positions at Lucky and SELF Magazine and was a regular contributor to Equinox's Furthermore website, where she wrote across their style, wellness, and travel verticals. She holds a degree in Journalism from the University of Missouri, Columbia, and currently resides in Manhattan. Follow her along at @sarajonewyork.