40 MTV Reality Shows You Probably Forgot Existed
RIP The Ashlee Simpson Show.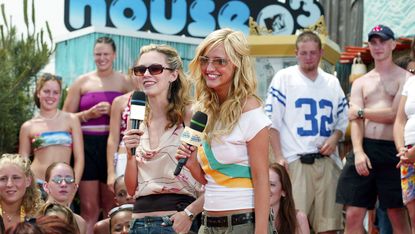 (Image credit: Getty Images)
Marie Claire Newsletter
Celebrity news, beauty, fashion advice, and fascinating features, delivered straight to your inbox!
Thank you for signing up to Marie Claire. You will receive a verification email shortly.
There was a problem. Please refresh the page and try again.
If you grew up in the early aughts, you remember MTV in its prime—TRL, Real World/Road Rules Challenge, there were so many good ones. And yet, the network was also filled with reality shows we can't believe ever made it to air. Sure, you probably wouldn't rewatch them today (or maybe you would, no judgment), but you'll certainly have a good laugh looking back on them. Behold: The best shows on MTV that you probably totally forgot were actual things you watched.
1/40
'Making the Band' (2000 - 2002)
Making the Band was the very first installment of the successful franchise and aired for three seasons. The show centered around Sean "Diddy" Combs and a group of artists who competed to join his band. The end result was the mildly successful Danity Kane and, good news: MTV recently announced a revival of the popular show, which is set to premiere in 2020.
2/40
'Newlyweds: Nick & Jessica' (2003 - 2005)
They were the It couple of pop, so audiences were pumped when Nick Lachey and Jessica Simpson welcomed MTV cameras into their home after their 2002 wedding to capture all of their domestic bliss. The show aired for three seasons and the marriage only lasted for four years, but certain moments, like the iconic chicken vs. tuna debate, will last forever.
3/40
'The Ashlee Simpson Show' (2004 - 2005)
Before we knew Ashlee Simpson as a person in her own right, we knew of her as Jessica Simpson's cool/edgy younger sister who wore a lot of skinny scarves. That all changed when we were introduced to her world on The Ashlee Simpson Show and followed her as she recorded her first album.
4/40
'Meet the Barkers' (2005 - 2006)
Travis Barker, the drummer for Blink-182, and his then-wife Shanna Moakler challenged the idea of your wholesome, next door neighbors by actually being pretty chill...sadly they're no longer together. Call it a case of the MTV reality show curse?
5/40
'The Osbournes' (2002 - 2005)
America fell in love with Ozzy and his (then unknown) family over the course of five seasons on MTV. BTW, seeing Kelly as an angsty teen is amazing. This one's actually worth a rewatch.
6/40
'Rich Girls' (2003)
The show followed the daughters of two successful businessmen: Ally Hilfiger (left, daughter of Tommy Hilfiger) and her best friend Jaime Gleicher (right, daughter of Leo Gleicher who started Innovation Luggage). At one point, they talk about the ethics of paying $400 for shoes or...saving a life. You know, the important stuff.
7/40
'Life of Ryan' (2007 - 2009)
Pro skateboarder (and my old school crush, not gonna lie) Ryan Sheckler took center stage in this show that somehow lasted 3 seasons (how?). In it, he boards, takes care of his little bros, and flirts with all the girls. The best part was his monologues on life and love and happiness. So wise, that Ryan.
8/40
''Til Death Do Us Part: Carmen and Dave' (2004)
Carmen Electra and Dave Navarro chose a pretty confident title for their newlywed reality series on MTV, given that their marriage only lasted for two years.
9/40
'Punk'd' (2003 - 2015)
The world of pranks and celebrity collided when Ashton Kutcher's Punk'd premiered in 2003. The concept was simple: An accomplice would bring their celebrity friend into a situation that was set up with undercover actors who put the stars in cringe-worthy situations. You weren't a teen in the early aughts if you didn't know the Justin Timberlake Punk'd episode by heart.
10/40
'Surf Girls' (2003)
Fourteen amateur surfers, picked to live in a house, wear a ton of Roxy, and compete to get the chance to go pro. Is there anything more MTV than that?
11/40
'8th & Ocean' (2006)
This show was apparently so bad, you can't find *any* real video of it anymore, almost as if as a society we collectively said "nope" and moved on. It was canceled after one season, but during that season we watched as aspiring male and female models lived and worked in South Beach, Miami, Florida.
12/40
'Jackass' (2000 - 2001)
"Don't try this at home" was a catchphrase every teenage boy was quoting after the success of MTV's Jackass. Hosted by Johnny Knoxville, Bam Margera, and Chris Pontius the show ran for 3 seasons, and resulted in countless movies.
13/40
'Viva La Bam' (2003 - 2005)
Jackass star, Bam Margera, landed his own spin-off in 2003, but unlike the extreme stunts he performed on Jackass, the entire series was focused on him pranking his parents while he lived with them. We can't help but question why they didn't kick him out after the first episode. Instead, it lasted five (five!) seasons.
14/40
'Cribs' (2000 - 2009)
We'll never forget what the inside of 50 Cent's "East Coast Playboy Mansion" looked like back in 2007, and for that we're so grateful to MTV Cribs. The reality show where everyone from JoJo to Lil Bow Wow gave a personal tour around their luxurious mansions was a must-watch. The most interesting part? Oddly enough, their fridge.
15/40
'Laguna Beach: The Real Orange County' (2004 - 2006)
Laguna Beach followed a group of high school juniors and seniors around their hometown of Laguna Beach, California, as they went to parties, on spring break (long live Cabo), and served up so much drama that MTV decided to follow their lead to Los Angeles with a spin-off.
16/40
'The Hills' (2006 - 2010)
After the success of Laguna Beach, MTV cameras followed Lauren Conrad as she navigated school, dating, and friendships post-high school in Los Angeles. The show was so popular, MTV brought back a reboot this year, but sadly Lauren passed on the opportunity.
17/40
'The City' (2008 - 2010)
A spin-off of a spin-off? Only on MTV. The City followed Whitney Port from The Hills as she navigated New York City over the course of two seasons. It was also the show that launched Olivia Palermo into notoriety and for that we are eternally grateful.
18/40
'Room Raiders' (2003 - 2009)
Room Raiders essentially involved being kidnapped from your house, brought to a viewing booth with two other boys or girls, and watching someone go through your room before deciding whether they wanted to go on a date with you or not. There were some questionable things found in those rooms throughout the show's eight seasons.
19/40
'A Shot at Love with Tila Tequila' (2007 - 2008)
When Tila Tequila's show first premiered on MTV, the concept pushed the boundaries of cable television. You see, Tila Tequila was a MySpace star who was searching for love. The twist? She's bi-sexual and welcomed both men and women into the mansion.
20/40
'A Double Shot at Love' (2008)
After the success of Tila Tequila's dating show, MTV decided to double down with A Double Shot at Love, a dating show that followed a pair bi-sexual identical twins, Ricki and Vicki, on their quest to find lasting relationships. It was...messy.
21/40
'My Super Sweet Sixteen' (2005 - 2011)
My Super Sweet 16 is known for three things: Bratty teens girls, overindulgent parents, and the birthday boy or girl almost always getting a luxury car at the end of the episode. All that being said, it was one of the most entertaining shows on the network and always brought the drama.
22/40
'Rob & Big' (2006 - 2008)
The concept of Rob & Big sounds relatively simple: A former pro-skateboarder and his bodyguard just hanging out in Los Angeles, playing pranks and having fun. But when it premiered in 2006, it instantly took off as viewers were obsessed with their unusual lifestyle and friendship.
23/40
'Ridiculousness' (2011 - Now)
When Rob Dyrdek's show Ridiculousness premiered in 2011, audiences were instantly hooked on the video-viewing program. For 13 seasons, and still counting, Rob has showed us some of the most absurd videos on the internet.
24/40
'Next' (2005 - 2008)
Next was the most ruthless dating show on MTV in the 2000s, hands down. One lucky man or woman would get to meet a bunch of perspective dates one by one—and could yell "next" at any time to end the date and move on to the next candidate. Sometimes it would end with a couple running off into the sunset holding hands, but other times potential dates didn't even make it off of the bus before they were ousted.
25/40
'Plain Jane' (2011)
Plain Jane premiered on the CW, but after not getting renewed, it made its way over to MTV for season 2. The show followed the stylish British fashionista, Louise Roe, as she transformed the life of a "plain Jane" by giving them a makeover and confidence boost.
26/40
'Pimp My Ride' (2004 - 2009)
For anyone clunking around town in a banged up car, Pimp My Ride was the ultimate goal. During each episode, a team of car experts, including mechanics and customizers, came together to give one lucky person the car of their dreams. Nothing was too extra or extreme for this show.
27/40
'Jersey Shore' (2009 - 2012)
It was impossible not to know who Snooki or The Situation was in 2009. The reality show that followed a cast of 20-somethings while they spent the summer at the Jersey Shore became a phenomenon. It even came back in 2018 and is on season three of Jersey Shore Family Reunion.
28/40
'Snooki & JWoww' (2012 - 2015)
With the success of Jersey Shore, both MTV and castmates Nicole "Snooki" Polizzi and Jenni "JWoww" Farley were eager to capitalize on their momentum. In 2012, Snooki & JWoww premiered. It followed the two roommates around their everyday life in New Jersey. The show had a solid following and lasted for four seasons.
29/40
'Road Rules' (1995 - 2007)
MTV's game show-style reality series, Road Rules, brought together six attractive young people and put them in an RV together. They drove around the season's selected region and competed for money. The show was essentially The Real World meets The Amazing Race, and, really, what could be better than that?
30/40
'TRL (Total Request Live)' (1998 - Now)
In the early 2000s, everyone rushed home to tune into TRL. The show was a countdown of the top music videos of the day, and was hosted by VJs including Carson Daly and Vanessa Milano, as well as some of the hottest artists of the moment.
31/40
'16 and Pregnant' (2009 - 2015)
You've probably heard of the drama that circulates around the Teen Mom cast members, and it all started on 16 and Pregnant. The show followed a group of young girls from across America, who all unexpectedly got pregnant, but each had different circumstances. It was *controversial* when it first premiered, but has since resulted in numerous successful spin-offs.
32/40
'Girl Code' (2013 - 2015)
MTV's response to their success with Guy Code? Girl Code, which was a commentary on all things related to the female sex, from waxing to frenemies. Comedians and personalities shared their witty and sometimes bad advice with viewers.
33/40
'True Life' (1998 - 2016)
The documentary series True Life first aired in 1998 and lasted an impressive 22 seasons. The show carved out its own unique section of pop culture as it delved into the bizarre habits of people and subcultures in society. Where else could you learn about an addiction to eating one's couch or the tendency to drink your laundry detergent?
34/40
'Made' (2003 - 2013)
Throughout it's 13 seasons, Made was one of the most inspiring and wholesome television shows to appear on MTV. Shot in a documentary style, each episode followed a young teen who wanted to fulfill an unrealized dream. The show would pair them with a Made coach, who specialized in whatever they were aiming to do, whether that was trying out for a sport they've never played or asking out the hottest girl in school.
35/40
'Lindsay Lohan's Beach Club' (2019)
True, this show aired fairly recently, but we thought LiLo's return to the camera deserved a shout-out. Lindsay Lohan's Beach Club was labeled a docu-series, but let's be real: it was a reality show. It followed a group of employees around the actress's new Beach Club in Mykonos, Greece. Sadly, this gem wasn't renewed for a second season.
36/40
'Parental Control' (2005 - 2010)
Parental Control usually started with a teenager's parents hating their boyfriend/girlfriend and wanting them to meet someone else. As a solution, the parents picked a few dates for their teen and then proceeded to watch the dates *with* their son or daughter's current GF/BF. It didn't always turn out the way the parents wanted, but it was always entertaining (and hard) to watch.
37/40
'MTV Unplugged' (1989 - Now)
Since MTV stands for Music Television, it makes sense that one of the oldest and most popular shows on the network is MTV Unplugged—a show that let's artists perform acoustic versions of their songs for an audience. Many musicians, from Paul McCartney to Mariah Carey, have appeared on the show.
38/40
'Sorority Life' (2002)
In this documentary-style show, MTV followed six women as they rushed, pledged, and were initiated into Greek life on Sorority Life. There was an epic Michelle Branch song that played in the intro, FWIW.
39/40
'Date My Mom' (2004 - 2006)
In one of the weirder dating shows that MTV produced, Date My Mom sent a guy or girl out on a date with three different moms. The singleton must then pick who he wants to take on a date. Weird, we know.
40/40
'Remote Control' (1987-1990)
When MTV started, the network was all music programs (obviously), but Remote Control was the first non-music show. It was a game show about TV-related trivia, ran from 1987 to 1990, and is considered the start of MTV's aforementioned reality programs.
Celebrity news, beauty, fashion advice, and fascinating features, delivered straight to your inbox!