2022 Book Releases to Get Excited About
Expect highly-anticipated titles from Emma Straub, Akwaeke Emezi, Rebecca Serle, and more!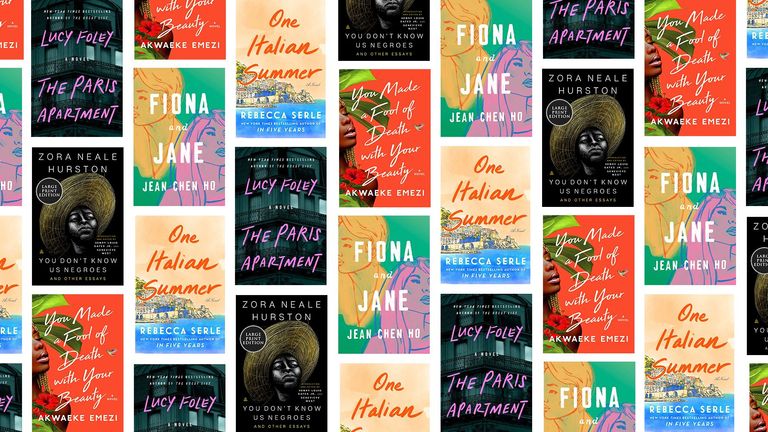 (Image credit: Design by Morgan McMullen)
If you've finally completed your 2021 TBR pile, prepare yourself for 2022's stacked lineup of new releases. Expect an incredible mix of fiction including Rebecca Serle's One Italian Summer and Kai Harris's What the Fireflies Knew (one of the first titles from Phoebe Robinson's new imprint), as well as powerful memoirs like Viola Davis's Finding Me. Excited yet? Find our running list of the most anticipated books of 2022 to pre-order now, ahead.
1/35
'Fiona and Jane' by Jean Chen Ho
If you're looking for a book about female friendship, look no further than Jean Chen Ho's 'Fiona and Jane,' which details the complex relationship between two Taiwanese American women over the course of 20 years.
Available January 4, 2022
2/35
'The Perfect Escape' by Leah Konen
Loved Leah Konen's 'All the Broken People?' Prepare yourself for her newest thriller, 'The Perfect Escape,' about a group of friends whose girls' weekend goes wrong when they get stranded in the Catskills and one of them goes missing.
Available January 4, 2022
3/35
'You Don't Know Us Negroes and Other Essays' by Zora Neale Hurston
In Zora Neale Hurston's 'You Don't Know Us Negroes and Other Essays,' readers will experience the revolutionary writer's work spanning three decades.
Available January 4, 2022
4/35
'Weather Girl' by Rachel Lynn Solomon
What's not to love about a TV meteorologist and a sports journalist who scheme to reunite their divorced bosses and may or may not catch feelings for each other along the way?
Available January 11, 2022
5/35
'Yinka, Where Is Your Huzband?' by Lizzie Damilola Blackburn
Lizzie Damilola Blackburn's debut novel is incredibly relatable for anybody whose family members frequently question their relationship status. In 'Yinka, Where Is Your Huzband?' a thirty-something Nigerian woman attempts to find herself a wedding date and learns some valuable lessons about life and love.
Available January 18, 2022
6/35
'Greenwich Park' by Katherine Faulkner
Talk about suspense! Katherine Faulkner's 'Greenwich Park,' told from three perspectives, centers on a pregnant woman who meets another mom-to-be who couldn't be more different from her. As their friendship develops, they realize they may be more connected than they think.
Available January 25, 2022
7/35
'Notes on an Execution' by Danya Kukafka
Danya Kukafka's 'Notes on an Execution' isn't like the other books about serial killers you've read—this brilliant thriller takes readers inside the life of Ansel Packer, who's scheduled to die in 12 hours, through the perspectives of three women: his mother, his sister, and a homicide detective.
Available January 25, 2022
8/35
'Violeta' by Isabel Allende
Isabel Allende's expansive collection of work continues with 'Violeta'—the story of a woman named Violeta Del Valle who gives readers a front-row seat to historic moments of the 20th century, from the Spanish flu to the Great Depression to the women's rights movement, as she recounts the highs and lows of her 100-year life in a series of letters to her grandson.
Available January 25, 2022
9/35
'Black Cake' by Charmaine Wilkerson
Soon to be a Hulu series, Charmaine Wilkerson's 'Black Cake' is about two estranged siblings who reunite when their mother passes away. While confronting their mom's past, they must learn how to put aside their differences to honor their mother's wishes.
Available February 1, 2022
10/35
'What the Fireflies Knew' by Kai Harris
Kai Harris's 'What the Fireflies Knew' is a coming-of-age novel told from the perspective of an 11-year-old who, along with her sister, goes to live with her estranged grandfather after the death of her father and disappearance of her mother.
Available February 1, 2022
11/35
'The Paris Apartment' by Lucy Foley
If you enjoyed 'The Guest List', get ready for Lucy Foley's newest mystery, 'The Paris Apartment,' about a girl named Jess who discovers her half-brother Ben is missing when she goes to visit him in Paris.
Available February 22, 2022
12/35
'The Love of My Life' by Rosie Walsh
What do you do when you find out everything your wife ever told you about herself is a lie? Allow Rosie Walsh's love story slash mystery, 'The Love of My Life,' to explain.
Available March 1, 2022
13/35
'One Italian Summer' by Rebecca Serle
Following the release of her 'New York Times' bestselling book, 'In Five Years', Rebecca Serle returns with 'One Italian Summer.' When Katy's mother dies before their special mother-daughter trip to Positano, she's forced to go on the trip alone. While she's there, her mom appears as a 30-year-old and she gets to know her as a young woman before she became her mother.
Available March 1, 2022
14/35
'All My Rage' by Sabaa Tahir
Inspired by Sabaa Tahir's childhood growing up in California's Mojave Desert at her family's 18-room motel, 'All My Rage' tells the story of a family across generations dealing with love, loss, and friendship.
Available March 1, 2022
15/35
'Hook, Line, and Sinker' by Tessa Bailey
Tessa Bailey's highly-anticipated second novel in the Bellinger Sisters series centers on fisherman Fox Thornton and his best friend-slash-crush, Hannah, who seeks Fox's help with her love life as she crushes on a coworker. Little does he know, he may be the one she wants after all.
Available March 1, 2022
16/35
'Truth and Other Lies' by Maggie Smith
Maggie Smith's debut novel 'Truth and Other Lies' is about a young former reporter who clashes with her politically conservative mother who's running for Congress. After the former reporter lands an opportunity to work for an iconic journalist on her PR team, a scandal threatens her work, family, and relationships.

Available March 8, 2022
17/35
'Girls Can Kiss Now' by Jill Gutowitz
Through a hilarious collection of essays, Jill Gutowitz explores how pop culture has shaped society's perception of lesbianism, how it's impacted her own life, and, ultimately, what we can expect from a very queer future that's in store for us. You can read more about the inspiration behind her debut book here.
Available March 8, 2022
18/35
'In the Margins' by Elena Ferrante
Elena Ferrante fans will be thrilled to learn that the acclaimed Italian novelist has given readers a deep dive into her process as a brilliant reader and a writer. This is one that will stay on your bookshelf for years.
Available March 15, 2022
19/35
'Memphis' by Tara M. Stringfellow
Tara M. Stringfellow's debut novel, 'Memphis,' takes readers inside the lives of three generations of a Southern Black family, exploring the complexities that live on within them—and around them.
Available April 5, 2022
20/35
'The Wedding Crasher' by Mia Sosa
What happens when you end up helping your wedding planner cousin for one of her clients' big day and realize the groom is making a terrible mistake? You crash the wedding, of course! (...And may or may not have the groom unexpectedly fall in love with you somewhere along the way.)
Available April 5, 2022
21/35
'Portrait of a Thief' by Grace D. Li
The second book from Phoebe Robinson's Tiny Reparations imprint, Grace D. Li's 'Portrait of a Thief' centers on five Chinese American students who steal back stolen Chinese art. If they succeed, they earn $50 million and a chance at making history. If not, things become a tad more complicated.
Available April 5, 2022
22/35
'Time Is a Mother' by Ocean Vuong
In award-winning writer Ocean Vuong's second poetry collection, 'Time Is a Mother,' Vuong grapples with grief, loss, and survival after the death of his mother.
Available April 5, 2022
23/35
'The Memory Librarian' by Janelle Monáe
Get an extensive look into the world of Janelle Monáe's third studio album, 'Dirty Computer' (2018), as the artist compiles stories of history, identity, expression, and love.
Available April 19, 2022
24/35
'Finding Me' by Viola Davis
Viola Davis's highly-anticipated memoir will tell the award-winning actress' life story in her own words. "I believe that our stories, and the courage to share them, is the most powerful empathetic tool we have," she said in a statement, per the Associated Press. "This is my story...straight, no chaser."
Available April 26, 2022
25/35
'Book Lovers' by Emily Henry
If you've read Emily Henry's 'Beach Read' and 'People We Meet on Vacation,' you'll enjoy her latest, 'Book Lovers.' This one is about a literary agent who goes on vacation with her little sister and ends up running into a well-known editor...who's the last person she'd expect to see.
Available May 3, 2022
26/35
'I Kissed Shara Wheeler' by Casey McQuiston
Casey McQuiston, 'New York Times' bestselling author of 'One Last Stop' and 'Red, White & Royal Blue' returns with 'I Kissed Shara Wheeler.' The YA rom-com is about valedictorian Chloe Green who—you guessed it!—ends up kissing Shara Wheeler, the prom queen, before graduation. The twist? Shara disappears and Chloe ends up discovering a bunch of secrets about Shara and the town they live in.
Available May 3, 2022
27/35
'We Do What We Do in the Dark' by Michelle Hart
Michelle Hart's electric debut centers on Mallory, a freshman in college, who begins a secret relationship with another woman after the death of her mother. Years later, Mallory must confront how the affair shaped her into the woman she is today.
Available May 3, 2022
28/35
'The Summer Place' by Jennifer Weiner
It wouldn't be summer without a fabulous new Jennifer Weiner book. A love letter to the Outer Cape, 'The Summer Place' is set at the Levy family summer home that matriarch Veronica Levy hoped would be utilized by her family for generations. Instead, her children have been preoccupied with their own lives every summer. When Veronica's step-granddaughter, Ruby, gets engaged to her pandemic boyfriend, she figures the summer home is the perfect place to host the wedding for one last family gathering before she says goodbye to it. As the wedding approaches, nothing seems to go as planned.
Available May 10, 2022
29/35
'This Time Tomorrow' by Emma Straub
A moving story about a father-daughter relationship, Emma Straub's 'This Time Tomorrow' chronicles what happens when one 40-year-old woman wakes up and is suddenly 16 years old again. But it's not her youth she's riveted by—it's her father's.
Available May 17, 2022
30/35
'Something Wilder' by Christina Lauren
Christina Lauren returns with their latest—'Something Wilder'—about second chances and complicated relationships. The daughter of a famous treasure hunter, Lily uses her father's maps to guide tourists on fake treasure hunts in Utah. When her ex, Leo, and his friends unexpectedly show up, they wonder if the treasure hunts might not be so fake after all. And maybe, just maybe, Lily and Leo can pick up where they left off.
Available May 17, 2022
31/35
'You Made a Fool of Death with Your Beauty' by Akwaeke Emezi
Akwaeke Emezi's 'You Made a Fool of Death with Your Beauty' is a deeply heartfelt romance novel about a woman named Feyi who eases back into the dating scene after an accident killed the love of her life five years prior. It's already being adapted into a movie!
"After spending most of my teenage years buried in romance novels, I always wanted to write one myself," Emezi told 'Entertainment Weekly.' "'You Made a Fool of Death with Your Beauty' [is] a love letter to the brave choices we make in the name of love, the costs we pay for it, and the glory of the reward at the end."
Available May 24, 2022
32/35
'Our Last Days in Barcelona' by Chanel Cleeton
Told through stories of the fictional Perez family with alternating timelines and perspectives, 'New York Times' bestselling author Chanel Cleeton's 'Our Last Days in Barcelona' explores Cuba's involvement in the Spanish Revolution of 1936.
Available May 24, 2022
33/35
'The Counselors' by Jessica Goodman
If you loved Jessica Goodman's 'They'll Never Catch Us' and 'They Wish They Were Us,' Goodman's third book, 'The Counselors,' is just as twisty. The novel centers on Goldie Easton, a former-camper-turned-counselor at Camp Alpine Lake, who has a dark secret she's been hiding. The truth starts to unravel when a camper turns up dead in the lake one night and, well, we won't tell you what happens next.
Available May 31, 2022
34/35
'Meant to Be Mine' by Hannah Orenstein
What happens when the perfect person comes with not-so-perfect timing? Hannah Orenstein explores this in her latest novel, 'Meant to Be Mine,' after main character Edie's Grandma Gloria predicts when she meets her match and things don't exactly go as planned.
Available June 7, 2022
35/35
'Mika in Real Life' by Emiko Jean
When Mika receives a call from her daughter she put up for adoption 16 years ago, she does everything she can to portray a "perfect picture" of her not-so-perfect life. After a white lie quickly snowballs into something bigger, she must decide whether or not to tell the truth and risk what she's built with her daughter or continue to live an illusion.
Available August 9, 2022
Rachel Epstein is an editor at Marie Claire, where she writes and edits culture, politics, and lifestyle stories ranging from op-eds to profiles to ambitious packages. She also manages the site's virtual book club, #ReadWithMC. Offline, she's likely watching a Heat game, finding a new coffee shop, or analyzing your cousin's birth chart—in no particular order.