Elle Fanning Is Tired of Young Girls Feeling "Less Than" Because of Their Gender
The actress talks to MarieClaire.com about empowering the next generation through her new film Leap!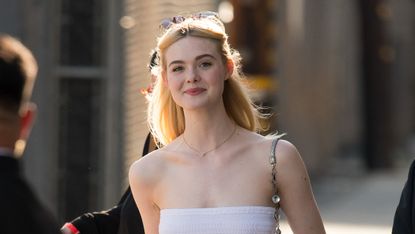 (Image credit: Getty Images)
Elle Fanning is redefining roles, chasing dreams, and kicking ass in her new movie Leap!—an animated film where she plays a fearless heroine by the name of Felicie.
In case you couldn't tell from the movie's title, Leap! is about an aspiring dancer who takes a leap of faith (hah) and escapes her orphanage to pursue her dream in Paris. Elle (who started dancing at the age of nine) had to take similar risks in her own career—she and her big sister Dakota packed their bags and moved from Georgia to L.A to make it in Hollywood. Her first role? Playing a younger version of her sister, at the age of three. "Whatever the big sister does, the little sister wants to do," she tells MarieClaire.com with a laugh. "It was so cool that we got to find something we loved so young, and we got to accomplish our dream."
Despite growing up in the spotlight, Elle's retained a sense of normalcy by going to school, attending prom, and battling through the dreaded pre-teen awkward phase: "When I was 12, I grew seven inches in a year. It hurt so bad," she says. "School and being home kept me grounded. It gave me room to make mistakes."
Felicie's mistakes and imperfections attracted Elle to the role—and she thinks that young girls need to see more characters like her in mainstream media. "Even if Felicie sometimes doesn't do exactly the right thing, she's like, 'well at least I'm going to try!'" Elle explains. "You don't necessarily see that type of girl in films, and it needs to happen more. There are so many types of women out there, it would be a shame to just play one. There's so much more."
Though the role is certainly a departure from Elle's previous parts (like her dangerously dark period performance in the controversial The Beguiled, or her perfectly unsettling show in indie flick The Neon Demon) Leap! accomplishes something different: It empowers young girls.
"Girls should do whatever they want to do, because they have that power," she says. "So why not have a message in a film that's relevant now, and that will help someone?"
Elle says she wants them to feel invincible, especially in today's political climate. "You can use that power and not be afraid to show it. We need to make sure that girls out there—and boys—don't feel like they are less then because of what sex they are. That's crazy. That's what you hope. We have to move forward, and film is a great place to help."
Follow Marie Claire on Facebook for the latest celeb news, beauty tips, fascinating reads, livestream video, and more.
Marie Claire email subscribers get intel on fashion and beauty trends, hot-off-the-press celebrity news, and more. Sign up here.
Megan DiTrolio is the editor of features and special projects at Marie Claire, where she oversees all career coverage and writes and edits stories on women's issues, politics, cultural trends, and more. In addition to editing feature stories, she programs Marie Claire's annual Power Trip conference and Marie Claire's Getting Down To Business Instagram Live franchise.