Is Edie Flowers of 'Painkiller' Based On a Real Person?
Edie, played by Uzo Aduba, is inspired by the real-life prosecutors who sought justice for devastated families and communities in the midst of the crisis.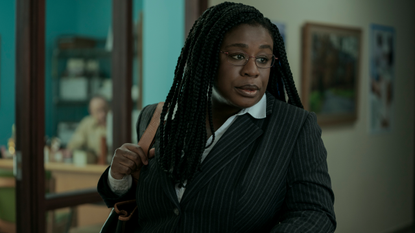 (Image credit: Keri Anderson/Netflix)
Marie Claire Newsletter
Celebrity news, beauty, fashion advice, and fascinating features, delivered straight to your inbox!
Thank you for signing up to Marie Claire. You will receive a verification email shortly.
There was a problem. Please refresh the page and try again.
Painkiller, Netflix's new scripted true-crime series about the opioid epidemic, blends fact and fiction to depict the complex public health crisis that followed Purdue Pharma's release of the opioid drug Oxycontin. Each episode begins with a disclaimer, read aloud by the loved ones of real-life victims of the epidemic: "This program is based on real events. However, certain characters, names, incidents, locations, and dialogue have been fictionalized for dramatic purposes." One of these fictionalized characters is the determined narrator of the series, Edie Flowers.
Portrayed by three-time Emmy winner Uzo Aduba, Flowers is a lawyer with the U.S. Attorney's office in Roanoke, Virginia, who comes across Oxycontin while investigating a separate case of medical fraud. She is the viewers' guide through the crisis, providing context as she recounts her investigation into Purdue's marketing methods and Oxy's impact on local communities. Though she isn't a real person, Edie's inspired by the real-life prosecutors who sought justice for devastated families and communities in the midst of the crisis.
She's the moral center of the series.
In addition to providing needed context on how fast and how far Oxycontin spread, Edie does not mince words when describing the callousness and greed of the decision-makers at Purdue Pharma. As she describes the big moments in Oxy's development timeline, including its approval by the FDA and the methods of Purdue's sales reps, Edie always acknowledges the shocking lengths that Purdue got away with in pushing Oxy to the public, and never hides her rage and dismay. In a Netflix promotional interview, executive producer Eric Newman described Edie as "very much the moral compass of the show."
"Edie represents the front line," series director Peter Berg added. "At that time when OxyContin was just starting to be a thing and law enforcement all over the country was starting to see deaths, crimes, and pill mills popping up, there was a group of law enforcement who were the first wave to see the tragedy beginning to unfold. They then had to start trying to figure out, 'Well, what is going on here?'"
In an interview with the podcast Skip Intro, which was conducted prior to the SAG-AFTRA strike, Aduba said that she crafted the character through extensive research. "[The filmmakers] do this brilliant thing in the story of having these trains [running parallel] to one another," she said. "The world of Edie Flowers, who is a fictitious person — but is a composite of a number of investigators, runs alongside the very real Richard Sackler. Having those points of intersection where the two worlds come together was incredibly impactful and powerful."
She takes inspiration from real-life prosecutors.
Co-creator Noah Harpster also explained the reason for creating Edie as a fictional guide through the story. "There is a challenge presented whenever you're dealing with real people in a story, public figures or not, to do service to the truth and to what really happened. In some cases, it's better to create a composite character that encompasses several peoples' points of view rather than having three separate characters. And so, that was a big decision for us in creating Edie Flowers, played by Uzo Aduba, who is a composite character of a few different folks, plus some imagination as well."
While the show's creative team has not named specific attorneys who served as inspiration for Edie, the character's arc does tap into real-life details. Midway through the series, she gets a new boss in John Brownlee (played by Tyler Ritter), the new U.S. Attorney for the Western District of Virginia, who goes on to bring a major case against Purdue Pharma. That character is based on the real-life lawyer of the same name and his case, which ended with a guilty plea in 2007.
Celebrity news, beauty, fashion advice, and fascinating features, delivered straight to your inbox!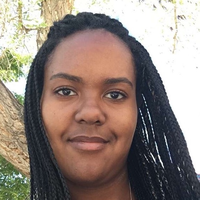 Contributing Culture Editor
Quinci LeGardye is a Contributing Culture Editor who covers TV, movies, Korean entertainment, books, and pop culture. When she isn't writing or checking Twitter, she's probably watching the latest K-drama or giving a concert performance in her car.