Tech Entrepreneur Isa Watson Shares a New Mantra for Battling Hustle Culture
Just say no to the comparison game.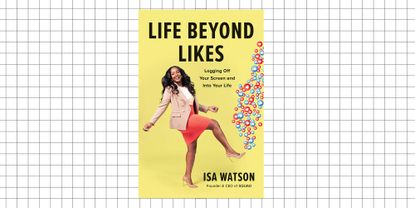 (Image credit: Isa Watson/Design by Brittany Holloway-Brown)
After successful careers as a published chemist and Wall Street executive, a personal tragedy forced Isa Watson to reconsider her career choices. Watson pivoted to tech entrepreneur, founding the social app Squad focusing on connectedness, digital wellness, and friendships. In her upcoming book, Life Beyond Likes: Logging Off Your Screen and Into Your Life, out February 7, 2023, Watson explores the dichotomy between our seemingly perfect digital selves we choose to present on social media and the much messier, complicated truth we live every day. Letting go of likes and embracing who you really are is key to finding your own happiness, Watson writes. Another important message: stop comparing yourself to others and where they are in their own journey.
In the below excerpt, Watson shares some important reminders–and a new mantra–for when you start to play the comparison game. Plus, an exclusive first look at the cover of Life Beyond Likes: Logging Off Your Screen.
Saying "No" to Hustle Culture
It is important to remember that only we have the power to control how we think about ourselves and the value that we place on achievements in our life. We have the power to control the input of information we intake that makes it easy for us to compare. And we certainly have the power to set healthy boundaries that improve our own habits and inform others about how we want them to interact with us. Our new framework:
Reframe your thinking about productivity and work output. You are not defined by your work output. But unapologetically owning that, and self-regulating our toxic thoughts around inadequacy and validation, is a very powerful skill to build.

Weekly balance vs. burnout check-in. Pick one day a week. It can be Monday, Friday, or even Sunday. On this day, allow yourself ten minutes of reflection time about how you've felt in the last week. Are you drained? Are you exhausted? Are you getting the replenishment that you need to thrive mentally, physically—and emotionally? Commit to doing this, and if it's helpful, write down your thoughts on a notepad. If necessary, include what you want to change, or be more mindful of, in the next week.

"Fuck that noise!" At my very last hair appointment, I was complaining to my stylist, Matthew, about feeling behind in some of my life goals—and even goals for the year. He asked some clarifying questions to get a sense of why I was feeling this way, and pointed out that I was engaging in unhealthy comparison behavior, to which he replied, "Fuck that noise!" This is now what I chant to myself anytime I find myself comparing my progress—or lack thereof—to someone else's filtered story online. It's the shortest, most effective pep talk I chant to myself every week when I get a little derailed.
Life Beyond Likes: Logging Off Your Screen is out February 7, 2023. You can pre-order it here.
Celebrity news, beauty, fashion advice, and fascinating features, delivered straight to your inbox!
After incredibly decorated careers as a published chemist and Wall Street executive, a personal tragedy forced Isa to reconsider her career choices. She decided to become a tech entrepreneur to make an impact on a social issue important to her: digital wellness and friendships.
Isa built Squad, a social app that makes it easy and fun for you to talk with your friends and stay in touch without the endless newsfeed and incessant flex culture we all get from social media. She is best known as the pro-mentoring, skydiving, crepe-obsessed child of immigrants who is building a new playbook for how millions of people create intentional joy with friends. Isa is one of the highest fundraising Black women in the U.S.A., having raised from some of the top investors, including Bessemer Venture Partners--and notable unicorn founders, such as the founders of Slack, Zillow, Box, StitchFix and Away to name a few.

Life Beyond Likes is a perfect marriage of storytelling and research that shares (1) the way social media has impacted our lives, and (2) the way we can reset to joyfully live beyond the validation of likes. Also featuring interviews with Carmelo Anthony and Rebecca Minkoff, Isa is thrilled to have this book facilitate a much-needed conversation about our relationship with social media, the internet, ourselves, and each other.