Here's Exactly How Much Less Money Women Make Than Men in 2015
Warning: the numbers are heartbreaking.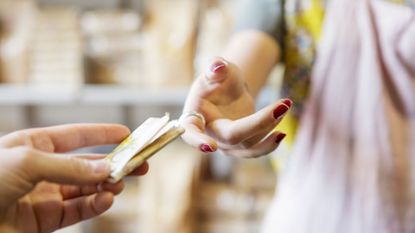 (Image credit: Getty Images)
On Equal Pay Day last year, Obama signed an executive order to prevent discrimination in the workplace and help empower workers to feel comfortable discussing their compensation. The order came on the heels of the president's victory in raising the minimum wage for federal contracts to $10.10, a huge feat. Both pieces of legislation in greater part help women, considering women are more likely to work in lower-wage jobs and are often unaware of—and therefore ill-equipped to take action against—their lower salary in comparison to their male counterparts.
Equal Pay Day 2014 was truly one of celebration, but as we come full-circle a year later the euphoria is stamped out. Recent data released by the Bureau of Labor Statistics (opens in new tab), the American Association of University Women (opens in new tab), and Expert Market (opens in new tab) once again confirm that not only do women still make considerably less than men, but that the gender gap exists in every single state.
According to Think Expert's chart, men earn more than women across the board, with Louisiana leading the gap with a whopping $16,000 pay discrepancy, followed by Wyoming and Utah.
The analysis goes deep into the rabbit hole of the gender pay gap, revealing that out of all 50 states, only nine can call their richest person a woman. Further, the combined wealth of all the richest women in EVERY state is still $160 billion less than just 41 of the richest men in the country.
Are you saying "wow" yet?
While many attempt to diminish these statistics, arguing that differences in life choices is more important in the discussion of the wage gap than gender discrimination, this is simply not true. The AAUW study found that after holding college major, occupation, economic sector, hours worked and nine other variables constant there was still a 7 percent difference in earnings between men and women one year after graduation. Ten years after graduation, that difference increases to 12 percent.
While men can expect to get paid more over time, women can expect their financial burden to increase.
Here's a breakdown of the median annual earnings per field according to the BLS:
* Management and related professions: Men= $69,992 | Women= $51,012
* Service: Men = $30,316 | Women = $23,972
* Sales and Office: Men = $39,832 | Women = $32,240
* Natural resources, construction, and maintenance: Men = $39,728 | Women = $26,468
Though the gap has narrowed since 1970, at the current rate it will take 75 years (opens in new tab) for women to actually have equal pay. In the wake of these numbers, you can be sure we will take a note from Sarah Silverman and ask for more (opens in new tab).
You should also check out:
Sarah Silverman Made 83% Less Than Her Male Colleague, Is Fighting Back in the Best Way (opens in new tab)
These States Are Actually Doing Something About Equal Pay (opens in new tab)
These Industries Have the Biggest Wage Gap (opens in new tab)
Simedar Jackson is an esthetician, content creator, and lover of sci-fi fiction living in Brooklyn, New York. She is passionate about creating space for Black and Brown people in the beauty and wellness industries by providing access to culturally nuanced education and services that meet their needs. You can find them doing their skincare routine, reminding friends to reapply SPF, and watching reruns of Love Island.